Houston Texans: 4 Best Candidates to Replace David Culley
David Culley is no longer the head coach of the Houston Texans. After just one year, the organization will again search for a new head coach in a bit of a shocking decision to part ways with Culley this soon.
The Texans arguably exceeded expectations this year with four victories, all while dealing with the endless Deshaun Watson rumors. Nonetheless, they redirect and will bring in candidates to try and fix the Texans once again.
Some popular names have come up, including Brian Flores, and general manager Nick Caserio might be more inclined to bring on a coach from the New England Patriots coaching circle.
Here are four possible candidates for the Texans' job ranked in the likelihood of them being Culley's replacement.
4. Pep Hamilton, Houston Texans QB coach
Would the Texans hire Pep Hamilton?
It would certainly be a surprise, but don't count it out. First off, why fire Culley to hire a guy they could have named as the head coach last season?
On the other hand, Hamilton worked wonders with Justin Herbert in Los Angeles as the quarterbacks' coach in Herbert's rookie season and did well with Davis Mills. Hamilton deserves some consideration and is expected to be named the Texans offensive coordinator after Tim Kelly also got fired.
But, his relationship with Mills is a plus, and it might not hurt to give him an interview.
3. Lovie Smith, Houston Texans defensive coordinator
Another internal option, yes.
However, Lovie Smith makes sense. At the time, the Texans' decision to hire Culley over guys such as Eric Bieniemy was always a puzzling move, so Culley getting fired after one season isn't entirely surprising.
Smith might be exactly what this team needs — a veteran head coach who has a tough demeanor and can bring together a youthful locker room, one which will be dealing with a new head coach once again.
Smith knows these guys. He has worn the headset and had success with the Chicago Bears, so this move seems to make a ton of sense on paper.
Again, the question is, why not do this last year instead of throwing money to Culley?
However, Caserio's recent comments might be a concern for Smith.
At this point, he is worth considering, and the difference between him and Hamilton is that Smith has experience as an NFL head coach. However, the next two on this list are far and away the better candidates and the more likely.
2. Jerod Mayo, New England Patriots linebackers coach
A surprise name always emerges in the coaching cycle, and this year it is New England Patriots linebackers coach Jerod Mayo.
Mayo's name has floated around a bit and the Denver Broncos requested an interview for him. When the Culley news came, Mayo immediately emerged as a candidate due to his familiarity with Caserio from New England.
Furthermore, Caserio's press conference looked to drop a massive hint that Mayo is his choice to be the guy in Houston.
A young coach like Mayo is an interesting candidate, and Caserio's comments on Mike Tomlin might have tipped his hand.
Nonetheless, Mayo would be a first-year head coach with a depleted roster that needs a lot of work. Still, there's a reason his name has emerged, and the Bill Belichick coaching tree might bear another fruit.
1. Brian Flores, former Miami Dolphins head coach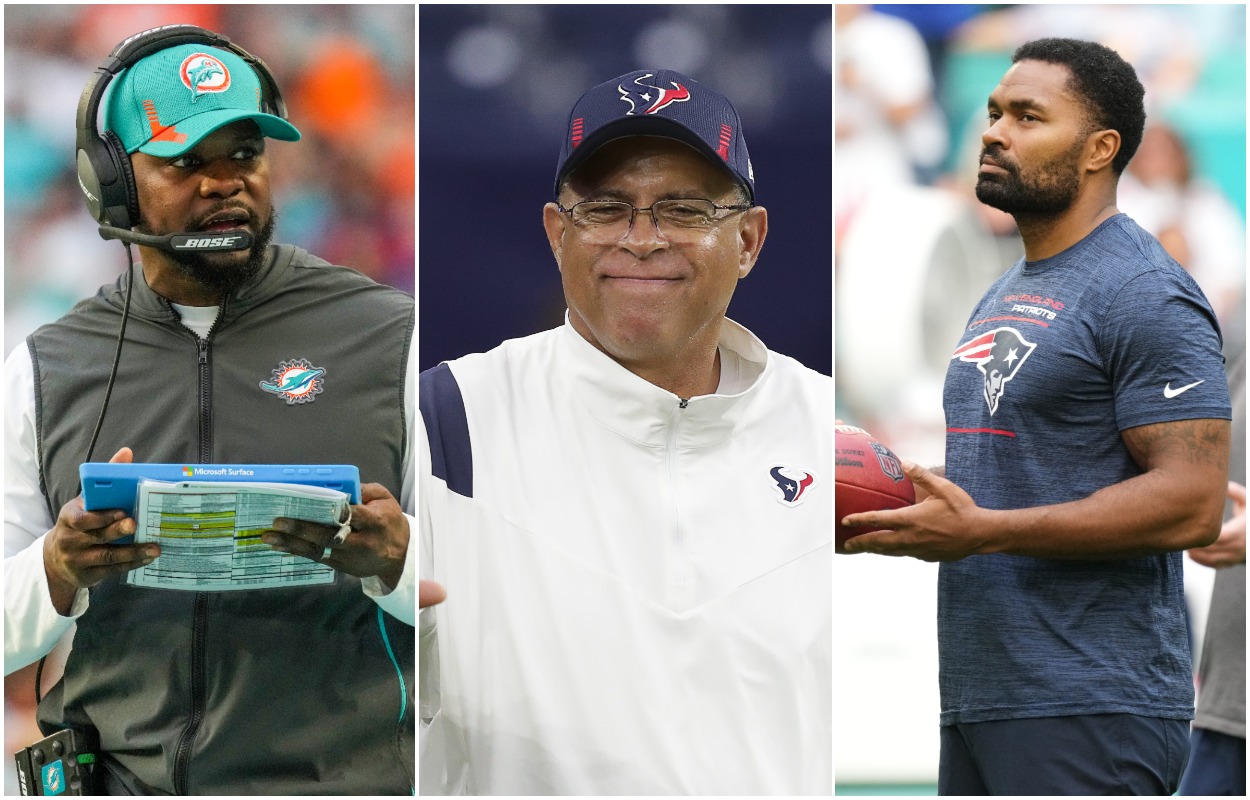 This is option No. 1 for the Texans — or at least it should be.
Flores shockingly got fired as the Miami Dolphins head coach and is unsurprisingly a candidate for many of the open jobs, including the Texans. Another Belichick disciple that Caserio would love and a tough-nosed head coach who could help turn this team around.
Plus, remember the Watson-to-Miami rumors? Flores was a big reason for those, and who knows if Watson returns to Houston or not. It looks like the quarterback will be traded, but at this point, nobody has the slightest idea.
Flores should still be employed by the Dolphins, plain and simple, and needs to be the top priority for the Texans. While Mayo is an enticing candidate, Flores looks to be the favorite.