The Houston Texans Continue to Show off Extreme Incompetency and Stubbornness During the Latest Deshaun Watson Negotiations
The Houston Texans are coming off a successful Week 1 to the 2021 NFL season. Playing against the new-look Jacksonville Jaguars — led by Urban Meyer and Trevor Lawrence — the Texans cruised to a 37-21 victory.
The Texans' new starting quarterback, Tyrod Taylor, particularly looked impressive. The veteran journeyman finished with 291 passing yards and two touchdowns. With many experts predicting Houston to finish with the worst record in the NFL this year, it was undoubtedly a promising start for the Texans.
However, things behind the scenes continue to be ugly in H-town.
The Houston Texans' latest reported asking price for QB Deshaun Watson is astronomically high
As the Texans celebrate their victory, the dark cloud that is Deshaun Watson continues to loom over the organization. The former franchise QB is facing 22 active civil lawsuits with allegations of sexual assault and inappropriate behavior (according to ESPN). He is unlikely to take the field this season.
However, that isn't stopping the Texans from attempting to salvage value out of him. The only problem is that Houston is grossly overvaluing a player facing serious legal allegations.
According to a recent report by ESPN's Adam Schefter, the Texans are demanding a combination of six players and high-level draft picks for Watson:
"The Houston Texans sought a package of six players, and NFL draft picks from teams interested in trading for star quarterback Deshaun Watson this summer, league sources told ESPN," writes Schefter. "Whether the package consisted of one player and five draft picks or two players and four picks, the Texans were unwilling to budge from their trade price for Watson…"
Trading for Deshaun Watson would be extremely risky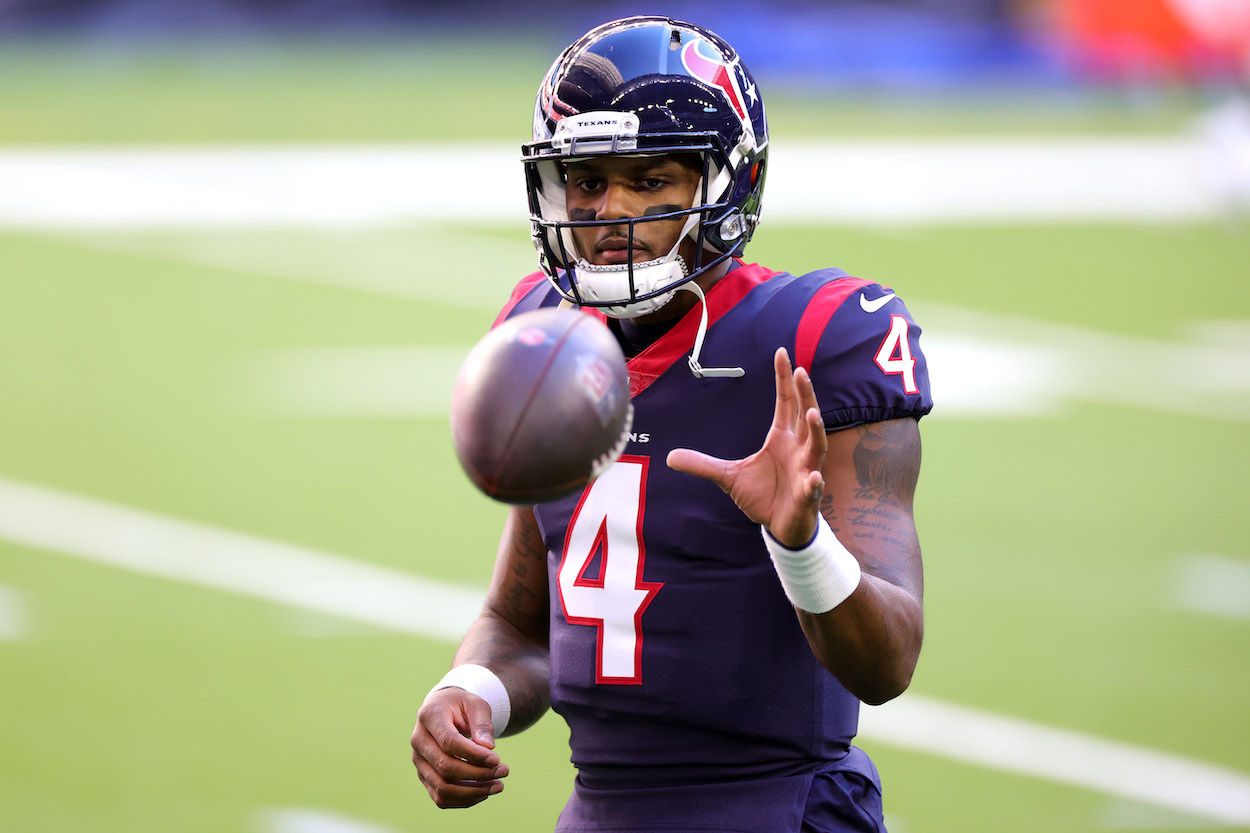 There's been a handful of NFL teams willing to engage with the Texans regarding a potential Watson trade for what it's worth. The Philadelphia Eagles were deemed the frontrunner to acquire him due to their war chest of draft capital in 2022. However, a breakout performance by Jalen Hurts in Week 1 could see them pump the breaks on making a change at QB.
The Carolina Panthers and Miami Dolphins were also heavily connected to Watson this summer. Both teams won their Week 1 matchups.
Schefter reports that teams have expressed a willingness to meet Houston's high asking price, but only if conditions were attached to the draft picks regarding Watson's legal future. Thus far, the Texans have been unwilling to discuss conditional draft compensation. They want the full package.
While the Texans are justified to try and salvage as much value out of Watson as humanly possible, they need to understand the reality of the situation. No one will give up six unprotected assets for a quarterback facing the current allegations Watson is facing. If the Texans are serious about offloading Watson, they have to bring their demands down to a reasonable level.
What to expect from the Houston Texans moving forward
The other option Houston has at its disposal is to stay the course.
The Texans have no problem keeping Watson for the rest of the season without ever letting him see the field. The hope is that they'll have a clearer picture of Watson's legal future and will be able to better orchestrate a trade in a year.
Of course, this strategy could easily backfire should Watson be suspended from the NFL sometime soon.
Either way, Houston will have to come back down to earth if they want to trade Watson. He's a good QB, but sexual assault lawsuits are enough to scare away most NFL franchises — and for good reason.
How to get help: In the U.S., call the RAINN National Sexual Assault Telephone Hotline at 1-800-656-4673 to connect with a trained staff member from a sexual assault service provider in your area.
How to get help: In the U.S., call the National Domestic Violence Hotline at 1-800-799-7233 or text START to 88788.
How to get help: If you or someone you know has been sexually abused, text HOME to the Crisis Text Line at 741741 for free and confidential support.
All stats courtesy of Pro Football Reference.
RELATED: Tua Tagovailoa Needs to Take Heed of the Warning Signs Being Sent by the Miami Dolphins