The Houston Texans' Latest Injury Blow Could Rob Urban Meyer and the Jaguars of the No. 1 Overall Pick
It's never too early to start thinking about the NFL draft, especially for teams who are losing hope when it comes to cracking the postseason this year. The Houston Texans rank at the top of such a list, as they entered 2021 with absolutely zero goals of competing.
Their roster is filled with outcasts and random free agents signed to one-year deals, and they're still waiting to offload Deshaun Watson and all the baggage he carries around with him. While rookie QB Davis Mills looked impressive against the New England Patriots during Week 5, the consensus is that Houston needs to use a high draft pick on a new franchise quarterback sometime soon.
You never want to see players get injured. However, a recent key injury to the Texans' offense actually aids them in their quest to climb to the top of the draft board.
Houston Texans LT Laremy Tunsil needs thumb surgery
Looking at the Texans' 53-man roster, no players stick out as elite. That is until you get to left tackle Laremy Tunsil.
Beginning his NFL career with the Miami Dolphins before being dealt to the Texans in a blockbuster offseason trade that involved multiple first-round picks, Tunsil is one of the few elite tackles in the NFL. He's a two-time Pro Bowler and is largely considered a franchise left tackle worth building an offensive line around.
The Texans initially acquired him to give Watson better protection. Now, he's a Ferrari on a Texans' offense filled with SUVs and minivans.
An injured Tunsil helps the Houston Texans lose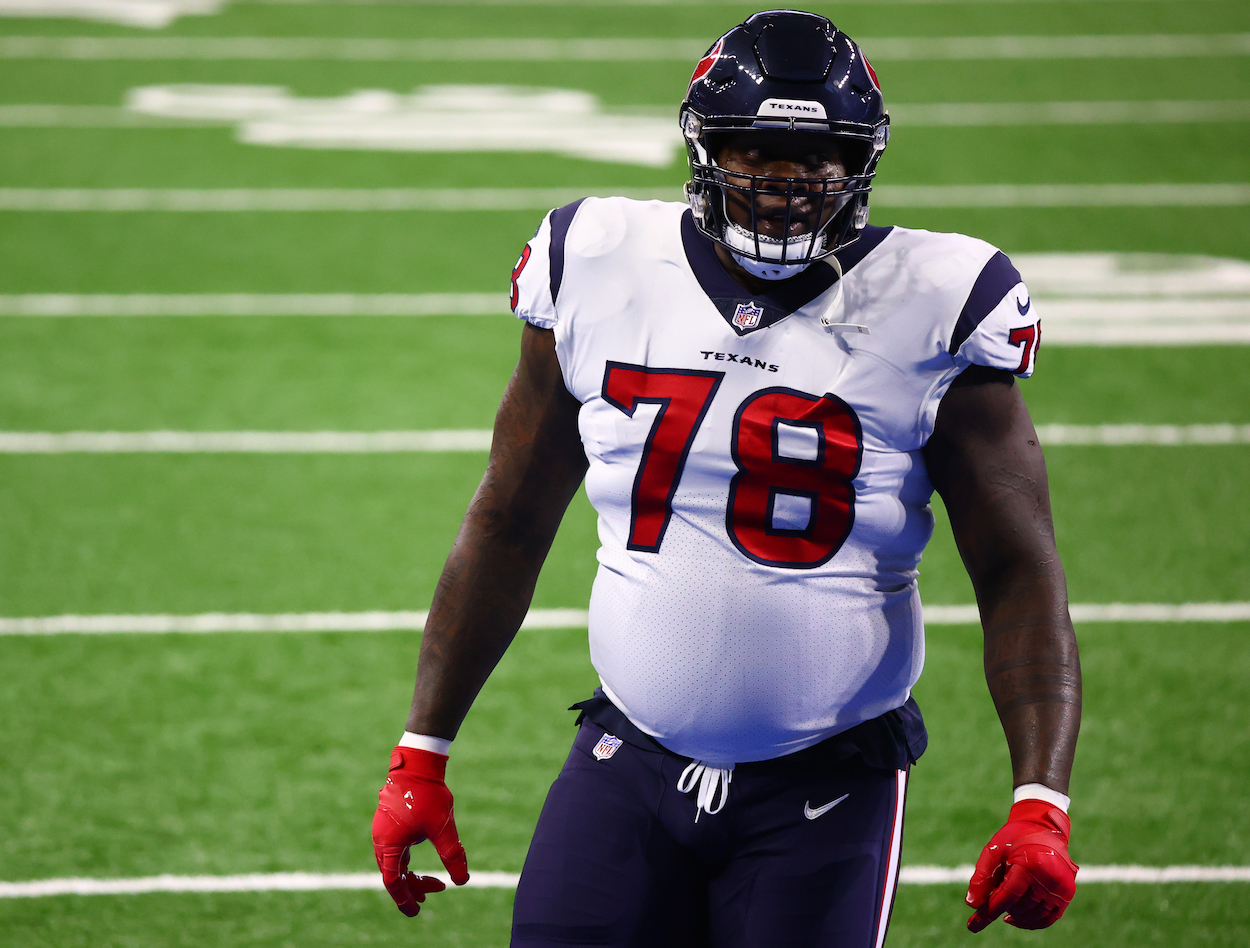 While Mills is probably less-than-thrilled at the idea of Tunsil missing at least a month of game time, the brutal reality of the situation is that his absence will help the Texans lose more games.
They'll never say it publicly, but the Texans' goal this season is to completely bottom out and acquire the No. 1 overall pick. Possessing that pick gives them several offseason options that range from drafting a new quarterback, drafting a new star pass-rusher, or even trading down in the draft in exchange for a haul of assets and draft capital.
Either way, the Texans have been signaling all offseason long that they aren't looking to compete this year. Losing their best overall player for 4-5 games helps them in this regard.
Urban Meyer and the Jaguars won't make life easy
The Texans were everyone's offseason favorite to land the top pick in 2022. However, they actually don't sit atop the draft board at the moment. According to Tankathon, the Texans are set to draft third overall. The Jacksonville Jaguars pick first, and the Detroit Lions pick second.
The Lions have been close to winning the past few weeks. It's safe to say they won't finish winless this year. The Jaguars, on the other hand, aren't such a safe bet. They've looked completely lifeless through five games this season, and Urban Meyer keeps making one brainless decision after another.
The Texans have already beat Jacksonville once this season as well, which further complicates things.
Losing Tunsil for a few weeks should ensure the Texans keep on dropping games moving forward. However, they still need Meyer and the Jaguars to get their act together just a tad if they want that much-coveted No. 1 overall pick.
Like Sportscasting on Facebook. Follow us on Twitter @sportscasting19.
RELATED: Urban Meyer's Big Plan to Save the Jaguars' Season Involves a Shockingly Impossible Rushing Goal