The Houston Texans May Finally Have a Backup Plan In Case Deshaun Watson Hits the Road
The drama involving quarterback Deshaun Watson has completely dominated the Houston Texans' offseason. With Watson embroiled in at least 21 lawsuits, the Texans' quarterback situation is even more murky than it was a month ago, with no guarantee that Watson will ever play for Houston again. This means that new general manager Nick Caserio may have to look outside for their next starter. Fortunately, a perfectly suitable option has fallen into their lap in the form of Alex Smith.
The Houston Texans may pursue Alex Smith as a contingency plan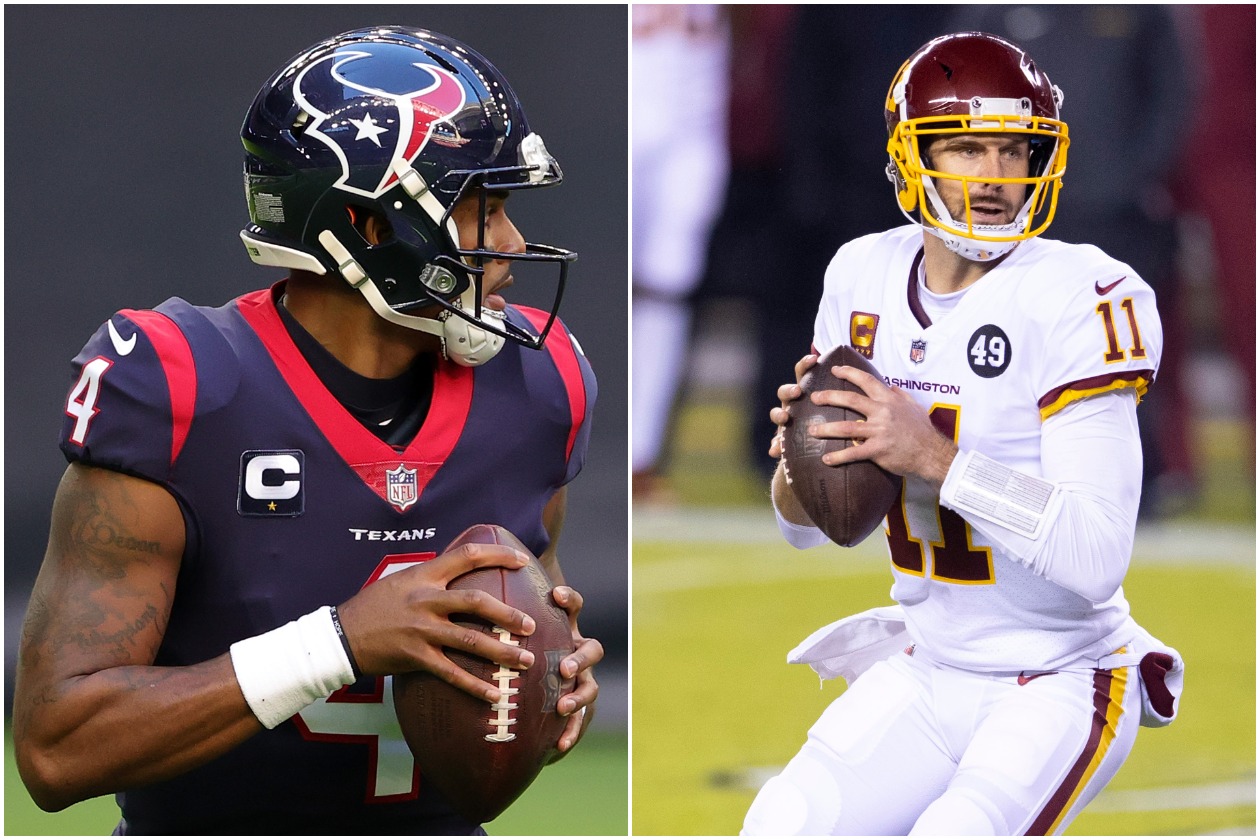 As of Friday, Deshaun Watson currently faces over 20 lawsuits for alleged inappropriate conduct with masseuses. Despite this, the Houston Texans are still receiving calls from other NFL teams inquiring about a trade for the 25-year-old quarterback.
Watson and the Texans had spent the rest of the offseason embroiled in a tense standoff. His legal situation has made it less and less likely that he'll play the 2021 season in Houston. If this is the case, new Texans general manager Nick Caserio would have to move quickly to find a replacement. NFL reporter Tom Pelissero named one possibility: former Washington quarterback Alex Smith.
"Smith still thinks he can be a starter in the league," said Pelissero on NFL Network. "He wants a chance to compete and there just aren't that many places that he can go right now and have that opportunity."
Smith is now a free agent after the Washington Football Team released him on March 8. Last season, Smith returned to the field for the first time in a two years, after an injury that nearly cost him his right leg. Although he threw for more interceptions than touchdowns, the fact that he was on the field at all was a miracle. For his efforts, Smith won Comeback Player of the Year, and Washington won the NFC East.
Would Alex Smith be a good fit on the Houston Texans?
As Pelissero noted, Alex Smith has experience with current Houston Texans head coach David Culley. The two spent four years together with the Kansas City Chiefs, with Culley serving as the team's wide receivers coach. During that time, the Chiefs reached the playoffs three times and won a division title.
If Smith came to Houston and Watson did not, Smith would theoretically have to compete with Tyrod Taylor for the starting job. Taylor has spent most of his ten-year NFL career as a backup, but had a decent three-year run as the starter for the Buffalo Bills. During his reign as starter, the Bills broke their long playoff drought in 2017.
It would be bitterly ironic if Alex Smith came to Houston. His devastating 2018 leg injury, which nearly ended his NFL career, took place in a game against the Houston Texans.
The Houston Texans' decision depends on Deshaun Watson
Of course, everything that happens in the next few weeks or months depends on what happens to Deshaun Watson. Thanks to his ever-growing legal situation, a lot of this is now out of the Texans' control.
The NFL launched its own investigation into Watson's conduct on March 18, shortly after the first lawsuit. Depending on the result, Watson could land on the "Commissioner's Exempt" list. This means that he would still be paid as though he were on the regular roster, but he would not be allowed to play, practice, or attend games.