How 2 Bottles of Wine Helped the Yankees Sign Gerrit Cole
MLB fans have had their eye on Gerrit Cole. As a free agent, everyone has been eager to find out which team he'll sign with next. And because he's such a standout pitcher, several teams had their eye on him. But the Yankee recently signed Cole to a record-breaking contract with the help of one little trick. Here's how two bottles of exceptional wine convinced Cole to become a Yankee.

Gerrit Cole is officially a Yankee
After a highly anticipated bidding war, Cole signed a nine-year contract worth $324 million with the New York Yankees. The deal set a new record for the largest contract in MLB history for a pitcher. It also fulfills the dream of an 11-year-old Cole, who, according to MLB.com, held a cardboard sign at the 2001 World Series, which read, "Yankee Fan Today, Tomorrow, Forever."

The Yankees beat out the Angels and the Los Angeles Dodgers, who both made major pushes for Gerrit Cole. It's no surprise that Cole was such a sought-after addition. Last season, he posted the longest winning streak since 1912 by pitching seven shutout innings against the Yankees at Yankee Stadium to win his 19th straight decision. The last time that happened was Rube Marquard for the New York Giants 107 years ago.

How wine helped the Yankees win over Gerrit Cole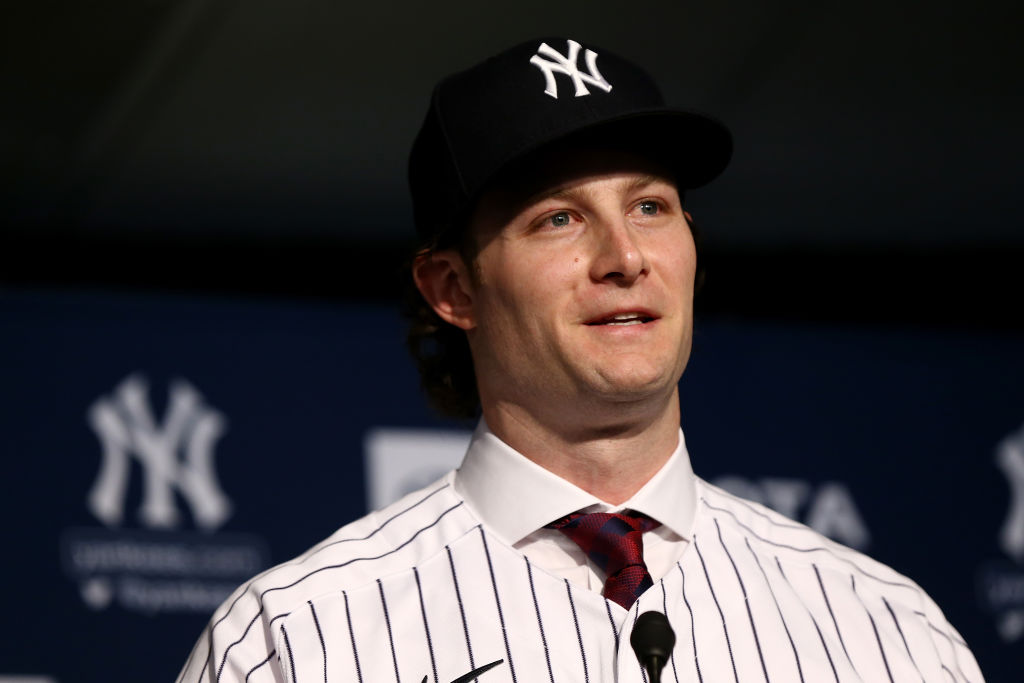 During negotiations for Gerrit Cole's record-breaking contract, the Yankees pulled out all the stops to woo their favorite pitcher. They knew Cole was a fine-wine aficionado. So, at a meeting with the player and his agent, Yankees manager Aaron Boone presented Cole with two bottles of some of the finest red wine in the world — a 2004 and 2005 Masseto Merlot, which had an extra-special significance to Cole.

The gesture caught Cole off guard, and to say he was impressed would be an understatement. But he couldn't figure out how Boone knew about the wine and why it was special. It turns out the Yankees turned to Yankee Stadium visiting clubhouse manager Lou Cucuzza, who happens to be great friends with Cole, for the inside information.

"I always come into Lou's office when I got nothing to do, and I kick my feet up on the table, and we just talk about stuff," Cole explained during a press conference, according to CBS Sports. "We were talking about my trip to Italy with my wife the other year, and he always likes to know what I'm cooking because I like to cook at my house. I showed him pictures of a meal that we ate in a cellar in Florence and there's a picture of a bottle of Masseto. He asked me what the bottle was and I said, 'It's Masseto, it's probably acknowledged as the second-best red wine in the world.'"

When Boone presented that same bottle of wine at the meeting, Gerrit Cole couldn't believe it. "I remember trying to stay focused on the meeting," he said, "and not thinking about booze the entire time, but I still couldn't figure it out…Not many people in the world know that that's my favorite wine."
Later, However, Cole remembered his conversation with Cucuzza and figured out how Boone had known. But the gesture still meant a lot and probably went a long way towards making Cole feel comfortable with the Yankees.

Will more teams go to extra mile for top recruits?
Fans often imagine that the MLB contract process just involves teams and players haggling over numbers until they come to an agreed-upon amount. But more and more, that process also includes a significant amount of courting as well. Teams and managers may be taking a hint from the NBA, a league with a contract ceiling.

Because teams in the NBA can't continue to offer higher amounts, they often depend on extras to sign a player. Now, professional athletes of all sports are starting to expect these special gifts, and managers realize how well they work to sway the desired athlete.

Of course, an expensive bottle of wine alone isn't going to convince an athlete like Gerrit Cole to sign, especially without the salary to back it up. But if a player is already considering a team, these gifts may help them feel like they'll be looked after and treated as an individual. It certainly worked for the Yankees.