How Aaron Rodgers Conquered His Biggest Fear and How Long He Expects To Play Football
Green Bay Packers quarterback Aaron Rodgers may be fearless on the football field but off the field, he has a major fear that he recently overcame in the most extreme way.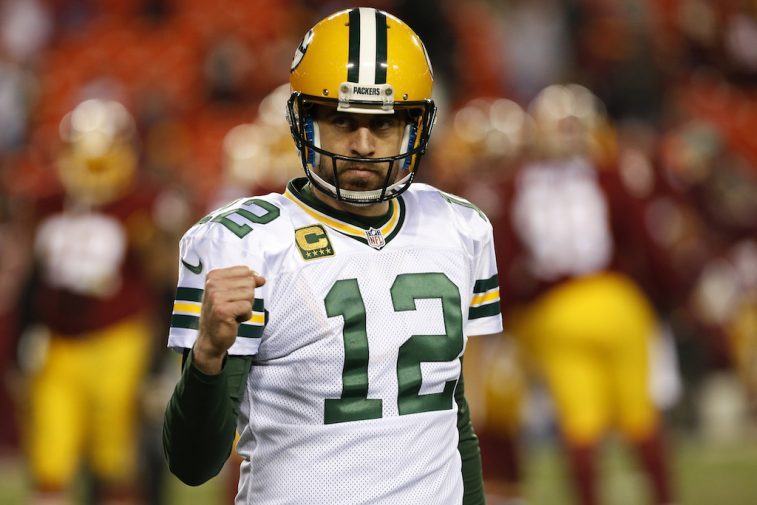 The NFL star had a pretty busy offseason. As NBC Sports ProFootball Talk noted, he purchased a share of the Milwaukee Bucks, met with the Dalai Lama, helped outfit children with hearing aids in Zambia, went to the Indy 500 to cheer on his girlfriend, and swam with the sharks in the open water.
If you think swimming with sharks sounds a little scary, well, Rodgers actually did that to overcome his fear of them and we'll get to see that play out during Shark Week starting on July 22.
"The only reason I wanted to do the shark thing is I have two main fears: sharks and heights," he admitted. "I'm not gonna jump out of a plane. But sharks, I don't know. I watched Jaws when I was a kid and always felt like they're in the water, out in the ocean water, and one's got my name on its back and it's gonna munch on me. I wanted to conquer that fear because I love the water. I love paddle-boarding.
"So they [the Discovery Channel] came to me and my agent and I said, 'Yes. A hundred percent yes. I want to do it. They got Gronk too, and Lindsey Vonn. It was in the Pacific, outside San Diego. There's a big continental shelf that drops off and the depth goes to thousands of feet. There's an upwelling of water and there's a bunch of predators there. So we went out to that spot. They found this blue shark and got me in the water, nose to nose. It's crazy."
The athlete went on to explain exactly how he felt when the shark approached him. "Honestly, I was blacked out. It just came up to me and all I was thinking was, 'Oh my god it's actually happening. What do I do?' Okay, boom. I just moved his head down to the right. But it was fun. I have a different appreciation for sharks now. I'm okay with 'em."
Last month, Rodgers shared a photo from that experience on his Instagram page.
Rodgers had another incredible experience in April when he took a trip to India and met with the Dalai Lama. So what does one talk about with an influential spiritual leader? "We talked about his vision for the world and his global message of kindness and acceptance and togetherness," Rodgers recalled. "But he's funny. He makes jokes. He gets funny when he doesn't quite know the translation of a word. He'll ask his translators. He answered a couple questions. Fantastic. Surreal."
We're not sure if Rodgers discussed his football career with His Holiness but the star quarterback has set a goal for himself and revealed that he would like to play the game until he's 40, preferably in Green Bay. That would require a new contract beyond the two years he has left on his current deal so we'll stay tuned to see what happens with that.
When he's not playing on Sunday, traveling the world, or conquering his fears in the most badass way, the Packers signal caller makes headlines for his love life. In 2016, he went through a high-profile split with actress Olivia Munn and was later linked to Kelly Rohrback and Marie Margolius. In early 2018, Danica Patrick confirmed reports that they were dating and the two have been together ever since.