How Aaron Rodgers Helped Derek Carr and the Las Vegas Raiders Make the Playoffs
It was a classic game that propelled Derek Carr and the Las Vegas Raiders to the playoffs. Sure, it was closer than the Raiders would have liked and it really should have never gotten to overtime, but getting a win was the only thing that mattered. Ultimately, the Raiders beat the Los Angeles Chargers, 35-32, on a last-second field goal in overtime. It was one of the more riveting games you'll ever see.
Naturally, in the afterglow of the win, Carr took a minute to thank Aaron Rodgers.
We all saw that coming, right?
Derek Carr shouted out Aaron Rodgers after Las Vegas Raiders' epic win
There has been a lot of buzz about this game being one of the best regular-season contests ever, but frankly, it shouldn't have even been close.
The Raiders actually had a 15-point lead about midway through the fourth quarter. To that point in the second half, they had physically dominated the Chargers and appeared to be punching in the dagger with a Daniel Carlson 52-yard field goal with 8:23 to go. Still, 15 points and over eight minutes wasn't enough. The Chargers roared back and forced overtime, where Carlson ultimately won the game for Vegas with a 47 yarder.
The win was a must for the Raiders, but they actually could have backdoored their way into the playoffs with a tie against the Chargers as well. That very well could have happened in overtime, but in the postgame interview, Carr related that had one mindset in this game, and that was playing for a win.
"We knew, no matter what, we didn't want a tie. We wanted to win the football game. Obviously, if you tie you're in, and all those things. But my mindset all day — I was even texting with Aaron Rodgers this morning — my mindset was to make sure we were the only team moving on after this," Carr said.
Michele Tafoya, who was conducting the interview, seemed shocked that Rodgers was mentioned and asked Carr to expound.
"He's always been good to me since I came into the league, so Aaron, I appreciate you, man," Carr said. "We became friends now, and we talk, so I appreciated his encouragement today."
What kind of secret wisdom did Rodgers impart to Carr?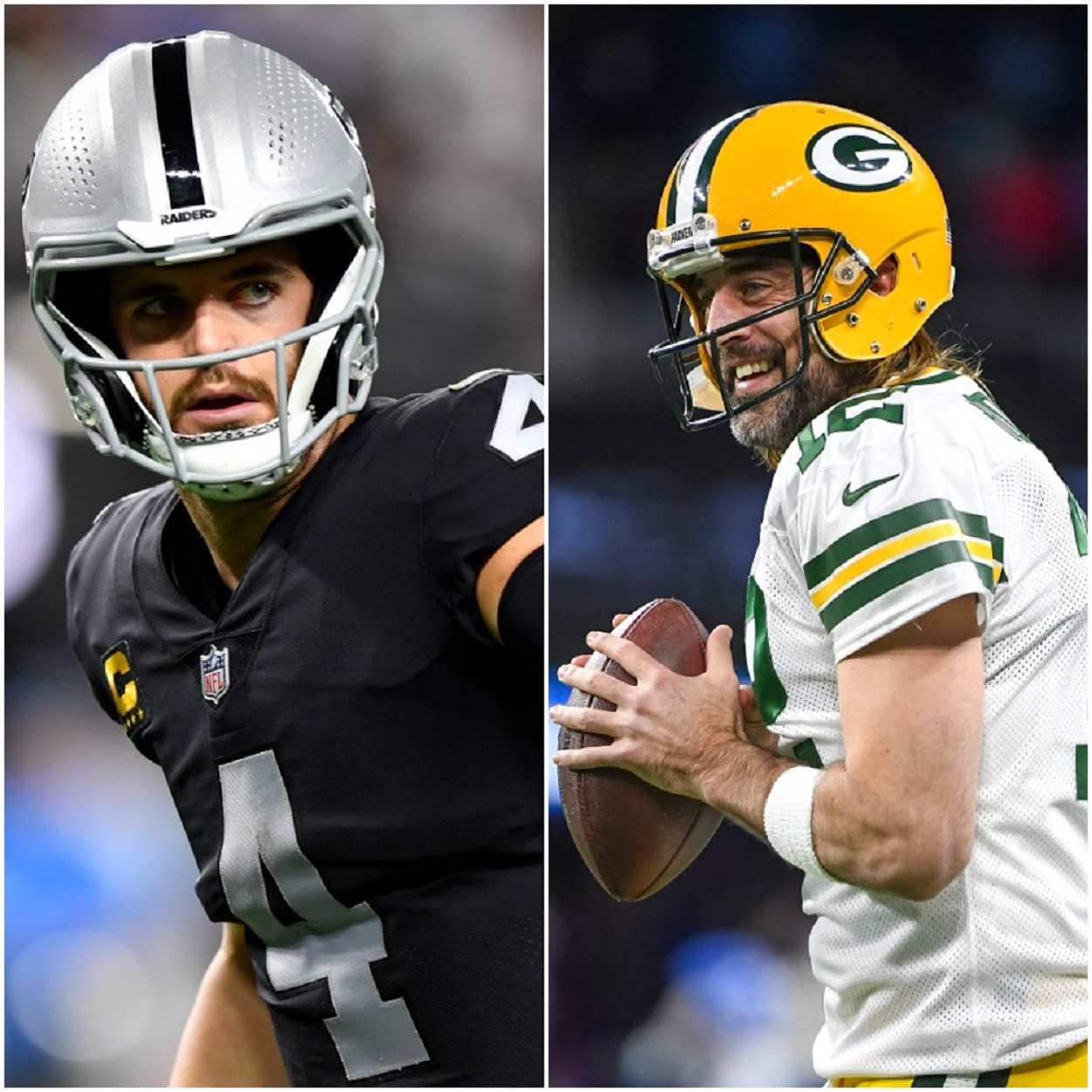 Rodgers is no stranger to giving his opinions lately, so one has to wonder just what he had to say to Carr in the leadup to the must-win game for the younger quarterback.
Rodgers has been around the league for 17 seasons, and he's played in his fair share of big games. He's a three-time MVP and potentially has another one on the way. He's also won a Super Bowl, though that feels like it happened a lifetime ago, which is why there's so much pressure for the Green Bay Packers to get another one.
Speaking of pressure, Rodgers gets it. Not only is he one of the most famous people in sports, but he's become known outside of football as well. From hosting Jeopardy! to becoming almost a political figure for his stance on vaccines, there's hardly anybody who doesn't know who Rodgers is at this point. We haven't even mentioned the pressure of taking over for Brett Favre and holding the expectations of "Title Town, USA" on his shoulders.
Rodgers has been the face of the Packers for over a decade. Carr has been the face of the Raiders, nearing that long as well. He's been an especially key part of the organization this season when the franchise had to part ways with head coach Jon Gruden amidst an email scandal. So yes, maybe they talked about the pressure of their respective stations in life and how to deal with it. Clearly, they talked about winning and having the right mindset when staring down the barrel at elimination, which is now something they both will share as each leads their team in the playoffs.
Whatever they talked about, it clearly worked for Carr and the Raiders.
Does Rodgers get MVP credit for helping Vegas make the playoffs?
Carr is the heart and soul of the Raiders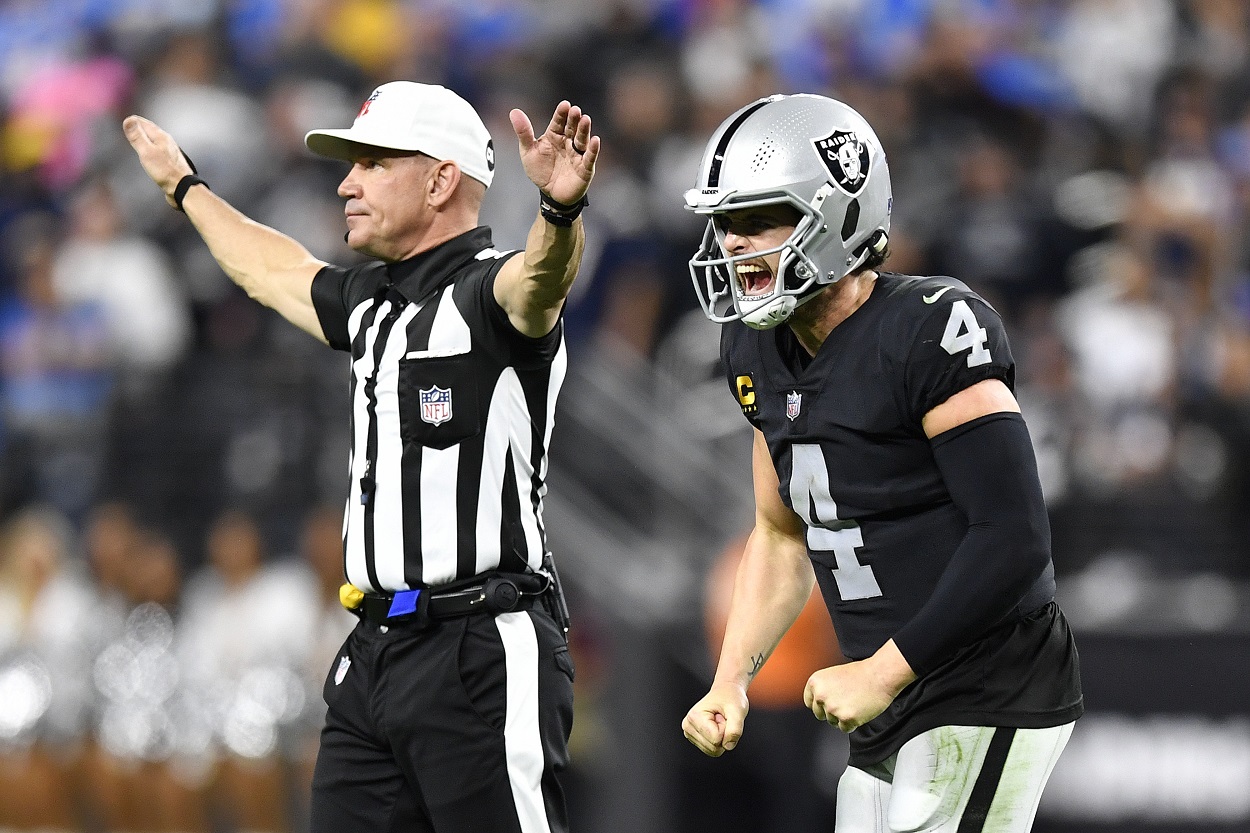 It's been quite a season for the Raiders and the team has had to ride the emotional roller coaster. Week 18's win over the Chargers was a high-point, but there were plenty of low as well, unfortunately.
There was the public drama of the Gruden scandal and the fact that he went on to sue the NFL. Vegas also had to shortly after release wide receiver Henry Ruggs III, who was involved in a deadly car crash and is now facing serious legal ramifications as a result.
Those could not have been easy times in the Las Vegas locker room.
There were also plenty of ups and downs on the field for Vegas. The Raiders have losses on their resume this season to the New York Giants and the Washington Football Team, two teams that finished with a combined 11-23 record. They were blown out 48-9 by the Kansas City Chiefs at Arrowhead. They also lost to their first-round opponent in the postseason, the Cincinnati Bengals, 32-13, at home. They'll now have to play the Bengals on the road in the Wild Card round.
That was the bad for Vegas, but there also was good.
Clearly, making the postseason was the highlight, but they also beat the Cowboys in Dallas on Thanksgiving day, 36-33, and finished the season on a four-game winning streak.
"I don't think any team has been through what we've been through in 10 years, let alone one year," Carr said after the win over the Chargers, via ESPN. "There's so much emotion — pick a story. There's so much emotion with everything we've done"
Carr finished the regular season with 4,804 yards, 23 touchdowns, and 14 interceptions. He finished top five in the league in yards thrown, top 10 in yards thrown per game, and top 15 in QBR.
Carr has always been thought of as an upper-echelon quarterback and he once again had a season for the Raiders that proved his worth. Only one thing seemed to matter to the Vegas quarterback after the Week 18 win, though, and that was getting his team into the big dance.
"It's probably the coolest accomplishment I think I've ever had in my life football-wise," he said.
Stats courtesy of ESPN and Pro Football Reference. 
RELATED: Jon Gruden: A Cheat Sheet for the Former Las Vegas Raiders Head Coach's Potential Lawsuit Against Roger Goodell and the NFL
Related post url: