How Angel Hernandez Became the Most Hated Umpire in MLB History
Umpiring in major league baseball can be a thankless task. MLB umpires get the majority of the calls right, yet they get no credit for this. But as soon as they miss one call, the spotlight is on them — and not in a good way. It can lead to fans booing them or repeatedly pointing out their flaws on social media. 
One umpire has received more negative acclaim than any other in recent memory. While every umpire expects booing at some point (it comes with the territory), one has had a particularly painful career. Meet the most hated umpire in MLB history: Angel Hernandez.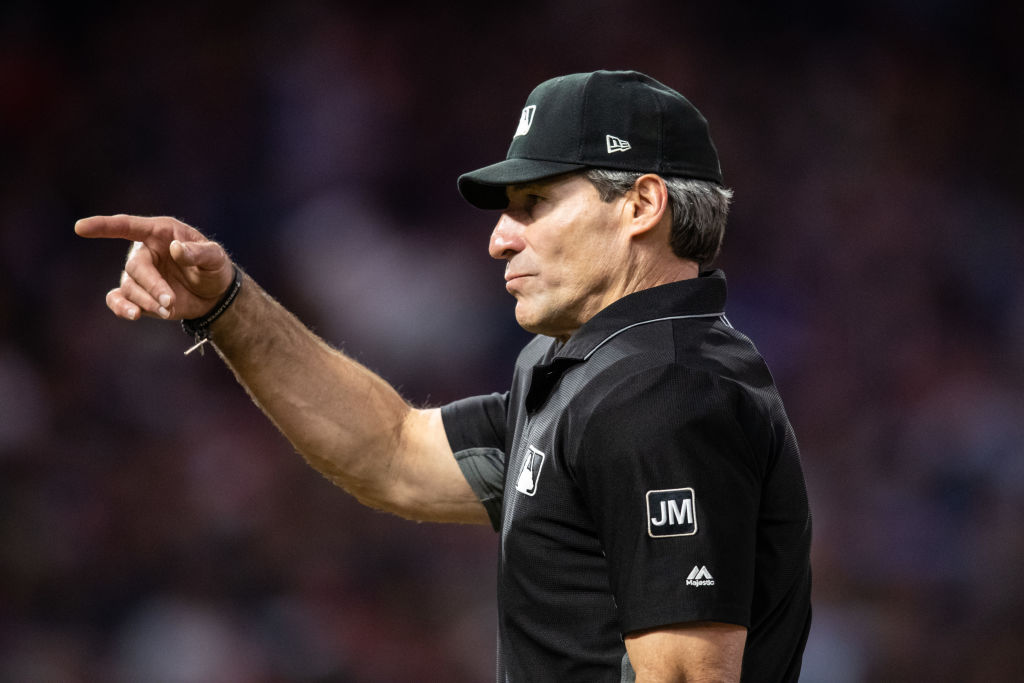 Why Angel Hernandez is the most hated umpire in MLB history
Hernandez is one of the few umpires fans know by name — which is certainly something umpires don't want. He's one of the few things in baseball that fans can unite on in agreement — nearly every fan base agrees that Hernandez is objectively terrible at calling baseball games.
He's seen as being bad at calling balls and strikes as well as making calls in the field. The hatred for him is so widespread, some fans started a Change.org petition asking for his ousting. Sound ridiculous? 661 people have signed it so far. 
Hernandez is widely despised throughout the league, and not just by the fans. Players also agree that Hernandez is bad at his job. In 2013, former Atlanta Braves star Chipper Jones tweeted the following:
"I will not watch a game, any game, officiated by Angel Hernandez! His incompetence amazes me and I'm tired of MLB doing squat about it!"
Angel Hernandez's most notoriously bad calls
To understand why Hernandez is so hated, it helps to look at some of his worst calls. Let's take a look at some of the blown calls that lead Deadspin to call Hernandez "everyone's least favorite umpire."
CC Sabathia summarized many people's feelings about Hernandez during the 2018 American League Division Series when Hernandez blew several calls that went against the Yankees:
"I need to say this…I don't think Angel Hernandez should be umping playoff games. He's absolutely terrible. He was terrible behind the plate today. He was terrible at first base. It's amazing how he's getting a job umpiring in these playoff games."
The attempted lawsuit of Angel Hernandez vs. MLB
Hernandez sued MLB, alleging discrimination, alleging that MLB executive Joe Torre mistreated him due to lasting animosity from Torre's time as an MLB manager. His lawsuit did nothing to quell the hate coming his way, however. Here's what legendary former pitcher Pedro Martinez had to say about Hernandez:
"Major League Baseball needs to do something about Angel…It doesn't matter how many times he sues Major League Baseball. He's as bad as there is."
It appears as though as long as he's umpiring MLB games, fans and players alike will call for Hernandez's firing. While all umpires know that criticism is a part of the job description, what Hernandez faces on a daily basis is beyond the pale.