How Baker Mayfield is Using Kobe Bryant as Motivation After a Tough Season
Despite some astronomical expectations heading into the 2019 NFL season, the Cleveland Browns ended up being a disastrous failure in almost every way. Blame was thrown everywhere, from wide receiver Odell Beckham Jr. to one-and-done coach Freddie Kitchens. The biggest target for criticism, however, was quarterback Baker Mayfield. Mayfield was a disaster, and as the NFL season came to a close, he spoke about the season to ESPN.

Baker Mayfield and the Cleveland Browns' 2019 season
With Mayfield coming into his second season in the NFL after a legendary career in college, the expectations grew ever higher when the team was able to give him help in the form of Beckham Jr. and Jarvis Landry. New head coach Freddie Kitchens was supposed to run one of the league's most explosive passing offenses, and young talent such as Nick Chubb was supposed to add some insurance.

Within weeks of the season's start, however, the Browns' season was an undisputed disaster. Baker Mayfield, who had an effective if not a spectacular rookie season, had shown enough promise to tell people that if he had the options, good things would come to him. Instead, Mayfield took a definitive step back, found his completion rate down four percent from 63% to 59%, and nearly matched every one of his 22 touchdowns with an interception.

With Mayfield struggling, nearly every player on the Browns' offense struggled, except for Chubb, who had a stellar season amidst all the problems. Beckham and Landry were unable to do what they do best, and Mayfield looked lost, unable to find his targets, and at many points, downright confused by what was going on.

The Browns, who were viewed by some as a contender before the season, finished with an abysmal 6-10 record.

Baker Mayfield's thoughts on what went wrong
Appearing on ESPN's morning show, Get Up, Mayfield spoke candidly about the season. While Mayfield had sparred with some people in the media, including Get Up contributor Rex Ryan, he spoke about how the Browns' struggles were a humbling experience that he would try to use to get better.

"It's a humbling experience. It's a different ball game. I mean, let's just be honest, I put my foot in my mouth a lot this past year," Mayfield said (per USA Today). "And I'm going to internalize that, and I think that's the way I need to handle it."

Speaking about motivating himself moving forward, Mayfield spoke about the famous Mamba Mentality displayed by the recently departed Kobe Bryant as inspiration going forward.
"I mean, rest in peace, Kobe [Bryant], but that's the way he did it," Mayfield said. "He motivated himself. He didn't talk a lot. He talked to his teammates, drove them to be better people, better men, and so that's the way I need to handle it. I don't need to respond to the things that don't matter, things that don't help us win."


Baker Mayfield
With this sort of self-reflection, Mayfield showed the human side to a struggling quarterback, and if he can heed his own words, the 2019 season could be a flash in the pan.

Can Mayfield recover?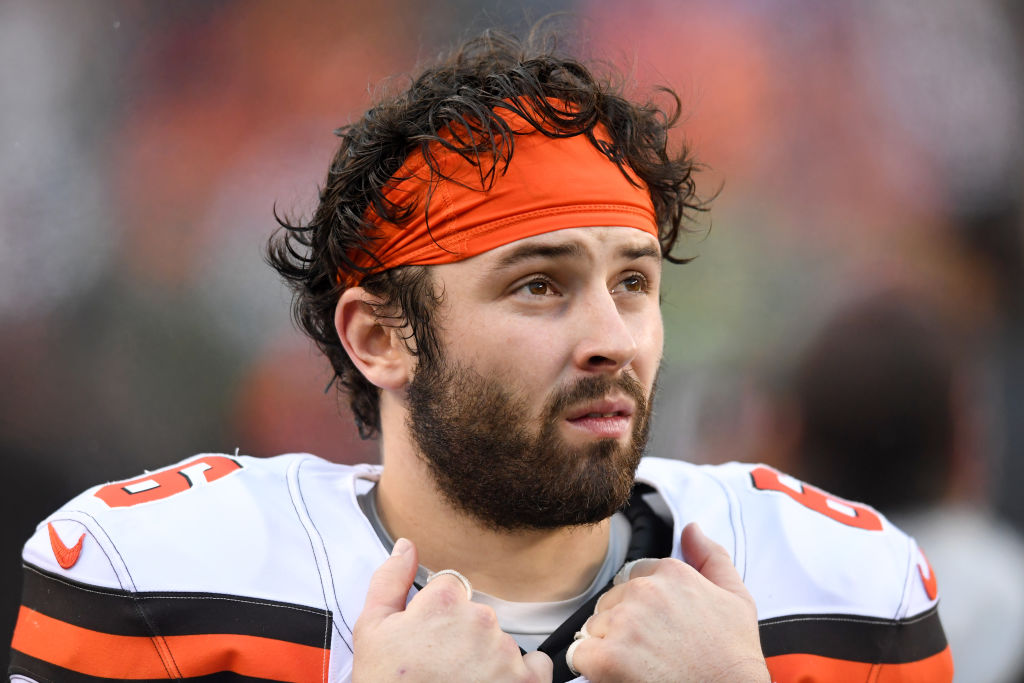 Struggling this early on in one's career can seem like a death knell to reactionary fans and media, but it can also be a blessing in disguise. Becoming a winning quarterback isn't about performing perfectly, however. Every professional athlete has had to overcome some adversity, and the way they were able to respond has said more about them than their lowest points.

There is no sugar-coating Baker Mayfield's season. It was a disaster by nearly every measure. In 10 years, however, Mayfield's bad sophomore season could be the season where people look back and see growth if he puts in the work he talks about. If not, Mayfield might become the latest bust in a history of quarterbacks who never showed their promise in the NFL.