NFL: Will The San Francisco 49ers Suck After This Offseason?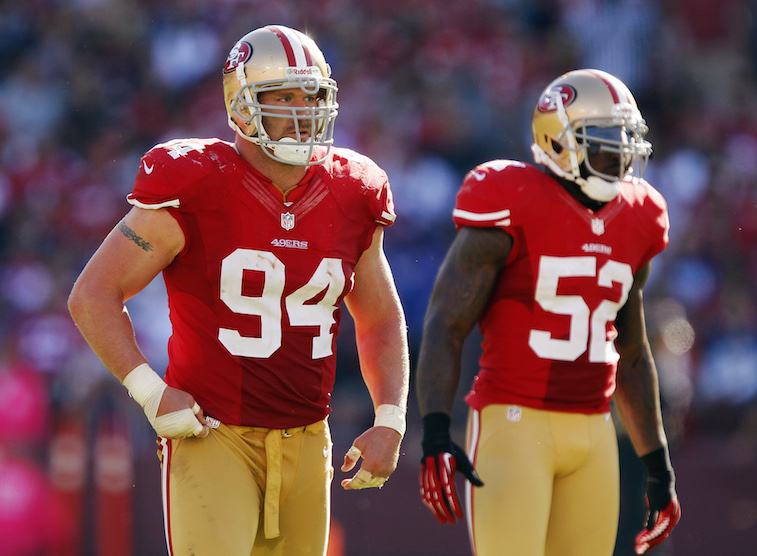 Just when you think the San Francisco 49ers' roster shakeup couldn't get any wilder, the team went and traded away four-time All-Pro punter Andy Lee and witnessed the quasi-retirement of 25-year-old Anthony Davis, the team's starting right tackle. The transactions leave tight end Vernon Davis, a nine-year NFL veteran, as the Niners' longest-tenured player and caps off a crazy offseason for a franchise that is just over two years removed from playing in a Super Bowl. The following is a brief run down on the players that have departed the 49ers this offseason.
Frank Gore, running back:  134 career starts, 11,063 career rushing yards, 64 career rushing touchdowns, 5-time Pro Bowler, 2nd-team All-Pro (2006), holds 49ers franchise records for all-time rushing yardage and rushing touchdowns. Signed with the Indianapolis Colts.
Mike Iupati, offensive guard:  75 career starts, 3-time Pro Bowler, 1st-team All-Pro (2012). Signed with the Arizona Cardinals.
Michael Crabtree, wide receiver:  77 career starts, 4,327 career receiving yards, 26 career touchdown receptions. Signed with the Oakland Raiders.
Perrish Cox, cornerback:  23 career starts, 6 career interceptions. Signed with the Tennessee Titans.
Chris Culliver, cornerback:  20 career starts, 7 career interceptions. Signed with the Washington Redskins.
Dan Skuta, linebacker:  22 career starts, 5.5 career sacks, 142 total tackles. Signed with the Jacksonville Jaguars.
Stevie Johnson, wide receiver:  59 career starts, 4,267 career receiving yards, 31 career touchdown receptions. Signed with the San Diego Chargers.
Jonathan Martin, offensive tackle:  32 career starts. Claimed by the Carolina Panthers off of waivers.
Andy Lee, punter:  46.2 career gross average, 41.3 career net average, 300 career punts inside the 20, NFL single-season record for net punting average (44.0 in 2011), 4-time All-Pro, 3-time Pro Bowler. Traded to the Cleveland Browns in exchange for a 7th round draft pick in 2017.
Justin Smith, defensive end:  217 career starts, 87 career sacks, 880 career tackles, 5-time Pro Bowler, 3-time All-Pro.
Patrick Willis, linebacker:  112 career starts, 8 career interceptions, 20.5 career sacks, 950 career tackles, 7-time Pro Bowler, 6-time All-Pro.
Anthony Davis, offensive tackle:  71 career starts.
Chris Borland, linebacker:  8 career starts, 2 career interceptions, 1 career sack, 107 career tackles.
Aldon Smith, defensive end: 30 career starts,  44 career sacks, 120 career tackles, 1-time Pro Bowler, 1-time All-Pro

Between the 13 players that the 49ers lost, the team will be losing a combined 24 Pro Bowls, 16 All-Pro seasons, and over half of their starting lineup from the 2014 season. On top of that, the team will be breaking in a new head coach after Jim Harbaugh decided to leave and take the head job at the University of Michigan. Jim Tomsula, who has only one game of head-coaching experience, will replace Harbaugh, who compiled an overall record of 44-19-1 with two NFC West titles and one NFC Championship during his time in San Francisco.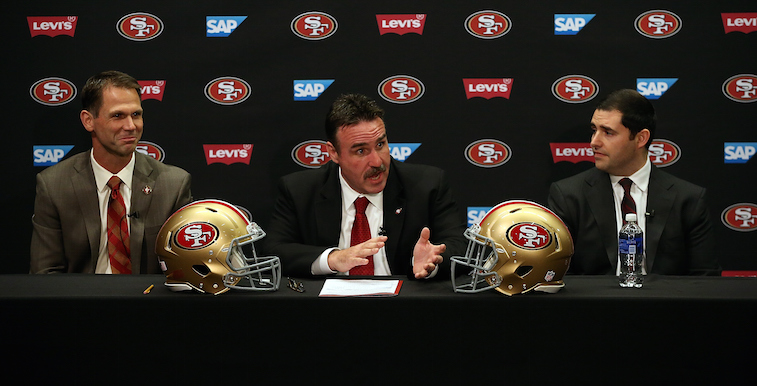 From the outside looking in, it appears as though 49ers General Manager Trent Baalke and CEO Jed York are trying to rid the team of anything and everything associated with the Harbaugh-era in San Francisco. The remaining big-name holdovers with strong ties to Harbaugh are outside linebacker Aldon Smith and quarterback Colin Kaepernick. Ironically, both players have been rumored to be on their way out of town at various times this offseason. It's highly unlikely that Baalke and York would let their contentious relationship with Harbaugh be the only deciding factor to their front office moves, but it's hard not to look at it that way with their current youth movement and their decision to hire a coach with only one game of head-coaching experience and only two years of experience as a defensive coordinator in his 26-year coaching career.
Despite the focus on the abundance of Pro Bowl talent leaving San Francisco this offseason, the team has quietly added a few talented veterans to the mix for the 2015 season. Headlining their additions are running back Reggie Bush, wide receiver Torrey Smith, cornerback Shareece Wright, and defensive lineman Darnell Dockett. With that being said, the players they did add will hardly make up for the talent they lost.
With the way the offseason has played out for the 49ers, we wouldn't be the least bit surprised to see them land a top-five pick in the 2016 NFL Draft. There was a clear-cut focus on potential versus immediate impact in the Niners' 2015 Draft class, and of course they still play in the NFC West, which is arguably the toughest division in the league. It's safe to say the 49ers won't be making a return trip to the Super Bowl anytime soon.
All statistics courtesy of Pro-Football-Reference.