How Carson Wentz Trade Impacts the Indianapolis Colts in the 2022 NFL Draft
Carson Wentz is no longer a member of the Indianapolis Colts. As Adam Schefter so aptly put it on Twitter, it's Commander Carson now, as the Colts traded their starting quarterback to the rebranded Washington Commanders.
The Colts have said that they're "all in" on making a push to the Super Bowl, but this certainly feels like a rebuilding move, doesn't it?
Any rebuilding worthwhile will start in this year's draft for the Colts. Here's how trading Wentz will impact their plan.
The Carson Wentz Era is done in Indianapolis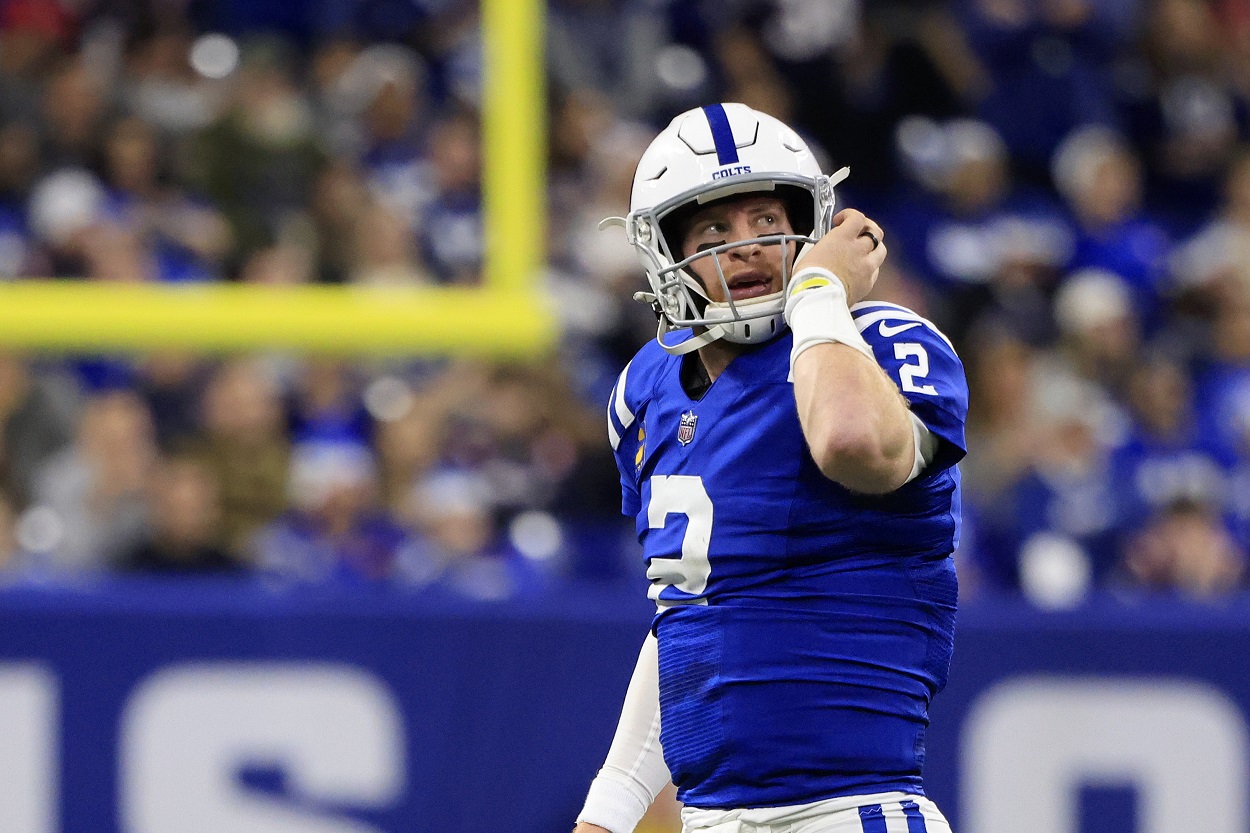 Wentz played one season in Indianapolis. He was far from the Pro Bowl quarterback he was in his best season with the Philadelphia Eagles (2017, when he was an MVP candidate), but he was also far from the worst quarterback the Colts could have rolled with.
Wentz played in all 17 games for the Colts, completing 62.4% of his passes for 3,563 yards and 27 touchdowns with seven picks. He was a respectful starting quarterback, to say the least, but he had a hard time making plays for the Colts when it really mattered.
Despite having a triple-crown winning running back in Jonathan Taylor and a rising star receiver in Michael Pittman Jr, Indianapolis was middle of the pack in yards per game (347.1) and near the bottom of the league in passing yards per game with just 197.7.
Under Wentz's leadership, the Colts lost three of their last six games, including the final two games of the regular season, which knocked them out of playoff contention.
Notably, Indinapilois needed to beat the Jacksonville Jaguars on the road to secure a playoff berth in Week 17. The Colts lost that game 26-11. Wentz was a pedestrian 17-of-29 for 185 yards, one touchdown, one interception, and an ice-cold QBR of 4.3.
In return for Wentz, the Colts are reportedly getting a trade package featuring two 2023 third-round picks and a 2022 second-rounder, according to Adam Schefter.
How the Wentz trade impacts the Indianapolis Colts in the 2022 NFL Draft
Barring any other trades, the Indy rebuild is going to have to wait until day two of the 2022 NFL Draft. The Colts don't have a first-round pick this year and they almost didn't have a second rounder before the trade with Washington.
That's not ideal for a team that missed the playoffs last season and just traded away its starting quarterback, but the good news is this is a deep draft, and the Colts do have a handful of selections in rounds two through five.
With the addition of the second-round pick from Washington, the Colts now have pick No. 42 in the second round, two third-rounders (No. 73 and No. 82) a fourth-rounder, two fifths, a sixth, and two seventh-round picks.
That's nine picks to work with and plenty of holes to fill, so which way do the Colts go early on?
One would think that looking for a replacement for Wentz will be a high-priority for general manager Chris Ballard, but we'll touch on that later.
Wide receiver is also a significant need for the Colts, and the good news is that this is a deep enough class where Indy can snag a great one with pick No. 42. Depending on how the board falls, they could even wait until the third round, but drafting a wideout and adding to the team's offensive firepower ASAP should be a priority.
Michael Pittman Jr. looks to be a potential star thanks to the 1,082 yards and six touchdowns he put up in his sophomore campaign, but the cupboards are bare behind him. Case in point? Indy's second-leading receiver in 2021 was Zach Paschal, with just 384 yards and three touchdowns. Taylor (a running back, remember) was the team's third-leading receiver, which tells you something. While a big name in Indianapolis, T.Y. Hilton belongs in the NFL retirement home at this point of his career.
Especially with how well the defensive players (and the pass-rushers in general) showed out at the NFL Combine, there's a good chance a few very talented wide receivers fall to the Colts in round two. That's not even considering a trade-up into round one, which should be an option for Ballard.
Targets should include Treylon Burks from Arkansas, Skyy Moore from Western Michigan, Jahan Dotson from Penn State, and George Pickens from Georgia.
Can the Colts replace Wentz in the 2022 NFL Draft?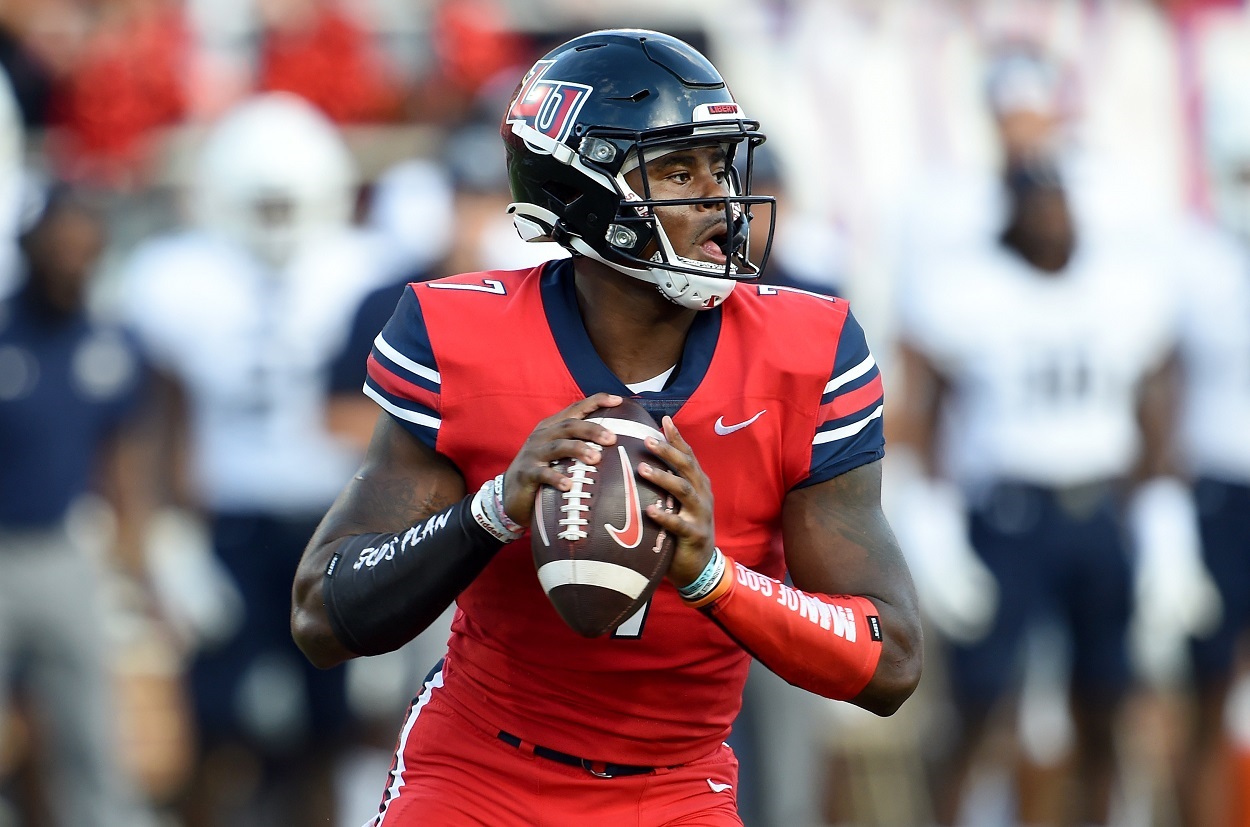 There's good news and bad news for the Colts regarding quarterbacks in this draft. The bad news is there are no sure-bet superstars coming out at quarterback in 2022. Ironically, that's also the good news for Indy because the still talented quarterbacks who are available may end up falling into rounds two and three. There's not likely to be a run on quarterbacks early on.
Perhaps the short-term replacement for Wentz won't be available, but the Colts certainly will have an opportunity to take a quarterback with high-upside that they can groom for the next season or two.
Kenny Pickett out of Pitt appears to be the top quarterback in the draft class, but outside of a trade-up scenario, he's probably out of Indy's reach at No. 42.
Malik Willis from Liberty could be an intriguing option for the Colts, especially if they can package a few picks and move into the back of the first round. He comes with some question marks, but he is a former D1 recruit and he has an incredible arm and great athleticism. Perhaps the fact that he played at Liberty, instead of Auburn, will be enough to drop him into round two.
Ole Miss quarterback Matt Corral is another option for Indy, and the Colts may be able to swoop him up in the third or even fourth round, depending on how things break. He put up 3,349 yards and 20 touchdowns last season for Ole Miss, with a solid QBR of 80.4 (10th best in the nation). He hurt himself in Ole MIss' bowl game, and though it wasn't serious, perhaps that will be enough to cause him to slide to where the Colts can get him for a great value in the third round.
If not Willis or Corrall, there are other options for Ballard and the Colts if they're willing to be patient and take a bet on a quarterback who may need some time to develop but has a high upside.
However it shakes out though, Indianapolis would be wise to draft a quarterback. As of now, the only two quarterbacks they have under contract are Sam Ehlinger and James Morgan.
Stats courtesy of ESPN and Pro Football Reference. Contract information via Spotrac
RELATED: Carson Wentz Trade: What it Means for Jameis Winston