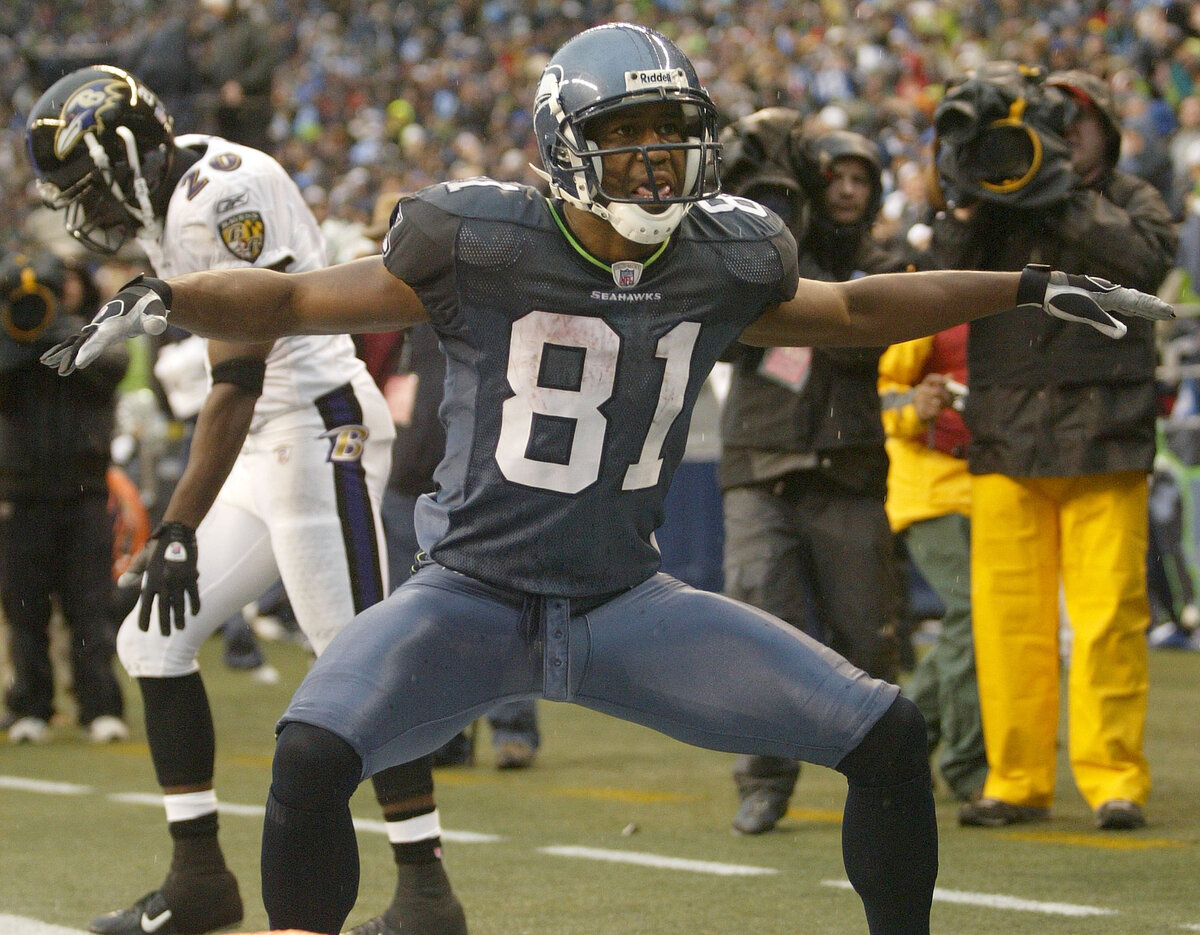 How CBS Star Nate Burleson's 'Poison Pill' Seahawks Contract Changed NFL Free Agency Forever
Now a rising star on CBS and the NFL Network, Nate Burleson changed NFL free agency forever when he signed with the Seattle Seahawks in 2006.
Few have experienced more significant growths in the football media industry than Nate Burleson in recent years.
A former starting receiver for the Minnesota Vikings and Seattle Seahawks, Burleson has turned into a star on both the NFL Network and CBS. Burleson's analysis, professionalism, and enthusiasm have made him a sight to see each week.
Well before he became a TV star alongside the likes of Boomer Esiason on The NFL Today, Burleson helped create a significant rule change in NFL free agency.
Nate Burleson had a successful NFL career
When the Minnesota Vikings drafted Nate Burleson in 2003, they imagined a fearsome duo for years to come between him and All-Pro wideout Randy Moss.
Instead, Minnesota traded Moss to the Raiders after the 2004 season, a year where a 23-year-old Burleson turned 68 catches into 1,006 yards and nine touchdowns. Unfortunately for Burleson and the Vikings, that major season wasn't a sign of things to come.
Burleson remained a productive starting receiver for three teams until he caught his final pass in December 2013, but never again topped the 1,000-yard mark. In 11 NFL seasons, Burleson had 457 catches for 5,630 yards and 39 touchdowns.
A dangerous special teams player with four total touchdowns on kick and punt returns, Burleson impressed when given opportunities in the postseason.
Across seven career playoff games, Burleson hauled in 23 catches for 237 yards and two touchdowns.
Burleson is now a rising star at CBS and the NFL Network
Affable and charming during his playing days, Nate Burleson had the makings of sports media's next television star.
Burleson has more than lived up to the hype in that regard. The NFL Network hired Burleson in 2016 and put him on Good Morning Football, a new talk show, alongside Kay Adams, Kyle Brandt, and Peter Schrager. 
CBS hired Burleson a year later to work as a studio analyst on The NFL Today, a role that allowed him to remain on GMFB during the week. 
Burleson's star has only risen in recent years, enough to where a new generation of fans will meet Burleson in January 2021. Burleson will serve as a color commentator on the upcoming Nickelodeon simulcast of an NFL wild-card game. 
Nate Burleson helped change NFL free agency forever in 2006
Before working in a studio and preparing to call an NFL game featuring SpongeBob SquarePants and slime, Nate Burleson's biggest impact on the league involved poison.
No, Burleson didn't threaten one of his coaches with cyanide if he didn't receive more targets. When the Seattle Seahawks wanted to sign Burleson in 2006, they used what was called a "poison pill contract."
In the past, teams who negotiated with free agents could throw certain provisions in a transition tag's offer sheet that all but ensured the player's former team wouldn't match it.
Take what happened between the Seahawks and Vikings in the spring of 2006, for example. Minnesota signed Seahawks guard Steve Hutchinson by including a clause that Hutchinson's seven-year, $49 million contract would be fully guaranteed if he wasn't the highest-paid lineman on his team. 
Had the Seahawks matched the offer, they'd have owned Hutchinson all of that money because Walter Jones would have remained the highest-paid lineman. 
Seattle, in response, used a similar tactic to acquire Burleson. According. to ESPN, the Seahawks included a provision in Burleson's seven-year, $49 million offer sheet stating that all of the money would be guaranteed if he played five games in the state of Minnesota during one season.
Needless to say, the Vikings could not have matched the contract without destroying their salary cap. Teams started drifting away from such provisions over the next few years.
According to ProFootballTalk, the NFL ditched "poison pill" deals in the 2011 collective bargaining agreement.
Like Sportscasting on Facebook. Follow us on Twitter @sportscasting19.