How Did Baker Mayfield Meet His Wife Emily Wilkinson? She Initially Thought the QB Was Just a 'Punk Football Player'
Baker Mayfield, the 2017 Heisman Trophy winner and current quarterback for the Cleveland Browns, has given hope to Browns fans, particularly after the 2020 season, when the Browns reached the playoffs for the first time since 2002. And with an impressive offensive team, as well as a defense that has the potential to be one of the league's top defensive teams, Mayfield and the Browns stand an excellent chance of returning to the playoffs this season. As he stands poised to make the Browns a serious contender, fans want to know about their young quarterback. Particularly, fans are curious: Who is Baker Mayfield's wife, Emily Wilkinson, whom he married after his rookie season, and how exactly did they meet? And did she really call him a "punk football player?" Read on to find out the answers to those questions, and more.
Who is Emily Wilkinson?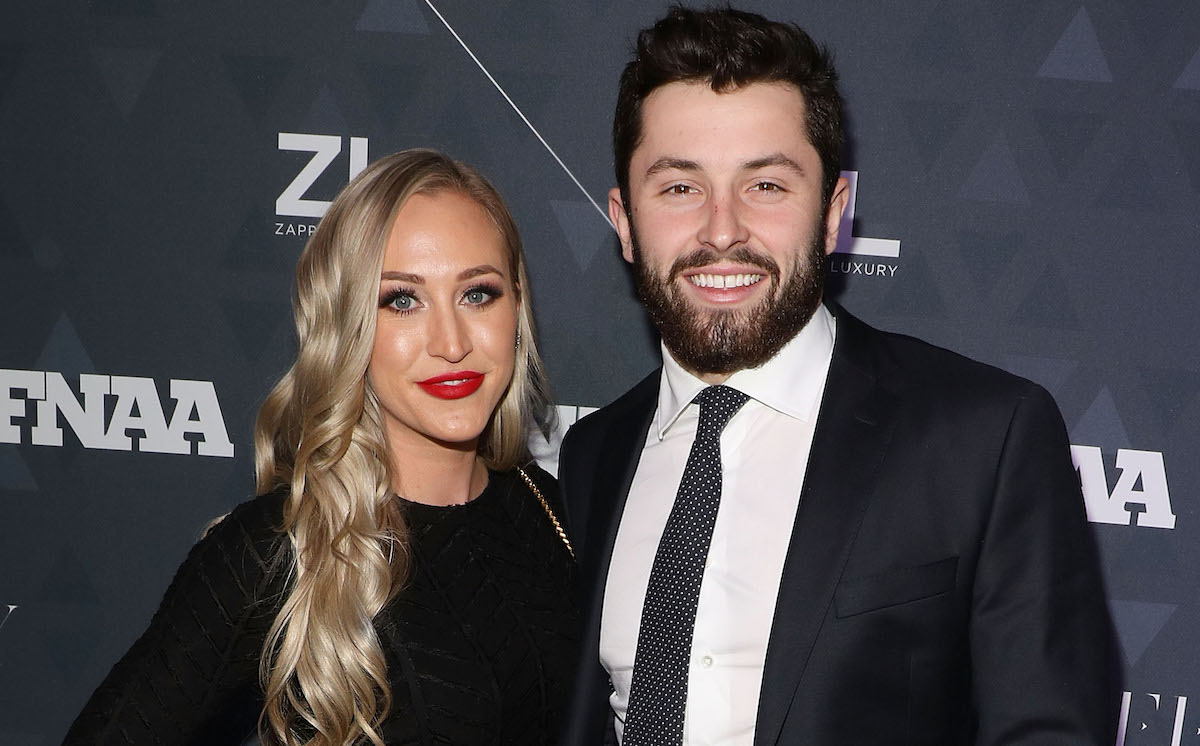 A native of Omaha, Neb., Wilkinson attended the University of Nebraska-Lincoln and then worked as a patient coordinator for a plastic surgeon in Beverly Hills, Calif. When Mayfield was drafted by the Browns in 2018, she moved to Cleveland with him. She was also an Instagram model and social media influencer — and she has an Instagram-famous brother, who goes by the name Sammy Wilk, and has over 1.5 million followers on Instagram. Currently, Wilkinson works as a special correspondent for WKYC, doing fun and lighthearted pieces. 
How did Baker Mayfield meet his wife Emily Wilkinson?
According to Browns Nation, Mayfield and Wilkinson were introduced by a mutual friend. However, while Mayfield was very interested, Wilkinson was not. She apparently assumed he was a "typical playboy athlete" and didn't want to date a "punk football player." Mayfield pursued her and kept following and unfollowing her on Instagram in an attempt to get her attention. Finally, in late December of 2017, Wilkinson relented and responded to his messages and agreed to meet him for lunch before the 2018 Rose Bowl, which was Mayfield's last college game.
His persistence paid off
After Wilkinson finally agreed to go out with him, their relationship took off quickly; they moved in together less than a week after their first date. They got engaged in June 2018, and they were married a year later in Malibu, Calif. Since their marriage, Wilkinson has been Mayfield's biggest supporter, defending him to members of the Cleveland media, as well as haters on social media. She also supported Mayfield's plan to kneel during the national anthem in solidarity with Black NFL players, and she supported him when he changed his mind once the season actually began.
Wilkinson also starred in Mayfield's Progressive Insurance's "At Home With Baker Mayfield" commercials. The Mayfields have been active in the community, donating $50,000 in 2020 to the Greater Cleveland Food Bank to help those struggling amid the COVID-19 pandemic. Additionally, the couple served Thanksgiving meals that same year at a Feed the Need event that they were instrumental in putting together. Wilkinson also helped bring long-time fan, Tom Seipel, who was on hospice at the time, back to Cleveland to watch the Browns clinch a playoff spot. Sadly, Seipel died on Feb. 13, 2021. 
Browns fans are hoping Mayfield can bring a Lombardi trophy back to Cleveland — and that is a real possibility. He has the support he needs on the field and the support he needs at home, after all.
RELATED: Baker Mayfield Believes in UFOs After His Date Night Close Encounter