How Did Beloved Broncos Running Back Floyd Little Become 'The Franchise'?
You must accomplish a lot to earn the nickname "The Franchise." And Floyd Little did more than enough to live up to the title. He's a big reason the Denver Broncos gained a foothold in their nascent years. Despite a lack of talent on the roster, he put up incredible numbers. After retiring, Little got plenty of acclaim. Broncos fans made it clear how they felt about him before he died on New Year's Day. 
Floyd Little is a founding father of the Denver Broncos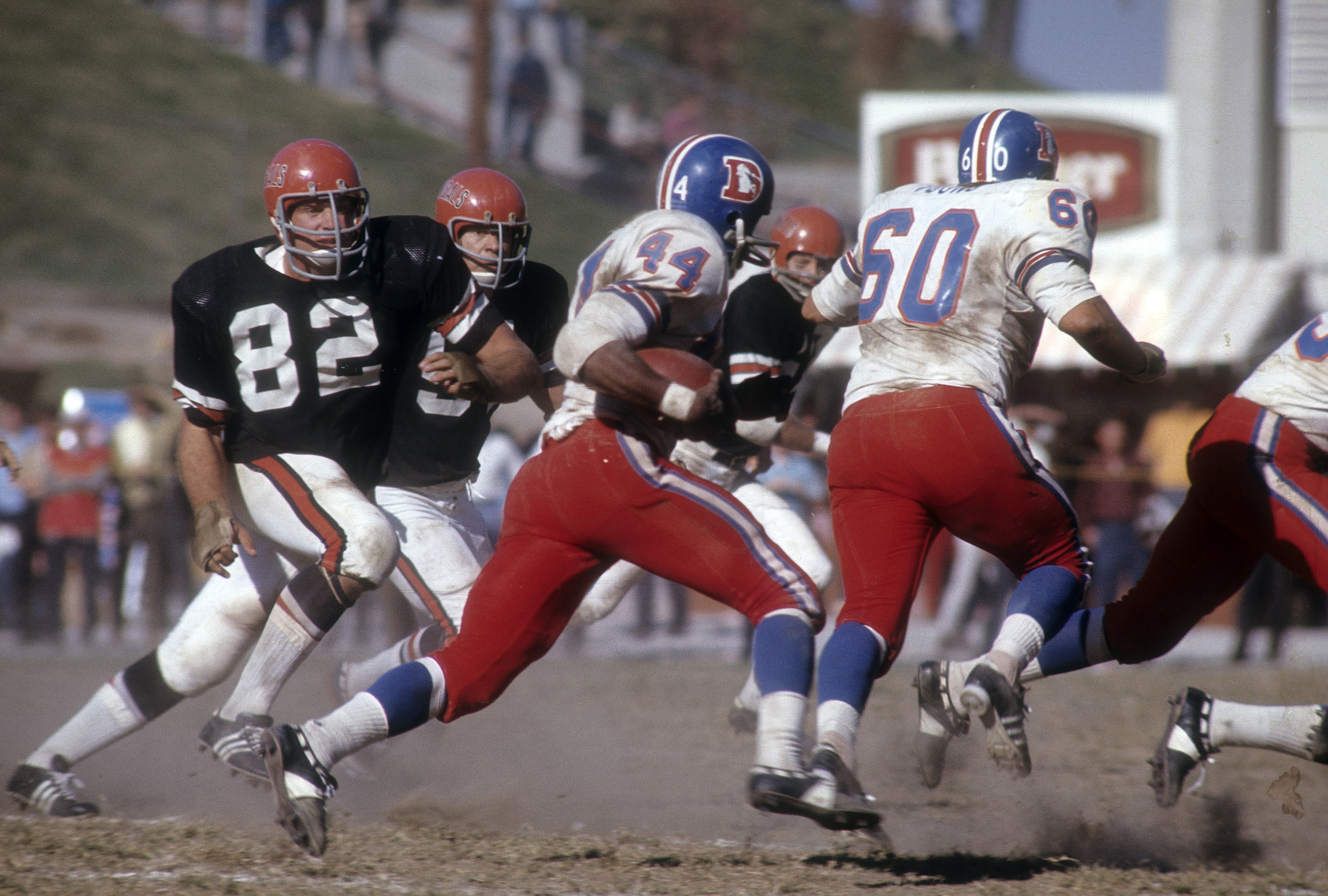 Looking back at his life, it's clear that Floyd Little was going to be great. But this wasn't obvious as an undersized running back debating whether he should play football at Syracuse or the Army. West Point made quite a recruiting pitch. Black baseball stars Roy Campanella and Elston Howard met him at Manhattan's Waldorf Astoria. General Douglas MacArthur told Little he could become a general if he attended the university.
Little was torn but eventually decided to go to Syracuse. There, he became a three-time All-American and college football Hall of Famer. Little then made his way into the professional ranks where his decisions would play a key role in the fate of the Denver Broncos. 
He was the sixth pick of the 1967 AFL-NFL common draft. The common draft was a compromise between the two leagues, but they still competed over players.  Little chose to play for the Broncos. And this played a substantial role in keeping the team in Denver after it nearly moved in 1965. That choice earned him the nickname "The Franchise."
The Broncos only had a winning record in two of Little's nine seasons. He never played in the playoffs, but that didn't stop him from being great. Little retired as the NFL's seventh all-time leading rusher with 6,323 yards rushing and 54 total touchdowns. The five-time Pro Bowl selection led the league in combined yards in 1967 and 1968, despite only being 5-foot-10 and 195 pounds. 
The lack of winning couldn't dull Little's star or his impact on the franchise and its fan base. He entered the team's Ring of Fame in 1984 and was enshrined in the Pro Football Hall of Fame in 2010. 
'The Franchise' returned to school after retirement for a personal reason
He could've spent the rest of his life relaxing after such a storied career. But he returned to work for Syracuse to make good on a promise he made decades before going back to college. Little worked in the athletic department from 2011 to 2016. His main motivation for taking the role was in honor of legendary halfback Ernie Davis whom he referred to as the most influential person in his life.
Davis, a fellow Syracuse alum, was the first African-American to win the Heisman Trophy and was drafted first overall by the Cleveland Browns in the 1962 draft. Sadly, Davis was diagnosed with leukemia and passed away before playing a single down in the NFL. His recruiting efforts convinced Little to pick Syracuse over Army. Working for the school was the best way to pay his friend back. 
"I have promises to keep and miles to go before I sleep," said Little at his introductory press conference. He also received an honorary doctorate degree from the school in 2016. 
Little was praised by many after his death
Little's cancer diagnosis became public last May when former Syracuse teammate Pat Killorin created a GoFundMe page to help raise money for Little's medical bills. Little was moved to hospice care in November, and passed away at the age of 78 on New Year's Day. 
Tributes came in from high-ranking people from all over the landscape. 
NFL commissioner Roger Goodell said everyone who knew Little was proud to have him in their life. "I was so fortunate to know Floyd and witnessed first-hand the impact he had on others," Goodell said in a statement. "Whenever he represented the Broncos at the annual NFL Draft, others immediately sought to greet him and his genuine excitement of being with his fellow Legends and his pride and passion for the Broncos was unmistakable. "Football, the Broncos and the NFL were a large part of his life, but nothing could surpass his love and affection for his wife DeBorah and his children, Marc, Christy and Kyra. To them and the entire Little family we extend our deepest sympathy."
Syracuse's basketball coach Jim Boeheim knew Little when they were students at the school. They even played each other in intramural basketball games. Boeheim paid his respects in a tweet:
President-elect Joe Biden attended law school at Syracuse at the same time Little was a student. In a statement, he called Little a "good man" and a friend. "As with everything else he did in life, Floyd lived to the very end with grit and heart, and love for his family and faith in God," Biden said.
Little may not have won many championships. But he became much more important than a Super Bowl ring could ever be.