How Did Donald 'Cowboy' Cerrone Get His Nickname?
Donald "Cowboy" Cerrone is Conor McGregor's next opponent. While some fans see him as a sacrificial lamb, Cerrone is much more than that. Here's the story of his nickname, rise to UFC stardom, and more.
How Donald Cerrone became known as 'Cowboy'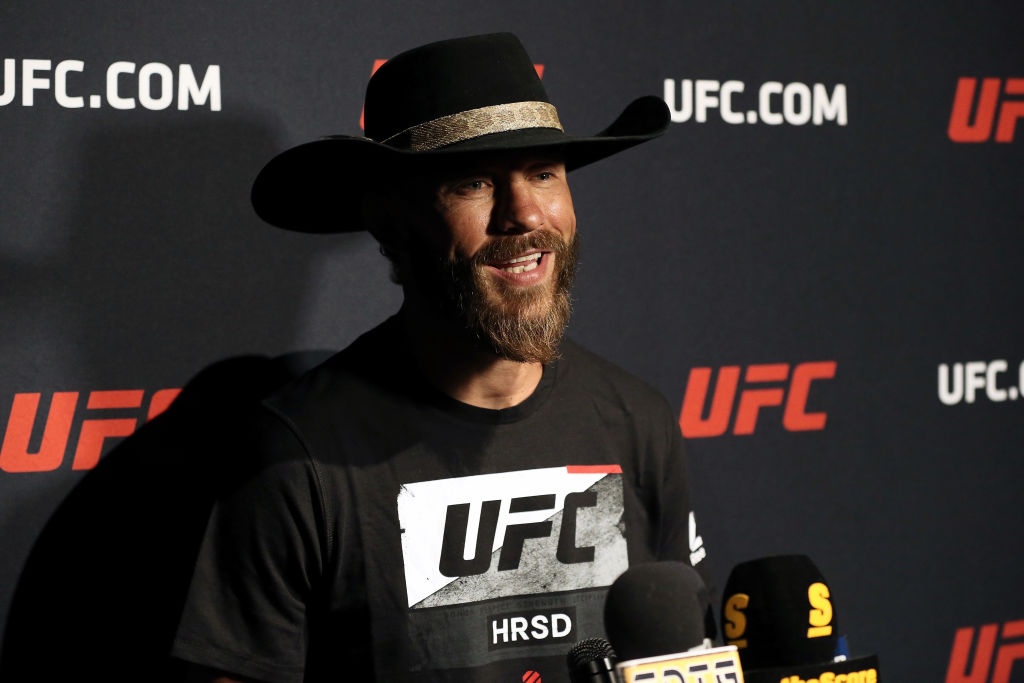 As The Las Vegas Sun reports, Cerrone wasn't always a cowboy. In fact, he grew up in Colorado Springs, Colorado with a "fairly normal middle-class upbringing." That said, his youth was also when he became fascinated with the outdoors. He dreamt of owning a ranch and becoming a cowboy. This lifestyle is how he got his nickname.
Indeed, before he joined the UFC, Cerrone wore a cowboy hat everywhere he went. Unsurprisingly, by the time he joined the UFC, Cerrone became such a stereotypical cowboy that the UFC began referring to him as just "Cowboy." In fact, starting in 2016, whenever Cerrone headlines a card, the UFC simply calls him his nickname even on the posters. 
Donald Cerrone and his BMF ranch
Cerrone had a decent kickboxing career before he joined the UFC, but he quickly became one of the organization's best kickboxers. His skills are the result of years of hard work. This was partially due to where he trained: the famous Jackson-Wink MMA Academy. Popular UFC champions like Jon Jones and Holly Holm also train there.
However, Cerrone had a falling out with Jackson-Wink. He needed a new place to train, eventually settling on turning his home into a gym. Just like he dreamed when he was a kid, Cerrone's home is a ranch he calls BMF Ranch. It's also a gym where he and his friends train.
BMF Ranch has a lot going on, according to ESPN. There, Cerrone not only sleeps and trains, but he also makes sure to spend time with his newborn son Dacson Cerrone.
When he's not training or parenting, Cerrone is usually drinking and playing. Like ESPN showed, Cerrone surfs, shoots paintball guns, and, of course, wrangles animals at his ranch — living the cowboy lifestyle. 
How Donald Cerrone fights
This crazy cowboy lifestyle may be what Cerrone does on his own time, but when he fights, he's anything but crazy. Cerrone is one of the UFC's best Muay Thai kickboxers, so he takes an intelligent and measured approach to fights. The 36-year-old likes to take his time to find openings. When he does find one, he'll unload a combo that can knock anyone out. 
Cerrone can also choke anyone out, too. He prefers to keep the fight on his feet, but he's also comfortable on the ground. His Brazilian Jiu-Jitsu skills have allowed him to secure many more wins than his kickboxing has.
That's why Cerrone is such a dangerous opponent for McGregor. He can fight and beat McGregor everywhere. Cerrone's well-rounded skill set is exactly what allowed him to beat high-level opponents in the past, like former champions Benson Henderson and Eddie Alvarez. The latter fighter is someone McGregor has beaten, too.
Plus, Cerrone has been able to knock out men larger than him, such as Matt Brown and Rick Story. While neither of those fighters has won championships, they were still big names. We'll have to see how Cowboy's fight plays out to learn more about his future in the UFC.
Follow more updates from Sportscasting on our Facebook page.