How Did NFL Coach Jon Gruden Get His 'Chucky' Nickname?
Jon Gruden is one of the more popular coaches in the NFL. He's best known for his intense passion and raw emotion on the sidelines. The 57-year-old coach has had the nickname "Chucky" for the majority of his NFL career, so where did it come from?
The nickname is an ode to Gruden's mean streak. As one of the more aggressive coaches in league history, there isn't a better moniker to describe the Las Vegas Raiders head coach. 
Jon Gruden's legendary NFL career
RELATED: Raiders Coach Jon Gruden Used To Call Sean McVay 'Piss Boy'
Jon Gruden started his career in 1998 with the Oakland Raiders. Gruden led the team to a 38-26 record over four seasons, making the playoffs twice. After losing in the infamous "Tuck Rule" game in the 2001 playoffs, the Raiders were looking for a change, and so was Gruden.
The team traded Gruden to the Tampa Bay Buccaneers for two first-round picks, two second-round picks, and $8 million. He found success early with Tampa, winning the Super Bowl during the 2002 season. Warren Sapp, Derrick Brooks, and John Lynch were key pieces to that dominant defense. After the Super Bowl victory, Gruden's Bucs only made it to the playoffs two more times during his tenure.
In 2009, Gruden walked away from coaching and joined the broadcast booth. He was a part of ESPN's Monday Night Football commentary team with Mike Tirico and Ron Jaworski. The veteran coach then returned to the sidelines in 2018, rejoining the Raiders. He has a 19-29 record with the team after three seasons.
Jon Gruden's unfiltered passion for the game is what makes him such a unique coach. He will rip his players apart when they make mistakes but shower them with praises when they do something right. The 17-year head coach earned his famous "Chucky" nickname because one of his players was pissed off at him during a game.
How did Jon Gruden get his 'Chucky' nickname?
RELATED: Jon Gruden Just Gave Cam Newton a Hilarious New Nickname
Since Jon Gruden became an NFL coach, the nickname "Chucky" has always followed him. He resembles the fictional protagonist from Child's Play with his reddish hair and gritty facial expressions. One of his former running backs, Harvey Williams, started the nickname because he was mad at Gruden for ripping him for a mistake he made.
"He went the wrong way on an audible. We called a 96; he went 97. Of course, there were only five major television networks at the game, 70,000 fans there booing. Sorry for getting upset. Gee," said Gruden per Sports Illustrated. "Next thing I know, a newspaper has a picture of Chucky next to a picture of me. Next thing I know, no one knows my name anymore."
Ever since that moment, the nickname has stuck with the veteran head coach. He initially didn't embrace the nickname, but Jon Gruden eventually came around and accepted his new moniker. He's turned his nickname into an alter ego of sorts. In a postgame press conference in 2018, Gruden admitted that "Chucky" came out after arguing a penalty that negated a touchdown.
'Chucky' gets agitated very easily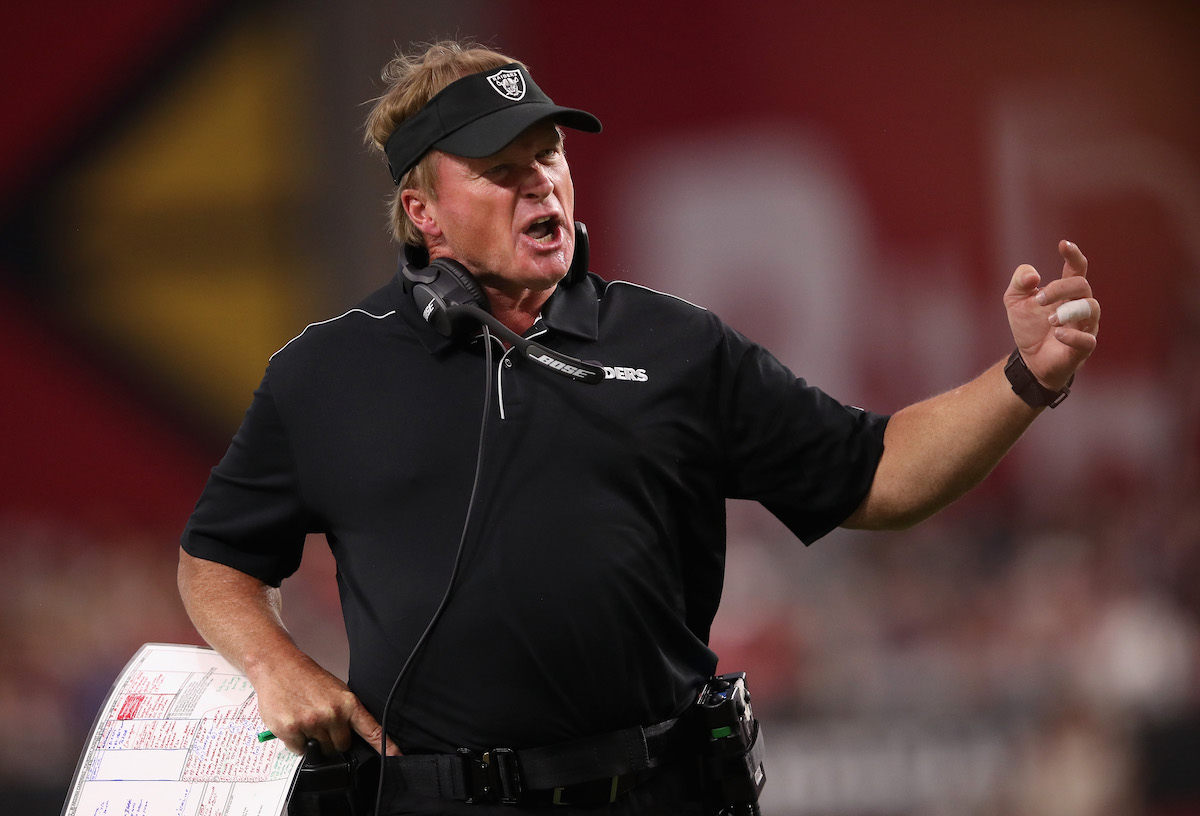 RELATED: Jon Gruden and the Las Vegas Raiders Just Decided Derek Carr's Future With the Team
The common denominator between Chucky from Child's Play and Jon Gruden is their temper. Both can become irritated very quickly, something that the head coach's family has had to deal with their entire lives.
"Jon is very easily agitated. The thing that worried me was if you're in the same room with him for a long period of time, he's going to find something you're doing that bothers him," said Jay Gruden, Jon's brother per Sports Illustrated.
"He gets very irritated quickly. If he's in a movie theater and someone's chewing too loudly or talking, we get up and move. One time we moved five times. I was so embarrassed," said Cindy Gruden, Jon's wife.
Jon Gruden has had the "Chucky" nickname for over 20 years. Sometimes, the passion he has for football can be extreme, but that is what comes with the legendary head coach's personality.
Stats courtesy of Football Reference