NBA: How Dirk Nowitzki Made Basketball History
When Dirk Nowiztki finished an otherwise-everyday Tuesday night game against the San Antonio Spurs last season, he did it with 13 rebounds. Not particularly surprising, all in all, except for the fact that Dirk became just the 37th player in NBA history to pull down more than 10,000 boards in his career when he did it. The German forward wouldn't consider himself to be a dominant rebounder, but acknowledged that he figured out how to play to his strengths, as he said at the time:
I came here when I was 20, probably the worst 7-foot rebounder in the league at the time. I still wouldn't say I'm a great rebounder, but I learned how to use my length some.

There were some years where I almost averaged 10 boards. I think the closest was 9.9. I'm a little disappointed that I never averaged 10 a game. I got to be a decent rebounder. I was almost more proud than all of the points I scored.
No one really expected much from Nowitzki went it came to rebounding. After all, he was characterized as a "soft Euro" most of the time. But this latest accomplishment will hopefully convince the haters otherwise. For if you combine the work Nowitzki has done on the glass with his propensity for scoring, you'll soon realize that Tuesday night game also marked his inclusion into another exclusive NBA club.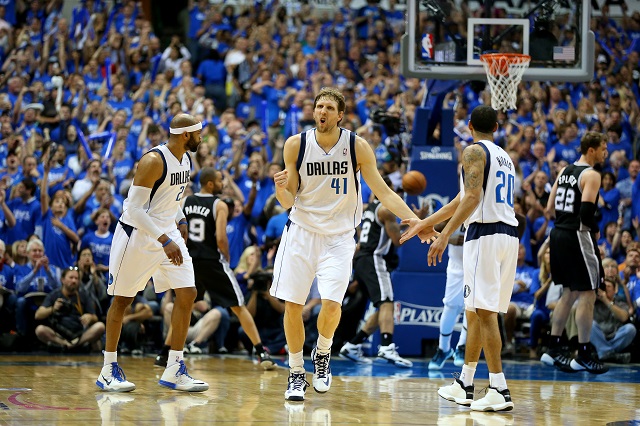 Coming into the Texas showdown, the Mavericks forward had 27,945 career points and 9,991 rebounds. By breaking the five-figure mark in rebounds, Nowitzki didn't only become the 37th player to secure over 10,000 boards, he became just the seventh player of all time to have 27,000 or more points and 10,000 or more rebounds. The other players who are a part of this select group include Kareem Abdul-Jabbar, Wilt Chamberlain, Karl Malone, Shaquille O'Neal, Moses Malone, and Elvin Hayes. That's not bad company. And yet, Dirk somehow managed to distinguish himself even more.
It's not everyday that NBA players get to create their own historical categories, but that's exactly what Nowitzki did. He has now become the only player in NBA history to record at least 25,000 points, 10,000 rebounds, 1,000 blocks and 1,000 three-pointers. While the Mavericks were ultimately underwhelming in the playoffs (hi, Rajon Rondo!), Dirk finished the season with totals of 28,119 points, 10,051 rebounds, 1,128 blocks, and 1,575 three's.
Nowitzki 'only' averaged 17.3 points, 5.4 rebounds, and 1.9 assists per game this season. Those numbers may have dipped from years past, but they'll do nothing to diminish what he's already accomplished. While Nowitzki is predominantly known for his scoring, that's clearly not all he's done well during his impressive 17 seasons in the NBA. Just look at the history.
All statistics are courtesy of Basketball-Reference.com and ESPN.go.com.