How Does Nick Saban Recruit for Alabama Football and Why Is He the Best?
The Alabama Crimson Tide are in their eighth national championship game in the last twelve seasons. On Monday the 11th, they will face Ohio State in the College Football Playoff National Championship. Obviously, such sustained success in college football does not come without a massive recruiting machine. Head coach Nick Saban is the man who runs that machine.
Saban's very personal recruiting style
RELATED: Nick Saban Has a Serious Problem at Alabama He Has to Fix Soon
Half of coaching college football is recruiting athletes. It's the key difference between the duties of college coaches and NFL coaches. Landing the top athletes for your college football teams requires stern attention to detail, around-the-clock information, and just the right amount of salesmanship.
Going back to his days as head coach of the Toledo Rockets, Nick Saban excelled at this far and above anyone else. So many stories abound of his ability to reel in talent. On the field, Saban is a distant, cold, autocratic figure. In the living room, Saban takes time to know his recruits, build relationships with them, and put on a good show for their families.
According to Sports Illustrated, during his days as head coach at Michigan State, he was so eager to recruit wide receiver Andre Rison that he hung out with his grandmother and drank beer with her until 3 a.m. Somehow it all worked out in the end, and Rison did indeed go to Michigan State.
The other coaches sometimes come off as used-car salesmen and Baptist ministers—he's not like that…A lot of these parents aren't making a lot of money, and they see this guy come in, just off the plane, wearing a suit, a guy with a plan. They don't see many people like that. What they saw in him was a man who was blunt, straightforward and successful.

Anonymous former Alabama offensive coach
The Nick Saban Rule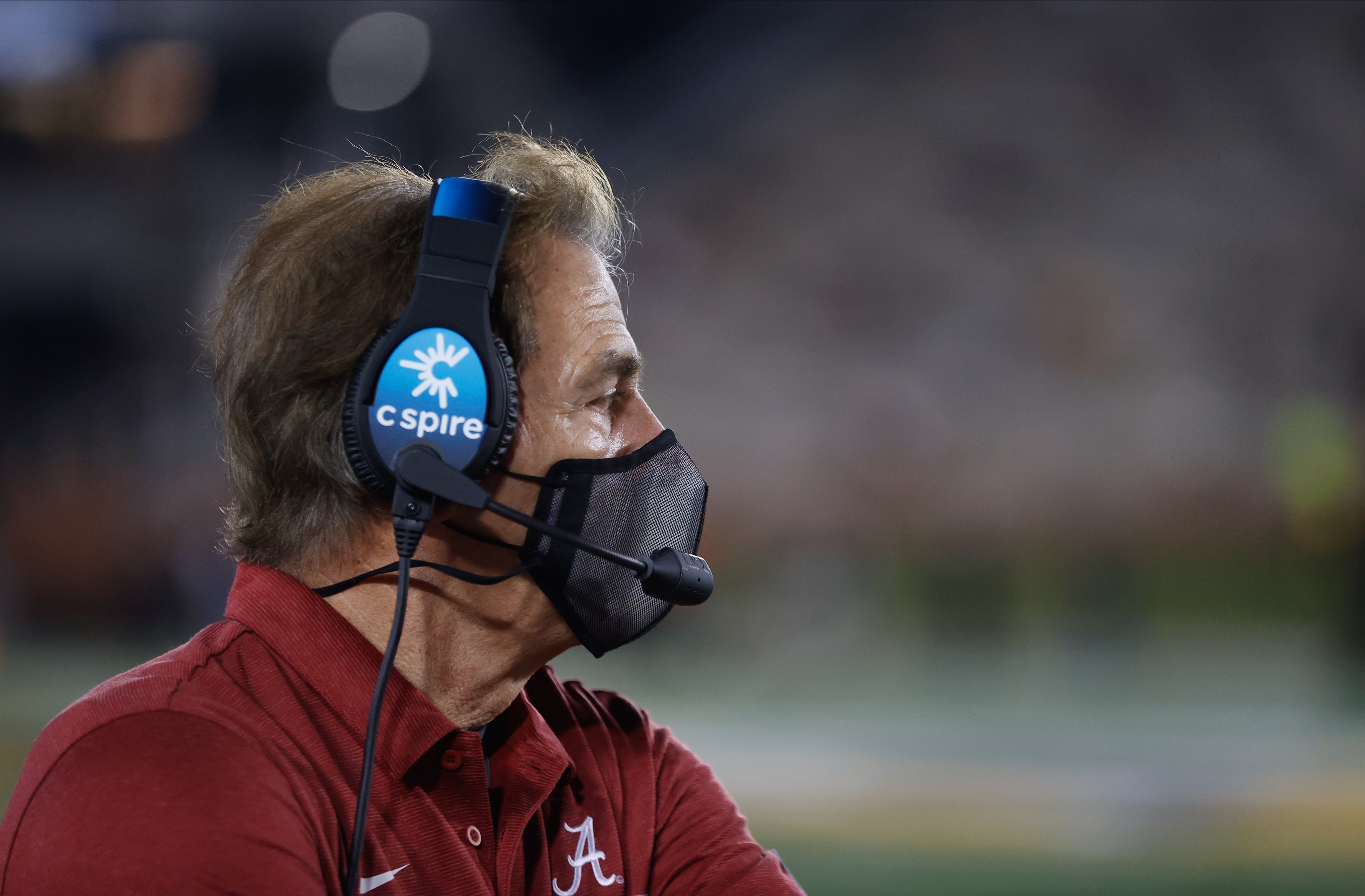 RELATED: Nick Saban's Massive Salary Makes Him 2020's Highest-Paid NCAA Football Coach
Until 2008, another key to Saban's recruiting success was the spring evaluation period — the period from April 15 until the end of May when coaches can personally evaluate new recruits. Saban took full advantage of this time period, going out on the road to "check up" on top recruits and assess every aspect of their athletic and academic skills.
In early 2008, the NCAA banned coaches from doing off-campus recruiting during the spring evaluation period. Although Nick Saban was far from the only coach to do such a thing — Urban Meyer and Pete Carroll weren't happy about the rule changes either, according to the National Scouting Report — the rule became known as the "Nick Saban rule".
Ironically, Saban's recruiting class for that season has been called one of the best in college football history. That class guided the Tide to two national championships and included players such as Julio Jones, Mark Ingram, Courtney Upshaw, and Dont'a Hightower.
How Nick Saban has adapted to COVID-19
On Nov. 25, Saban tested positive for COVID-19 and was forced to miss the Iron Bowl. For the first time since 2007, the Crimson Tide took the field without Saban patrolling the sideline (He was forbidden from any contact with his assistants during the game due to NCAA rules). Offensive coordinator Steve Sarkisian took over as acting head coach for the game, which Alabama won 42-13.
However, thanks to the miracle of technology, Saban was never far from his team even during his time in quarantine. Through Zoom, Saban watched his team's practices live from his home and could participate in team meetings. Still, he wishes coaches in quarantine could at least communicate with their team at halftime.
"It's not like you can catch it through the phone or something," said Saban, as quoted by Sports Illustrated.