How Donnel Pumphrey Can Make College Football History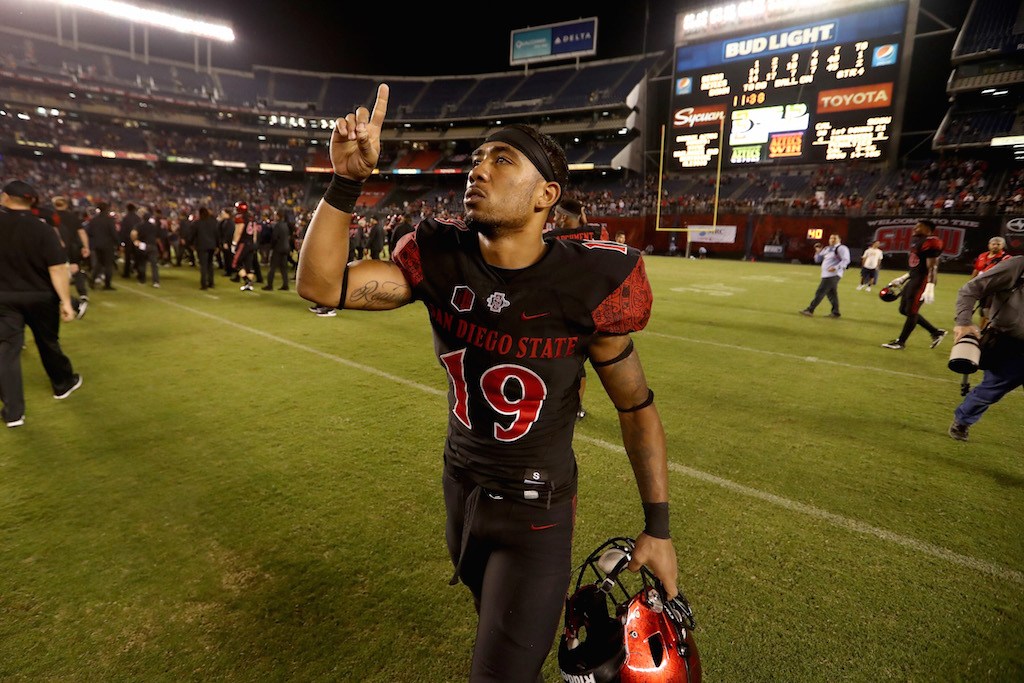 College football legends come in all shapes and sizes. Some of these gridiron giants are revered for their ability to fling the pigskin. For others, it's all about how many times they carry the ball into the end zone. Either way, what makes the game so special at this level is that everyone plays for something much greater than paychecks or endorsement deals; they play for pride. The best part is, even the most unassuming figures can distinguish themselves from the rest and race toward immortality.
In the 2016 season, the best example of this is San Diego State running back Donnel Pumphrey. Average fans might not know the name, but we have a feeling that's about to change. Through nine games this year, the 5-foot-9, 180-pound senior is averaging 6.6 yards per carry (he has 270 carries on the year), 14 rushing touchdowns, and 1,779 yards on the ground (the most in college football this season). While this latest feat is nothing to sneeze at, what's even more impressive is what Pumphrey's been able to accomplish over his four collegiate seasons.
Following his 198-yard rushing performance in the Aztec's last game, a 46-16 victory over Nevada, Pumphrey became just the fifth player in FBS history to amass 6,000 career rushing yards. And in doing so, he passed DeAngelo Williams for fourth place on the NCAA's all-time rushing list. Now with 6,051 rushing yards to his name, the San Diego State superstar has the record books well within his sights.
Pumphrey has two regular-season games left to become college football's all-time leading rusher. As it stands, he's just 347 rushing yards away from cementing his place at the top of a list of extremely accomplished collegiate rushers. However, before that can happen, Pumphrey must eclipse the remaining rushing marks currently standing in his way. Here's a look at the three players with those numbers.
3. Tony Dorsett, Pittsburgh
Rushing yards: 6,082
During his four-year stint (1973–76) at Pittsburgh, running back Tony Dorsett lit the college football world on fire. In 43 regular-season games, the All-American back had 1,074 carries, averaged 141.4 rushing yards per contest, and amassed 55 rushing scores. Dorsett finished his collegiate career with 6,082 rushing yards — now the third-most all time — and the 1976 Heisman Trophy. It's no wonder the Dallas Cowboys selected him with the No. 2 overall pick in the 1977 draft.
2. Ricky Williams, Texas
Rushing yards: 6,279
Ricky Williams wasn't always the NFL's poster child for anything high. Once upon a time, he was the two-time All-American running back for the mighty Texas Longhorns. From 1995–98, Williams bulldozed the competition to the tune of 72 rushing touchdowns (in 46 regular-season contests), a career average of 136.5 rushing yards per game, and a then-NCAA record 6,279 total rushing yards. To the surprise of absolutely no one, Williams won the Heisman Trophy his senior season, before the New Orleans Saints eventually drafted him with the No. 5 overall pick in the 1999 NFL Draft. If given a chance to do it all over again, we have a feeling Mike Ditka and company would handle things differently.
1. Ron Dayne, Wisconsin
Rushing yards: 6,397
When it comes to career rushing yards, Ron Dayne is the standard by which all college football running backs are measured. During his four seasons (1996–99) at Wisconsin, the All-American back had 63 rushing touchdowns (in 43 regular-season games), averaged a ridiculous 148.8 yards per game, and finished as the NCAA's all-time leading rusher with 6,397 yards on the ground. Aside from running away — literally and figuratively — with the 1999 Heisman Trophy, Dayne accomplished something much more impressive: college football immortality.
Statistics courtesy of SR/College Football, ESPN, and NCAA.org.