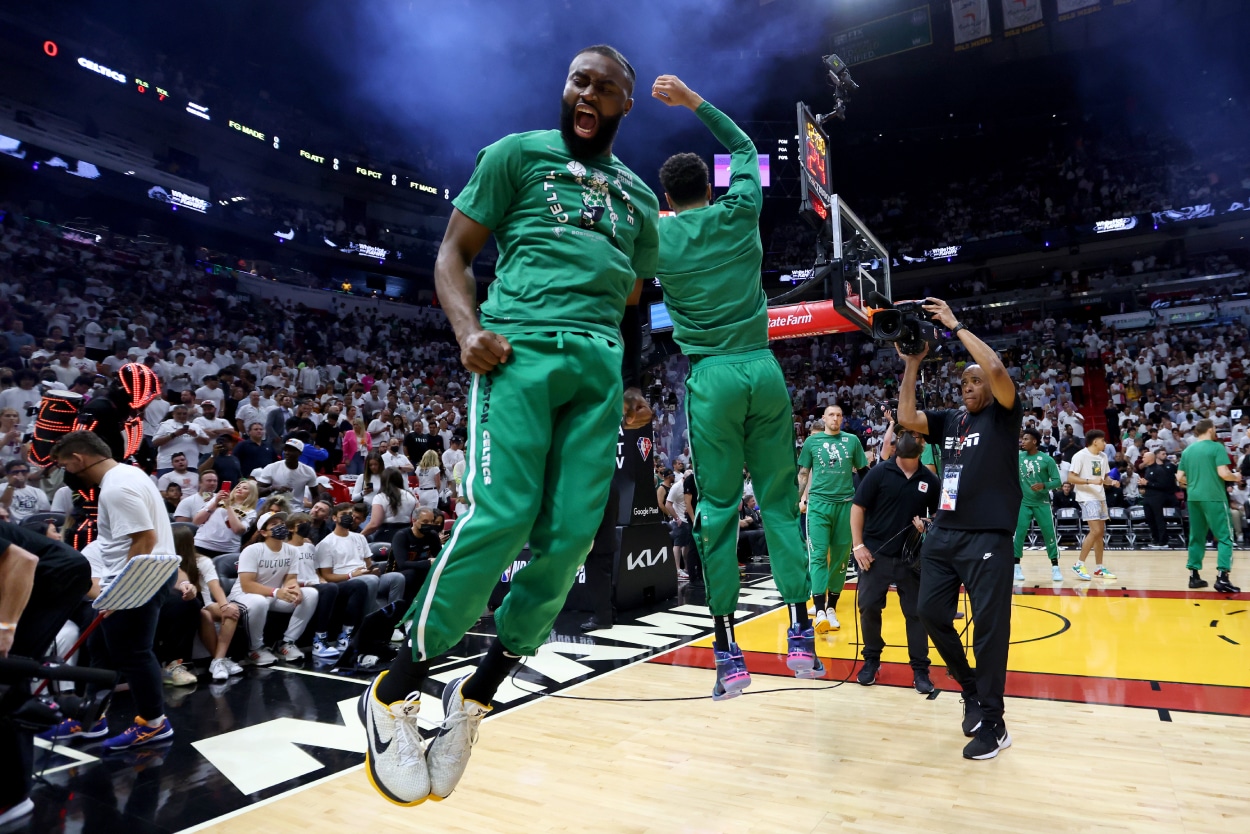 How Far Is Jaylen Brown Behind Jayson Tatum as the Boston Celtics Best Player?
Jaylen Brown and Jayson Tatum are motivated to raise Banner No. 18 for the Boston Celtics.
Jayson Tatum is considered the best player on the Boston Celtics. He has the stats and the honors to prove it. Jaylen Brown is looked upon as the 1B, with Tatum being 1A.
Both are athletically gifted and have shown they can be stars in a star-studded league. Together, they pushed the Celtics over the hump last season, getting them into the NBA Finals for the first time in 12 years. While Tatum is considered Boston's biggest star, how far behind is Brown?
All signs point to a Jaylen Brown breakout season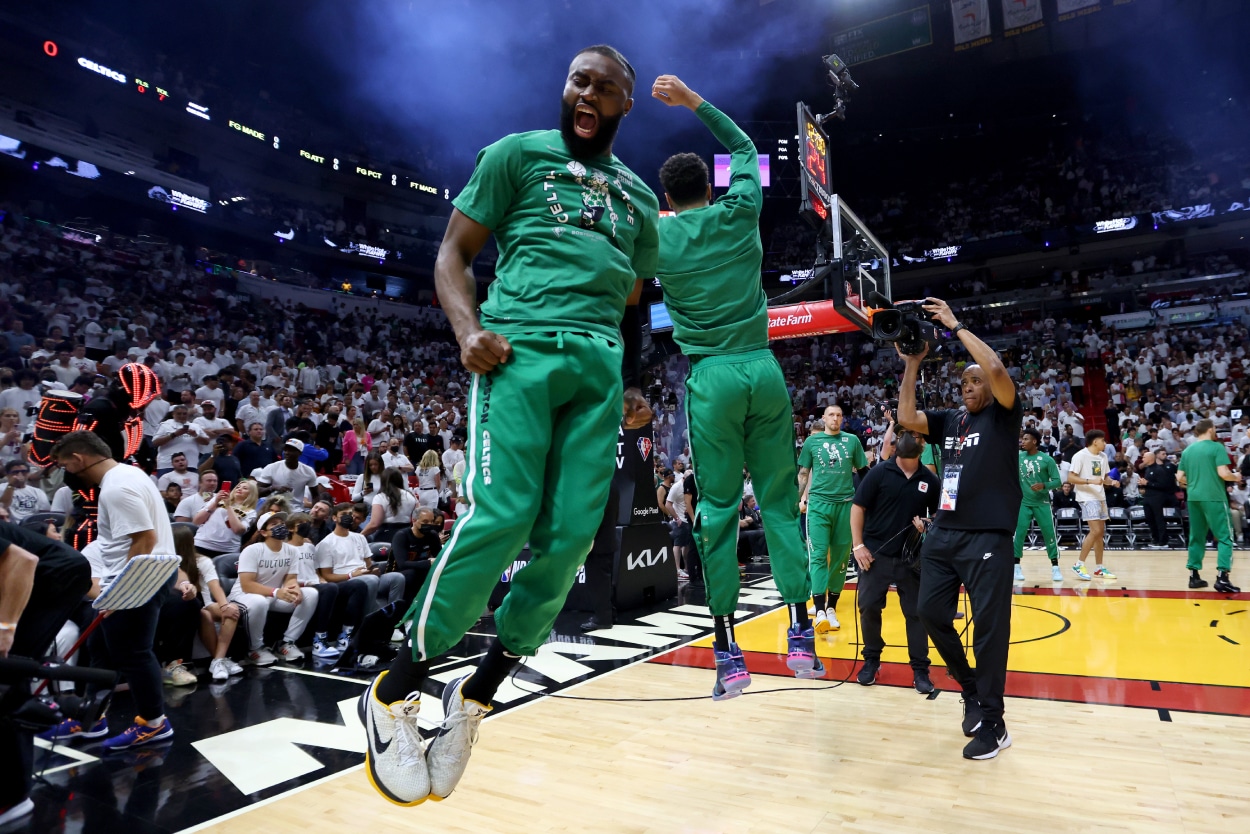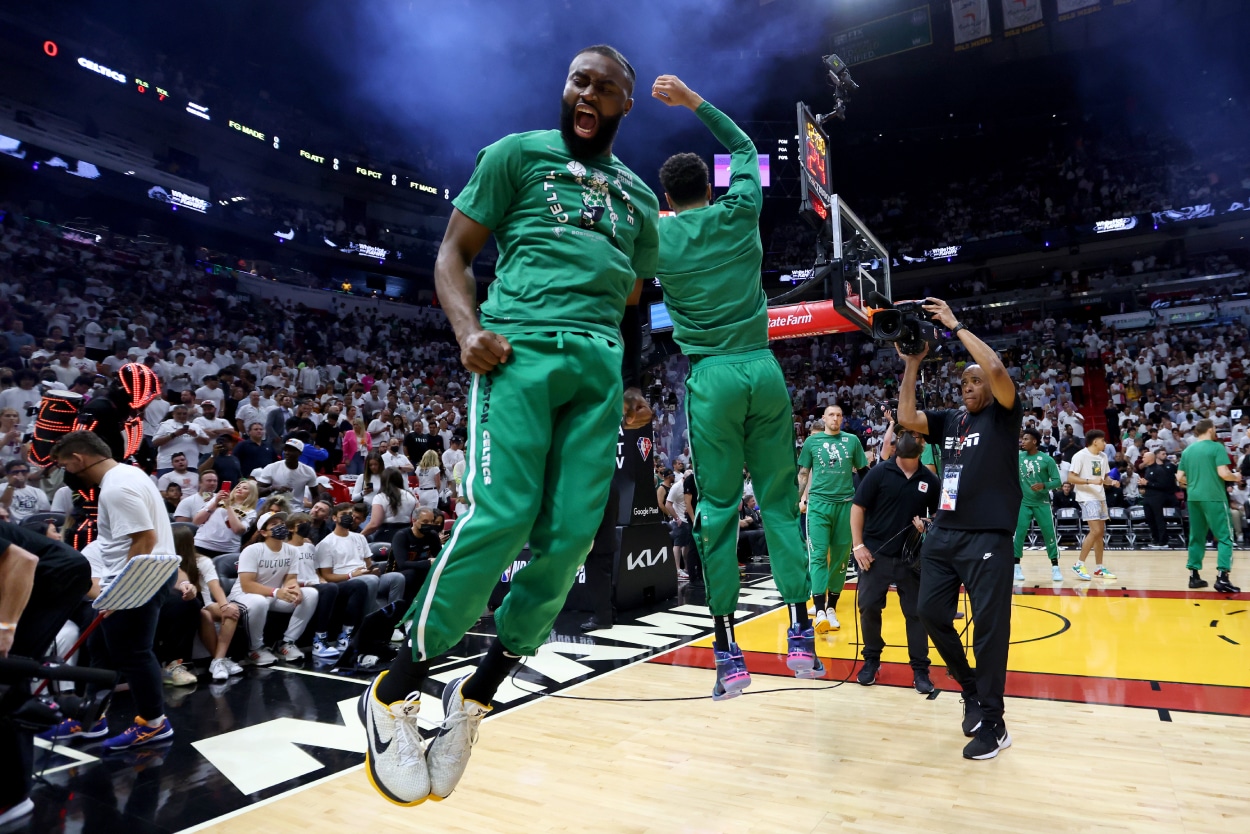 Brown and Tatum have been Celtics teammates since the 2017-18 season. Both were picked third overall, Brown in 2016 and Tatum the following year. For years, they've been compared to each other, and they've been able to get the Celtics to at least the Eastern Conference Finals three times since Tatum's rookie year.
They've also been criticized for not being able to get into the championship round. Up until last year, many questioned if Tatum and Brown could co-exist and bring home a championship. Although they fell short of a title, they took the Celtics into the NBA Finals after an incredible in-season turnaround.
Two years ago, the Celtics finished the season 36-36, the Brooklyn Nets made quick work of them in the playoffs. Last year, they were 25-25 after 50 games, and those questions of Tatum and Brown being the guys to lead a team were at an all-time high. They ended the regular season on a 26-6 run. They swept the Brooklyn Nets and outlasted the Milwaukee Bucks and Miami Heat in seven games to reach the NBA Finals.
After falling short against the Golden State Warriors, the Celtics are hungry and motivated. Brown has some extra motivation.
Brown saw his name involved in trade talks. When Brooklyn's Kevin Durant asked for a trade this summer, Brown's name was frequently mentioned as a trade chip. He also has two years remaining on his current deal. In order for Brown to earn a supermax deal, he needs to make his way on an All-NBA team, something Tatum has done twice.
Is Brown that far behind Tatum?
Like Tatum, Brown has seen steady improvement in his game every season. Last year, Brown put up 23.6 points, 6.1 rebounds, and 3.6 assists. While his scoring was down from his career-high 24.7 two years ago, his rebounds and assists were higher.
Tatum averaged 26.9 points, 8.0 rebounds, and 4.4 assists last season — all career highs.
Brown has been the better shooter throughout his career, making 47.3% of his shots from the floor. Tatum has hit at a 45.6% clip. Tatum has a slight edge from three-point range in their career (38.3% to 37.3 %), but Brown has been better from long range in the last two seasons.
Although they both struggled holding onto the ball throughout the playoffs, Tatum turned the ball over 39 more times than Brown did during the regular season. Overall, Tatum has the better numbers, but it's far from overwhelming.
Brown has the incentive this year. He's always had the fight in him. It's not a competition between the two stars, but they are both motivated to erase the memory of losing Game 6 of the NBA Finals at home. Brown likely takes his motivation a bit further this year with the potential supermax payday on the horizon.
Could this be the year he steals the show from Tatum and becomes the 1A?
Have thoughts on this topic? Keep the conversation rolling in our comments section below.