How Fast Is Antonio Brown?
Antonio Brown has not always been known for his good decisions. The impressive NFL star has certainly made more headlines for his controversial antics than he has for his playing ability over the years. Between his multiple retirement announcements, his feuds with other players, and his high-profile social media dispute with the mother of his child, Brown's certainly gotten the side eye from more than one fan. Still, when it comes down to it, athleticism is measured by physical ability, and no one can deny that Brown delivers on that front. So just how fast is Antonio Brown, anyway?
Brown has had an impressive NFL career
A quick look at Brown's NFL stats shows just how impressive the wide receiver has been over the years. He started out with the Pittsburgh Steelers in 2010. Over the course of nine seasons with the team, Brown showed off an impressive range of skills, even earning attention as the potential best wide receiver in the league. 
That was all cast into a shadow when Brown and Steelers quarterback Ben Roethlisberger had a headline-grabbing feud. As the 2019 season wound down, it wasn't clear where Brown would land, and his behavior was often showcased as immature and unsportsmanlike by media coverage, making him less appealing to other teams as well. At multiple points, Brown even announced his retirement, but it didn't last. 
Instead, Brown bounced to the New England Patriots. A seemingly better relationship with quarterback Tom Brady showed some promise for Brown, but the stint was short-lived. He only spent one season with the team. In fact, he only played a single game before getting cut amid scandalous accusations of sexual assault.
Brown and Brady ended up on the same team once again as both joined the Tampa Bay Buccaneers in 2020. They're currently each serving their second season with the team.
How fast is Antonio Brown?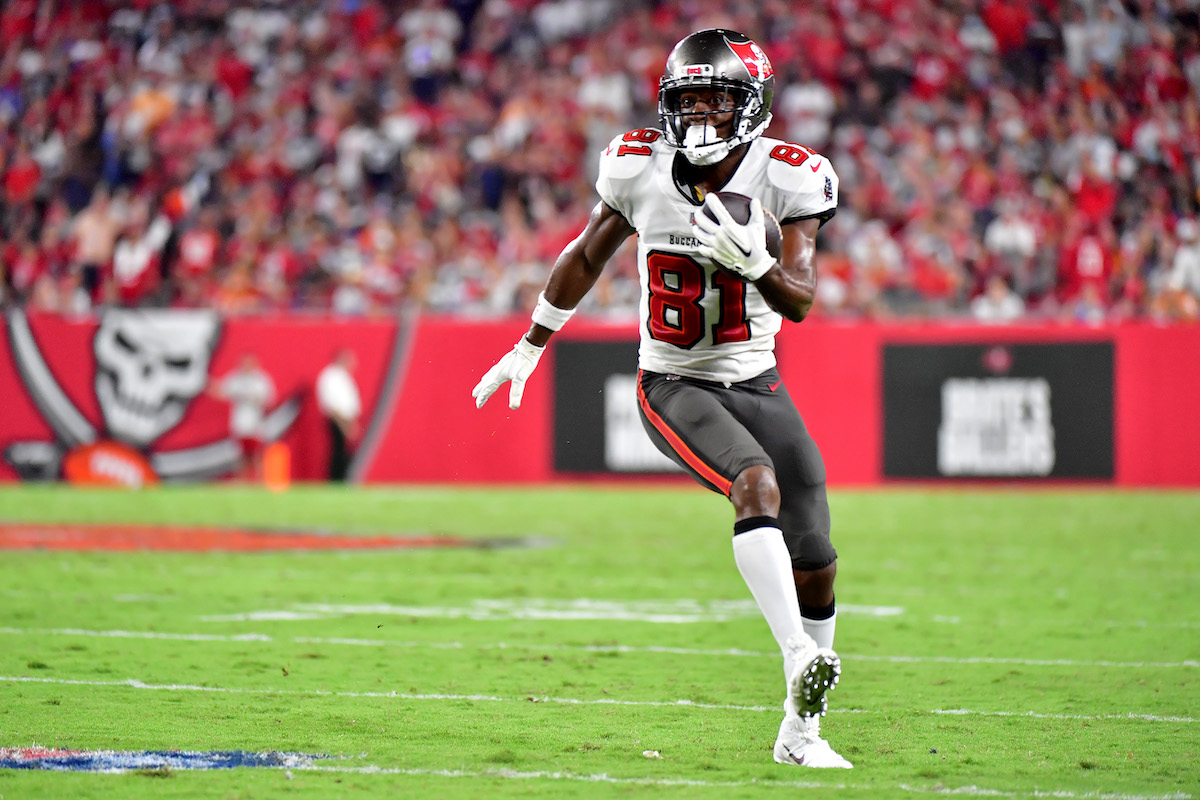 As a wide receiver, Antonio Brown needs to be fast, and it's his speed that has helped set him apart from others on the field. As a perusal of the NFL stats pages will show, wide receivers are often at the top of the list when it comes to the fastest in any given game.
Antonio Brown made the top of the list for being the fastest of the fastest in Week 10 of an NFL season when he played with the Steelers, proving himself to be a truly elite athlete. In that week, he topped the list with a top speed of 21.76 mph. He bested fellow Steelers player, Martavis Bryant, as well as Vikings players, Adrian Peterson and Cordarrelle Patterson. 
For comparison's sake, consider the fastest players for all of 2020, as reported by NBC. Brown's time of 21.76 would put him above the No. 7 slot, held by Nelson Agholor of the Las Vegas Raiders (21.72 mph). It would also place him above all of the fastest times for 2021, which is currently held by Melvin Gordon of the Denver Broncos (21.52 mph). 
Antonio Brown's workout routine keeps him in top shape
The kind of speed that Brown brings to the field is partially innate talent, but it's also a testament to his stellar work ethic. In his youth, Brown did track and field as well as football, according to Total Shape.
Brown has also opened up about his top three go-to moves when he's working out. All three are designed to increase his power, speed, and explosiveness on the field. He does a combination of lateral step-up jumps, box squats, and barbell lunges.
The lateral step-up jumps are specifically focused on explosiveness. It's not enough to be fast in the NFL. You have to be able to be fast in an instant! These moves help Brown respond quickly to the unfolding conditions of the game. Meanwhile, box squats increase the power with which Brown can take off. Finally, the barbell lunges focus on the hamstrings, which is a key component of flexibility that allows consistent performance.