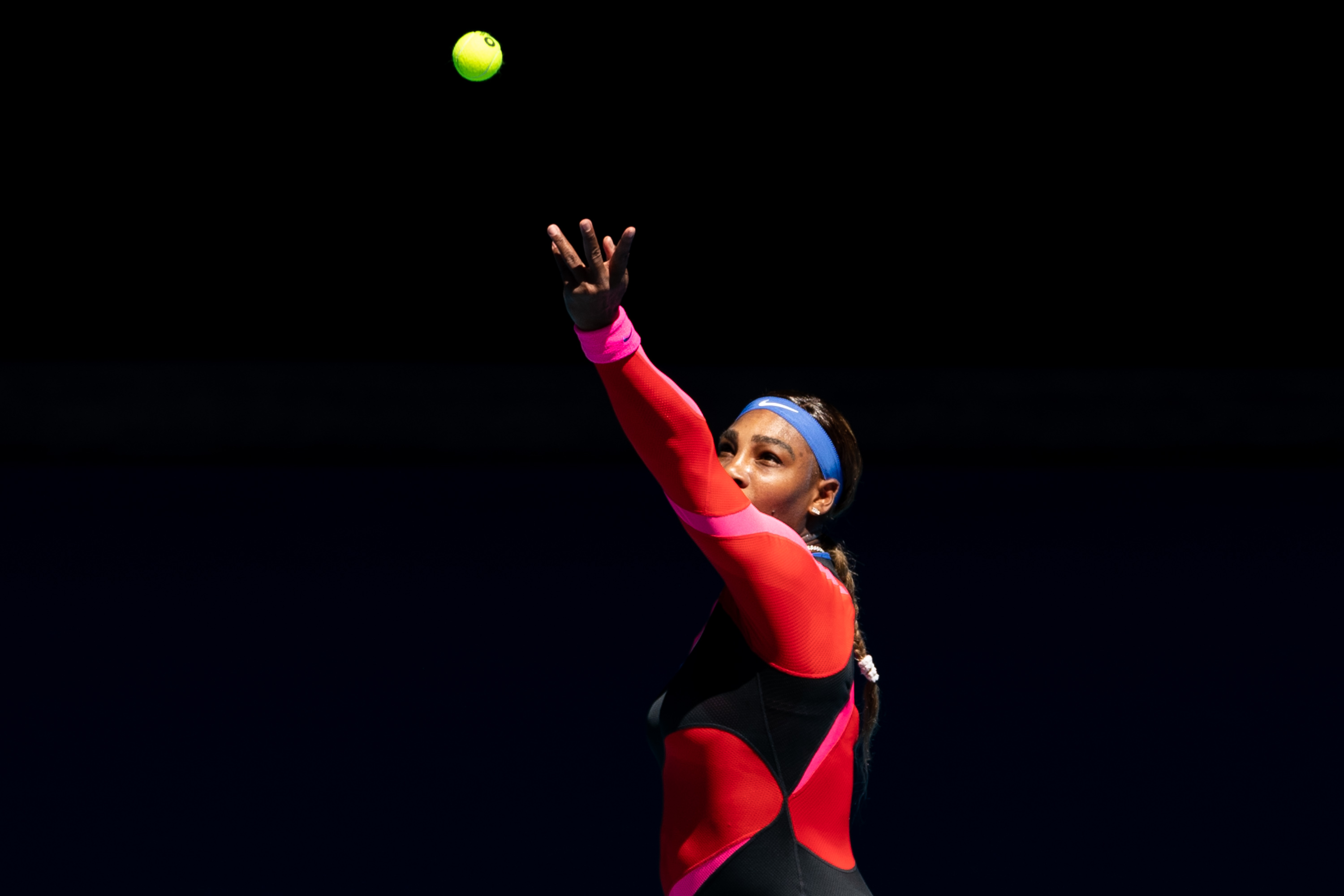 How Fast Does Tennis Star Serena Williams Serve?
Serena Williams is one of the most iconic tennis players in history. Her powerful serve has always been a key part of her game.
In women's tennis, Serena Williams remains the bar that top players must clear to become truly elite. Naomi Osaka might be the rapidly-rising face of the new generation. But Williams still enjoys the cultural cache and maintains the on-court prowess to hold onto her title as the most famous tennis player on the planet.
She's an all-around talent, bringing a level of physicality to tennis that is incomparable to this day. One of the keys to Williams' long-term dominance, however, comes from her serve. Let's break down her unique serving technique, the level of practice required to maintain it, and the health routine that allows her to continue to rely on it.
How fast does Serena Williams serve?
There are layers to William's serving technique. The most impressive is, of course, her overall speed. Business Insider reports that her power serve averages 170 kilometers per hour (about 105 mph).
That's 12 kilometers per hour faster than the average women's tennis serve. Of all the aspects of her game, this is where her famously muscular build pays off in the most direct way.
Her topspin serve is a different beast. It tops out at 145 kilometers per hour, slower than some of her top competition. Accuracy is what makes switching to this serve so deadly in William's hands. The ball spins out at the end of the arc, often crossing up her opponents in a direction Williams has full control over.
The final aspect of Williams' serves applies to both her power and topspin approaches. This could be the underrated aspect of her game, that plays a big role in her many women's singles title wins.
Similar to how a great pitcher in baseball must deliver an array of pitches without tipping in their delivery, Williams is a master of disguising her serves. Until the ball is already in the air, even other elite-level players have trouble reading which serve and location she's about to go for.
How many hours does Serena Williams practice a day?
Williams likely enjoys some level of innate talent. But the level of both nuance and power in her serves could only come from hard, repetitive work. Unsurprisingly, she maintains one of the most demanding practice routines in sports.
Her father, coach Richard Williams, participates in many of her grueling daily four-hour training games. He worries that she doesn't get enough rest.
According to the Huffington Post, Williams writes this off as essentially a "natural high" produced by staying so active and excited about her work. Still, she now puts in extra effort in making sure she rests properly these days, for recovery purposes if nothing else.
A daily routine prioritizes her health
Owaves reports that her routine is mapped out for nearly every waking hour when she's in full competition mode. After breakfast at 7AM, she goes straight into practice games from 8AM to 12PM.
After a lunch break, she pivots to weight training from 2PM to 4PM. Then she spends an hour each on dance class — replacing her old tissue-damaging running routine — and rehab. She carves out two hours for dinner, then settles into promotional and social media work from 8PM to 12AM, when she finally gets some rest.
Her diet is at once diverse but thoughtfully limited, with red meat a rarity. Her regular diet involves mainly fruits and vegetables, with lots of tacos for her lunch, when she indulges in protein.
Before games, she switches to an endurance-focused diet, with sausages for protein and potatoes for a heavy carb option. She rarely manages to choke down her final meal before a match, however, due to nerves. It takes an intensely maintained diet to keep her power serve so threatening across a long, grueling major.