How Giancarlo Stanton Became MLB's Most Terrifying Hitter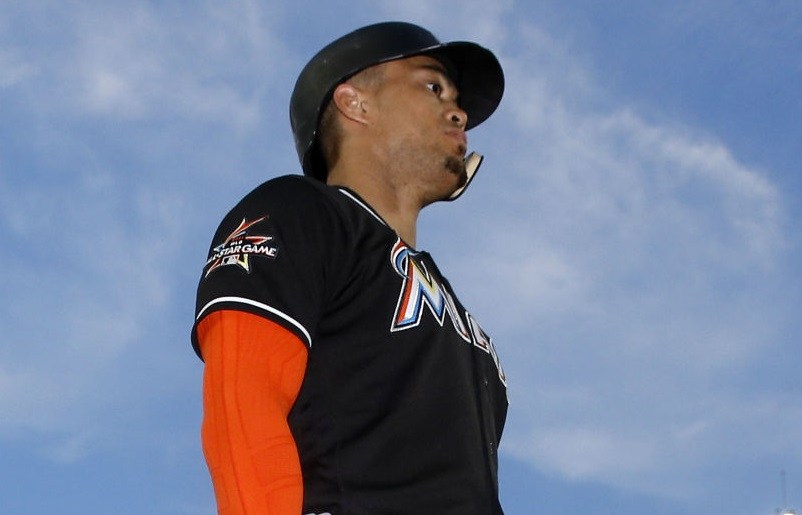 You see Giancarlo Stanton with 50 home runs and 108 RBI before Labor Day, and you probably think everything's finally fallen into place. The 6-foot-6 powerhouse always seemed meant to dominate the sport on this level. He's always had the physical ability like few we've ever seen, plus the baseball skills to make it count.
But until 2017, Stanton never did put together a season for the ages. He came close to an NL MVP award in 2014 but saw his season shut down after the ugliest beaning we can remember. Between injuries, good-but-not-great seasons, and one dangerous pitch to his face, the Marlins slugger at times was in danger of becoming a "failed potential" story. Even before the All-Star Game this season, his name came up mostly as part of trade rumors.
Actually, looking back to 2007 draft day, the California kid named "Michael" followed a path to superstardom that was anything but typical. Before we get caught up in his chase of history, here's a look at how he became the most terrifying hitter in baseball.
76th pick of the 2007 draft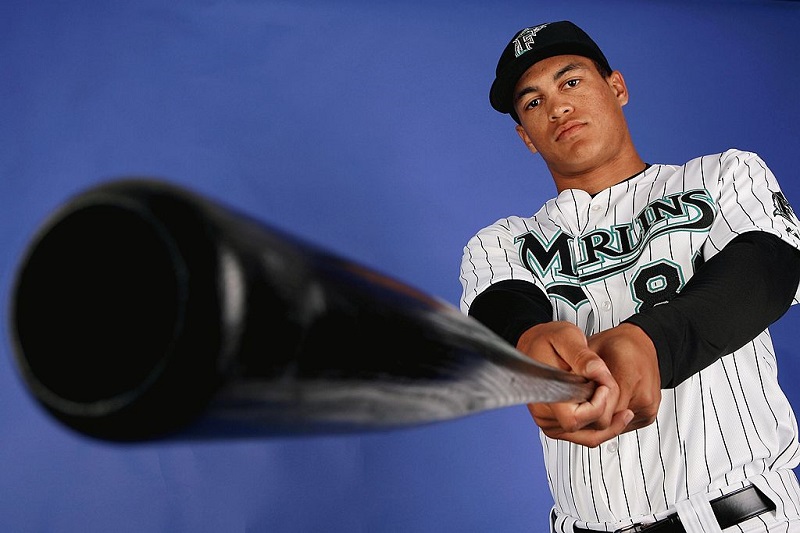 There were 75 players selected ahead of Stanton in the 2007 draft. While you'll recognize names like David Price (first) and Mike Moustakas (second) at the top, you'll find Devin Mesoraco (15th), along with a few dozen players you never heard of, before getting to the player then known as Michael Stanton. (The Marlins had a different name, too; they were the "Florida" club rather than Miami.)
At Notre Dame High in Los Angeles (near the UCLA campus), Stanton was a three-sport star, MaxPreps reported. In fact, the athletic director at his high school thought Stanton might play professional football or basketball, saying baseball was "his worst sport" of the three. His brute strength and strong senior year (.393 with power) undoubtedly got Marlins scouts on board. But any team could have had him.
Instant domination in minors and MLB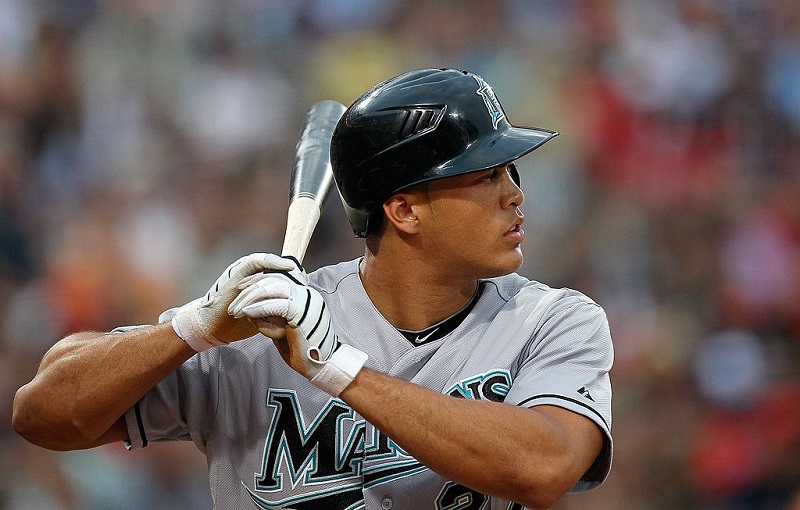 By Stanton's first full season in the minors (2008), teams were probably kicking themselves for passing on him in the draft. In 125 games for Greensboro (A), he slugged 39 HR and batted .293. The following year, he hit 28 HR in 123 games split between high-A Jupiter and AA Jacksonville. By 2010, the Marlins decided he should be hitting these bombs on the big-league level.
During his first campaign for Florida, he hit .259 with 22 HR in 100 games. In 2011, he pushed it to 34 HR in a full season (150 games total). By his second full season in the bigs, Stanton led the NL in slugging (.608) and posted a .290 average with 37 HR. He placed second in homers only to Ryan Braun, who would later go on to get caught for using PEDs, and serve a suspension the following year. If his power pace continues again, Stanton may find himself trailing another power hitter — an ex-coach — known to juice.
The injury bug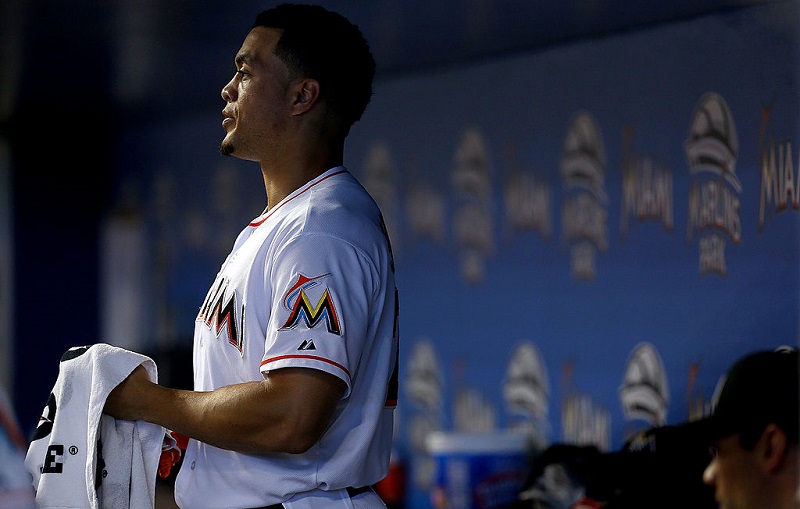 While Stanton officially broke out in 2012, he also began his long battle with injury. An abdominal strain and knee issues limited him to 123 games that season. The next year, a barking shoulder and hamstring kept him to 116 games. Two years later, a broken hand sidelined Stanton for all but 74 games. People started to whisper (and, at times, scream) about his penchant for injury, something that can haunt a player his entire career. But the scariest moment of all came from one errant pitch in 2014.
Horror at the plate
What happened on September 11, 2014 remains a horror to watch to this day. Brewers pitcher Mike Fiers threw a fastball up and in on Stanton that the slugger recognized way too late. In fact, he began to swing (it was ruled a strike on appeal) and caught the ball square in his face, just to the left of his nose and mouth. He lost six teeth, broke his nose and orbital bone, and had a hole in his cheek. Medical staff put him on a stretcher before paramedics rushed him to the hospital.
After multiple dental procedures, plastic surgery, and lots of damage control, doctors stabilized Stanton and got him home. At the time of the incident, he was leading the NL in HR (37) and RBI (105). He was the frontrunner for MVP as well (he eventually finished second). Though his season ended that day, Stanton fought back.
Biggest contract in history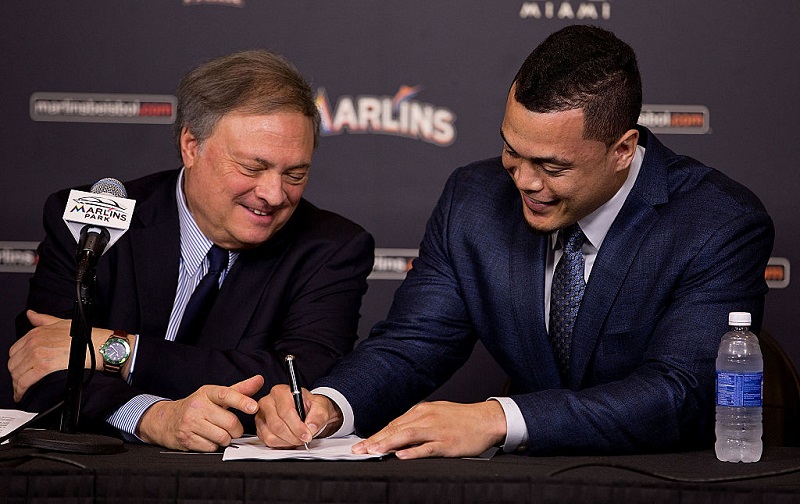 Just two months and three days later, Stanton signed the biggest contract in North American sports history: 13 years, $325 million. He would stand to earn an average of $25 million per year until he turned 38. That would make him a Marlin for life (or close to it), and many wondered if it was the best move for him (Stanton included). After all, why would a team known for selling off its stars for profit hesitate to do it again?
Afterward, he described the anger he felt at the idea he would take the deal just for the money. He said he took it with the belief Miami would keep its nucleus of young talent and commit to winning. Yet since that day — and even more so in 2017 — Stanton has been a hot contract because everyone expects the franchise to sell his services. No one knows what will come with the Derek Jeter-led group that bought the team.
The dazzling comeback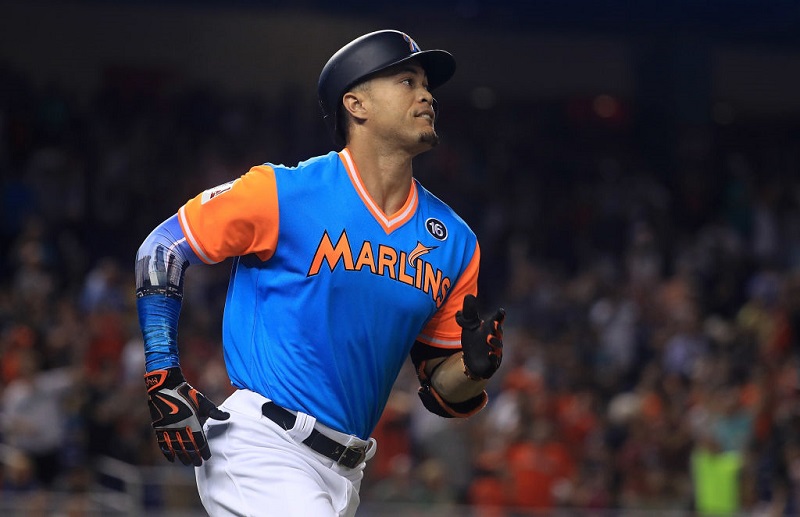 More injuries cut Stanton's seasons short in '15 and '16, but the slugger has been at full strength this year for the first time since that horrific beaning. The results speak for themselves: On top of the homers and RBI, he's leading the league in slugging (.666), OPS (1.053), and OPS+ (174). If he keeps up his long-ball pace, he has a chance of topping the non-asterisk home-run record (61) set by Roger Maris in 1961.
He's also having a solid season in right field. Overall, his 6.4 WAR (per Baseball Reference) ranks him first in the NL. The Marlins are contending for a Wild Card as well. Will he be traded before the non-waiver deadline and be playing for a contender in October? Or will he join another rebuilding team in 2018? Only one thing is certain now: Stanton's long rise to the top is complete. He is officially the game's most feared hitter.