How Good Was Andy Dalton Before He Signed With the Dallas Cowboys?
Dak Prescott's 2020 season is now over after he suffered a season-ending injury in Week 5. Because of this, Andy Dalton is now the next man up for the Dallas Cowboys, as he will lead the team at QB for the rest of the season. This is Dalton's first season in Dallas, as he had spent his entire career with the Cincinnati Bengals prior to this season. So, since Dalton is now leading America's team, how good was he before signing with the Cowboys? Here is a look at his football career prior to coming to Dallas.
Spoiler alert: yes, he was pretty good before signing with the Cowboys.
Andy Dalton had an excellent college career at TCU
RELATED: Ezekiel Elliott Just Sent Out a Message That Should Really Excite Dallas Cowboys Fans
A reason why playing for the Dallas Cowboys was such an attractive opportunity for Dalton was that he played college football in Texas after also going to high school in Texas. Dalton played for the TCU Horned Frogs in college and ultimately had a great career with them.
In 2009, Dalton had one of the best seasons in TCU history, as he threw for 2,756 yards, 23 touchdowns, and eight interceptions. He also helped lead his team to a 12-1 record that year and to the Fiesta Bowl.
He then improved in 2010 and had an even better year. Dalton recorded 2,857 yards, 27 touchdowns, and six interceptions for TCU that season, and his play helped him finish ninth in the Heisman Trophy voting. It also helped lead the Horned Frogs to a 13-0 record and a win in the Rose Bowl over Wisconsin. TCU finished No. 2 in the final AP poll that season too.
Overall for his career, Dalton finished as TCU's career leader in completions (812), passing attempts (1,317), completion percentage (61.7), passing yards (10,314), and touchdown passes (71), according to his bio on TCU's site.
His play at TCU ultimately led to him becoming a second-round pick in the 2011 NFL draft.
He was extremely successful for the Cincinnati Bengals
RELATED: Andy Dalton Leaves the Bengals as a Hero Despite Not Winning One Playoff Game
The Cincinnati Bengals selected Dalton in the second round of the 2011 NFL draft, and he ended up having a great deal of success in Cincy.
Dalton earned a Pro Bowl selection in his rookie season in 2011, as he threw for 3,398 yards, 20 touchdowns, and 13 interceptions. He also led the Bengals to the playoffs that season, as they ultimately reached the playoffs in each of his first five seasons.
Additionally, from 2012 through 2015, Dalton helped lead Cincinnati to 10 or more wins in four consecutive seasons.
His individual numbers were also pretty impressive, as Dalton earned two more Pro Bowl selections with the Bengals in 2014 and 2016. His best seasons statistically, though, came in either 2013 or 2016. He threw for 4,293 yards, 33 touchdowns, and 20 interceptions in 2013, and 4,206 yards, 18 touchdowns, and eight interceptions in 2016.
No, Dalton did not end up winning a playoff game while with the Bengals. He still, however, had a lot of success individually and led the Bengals to a ton of success as a team. So, was Dalton good before signing with the Dallas Cowboys? Yes, yes, he was.
Andy Dalton has a big opportunity with the Dallas Cowboys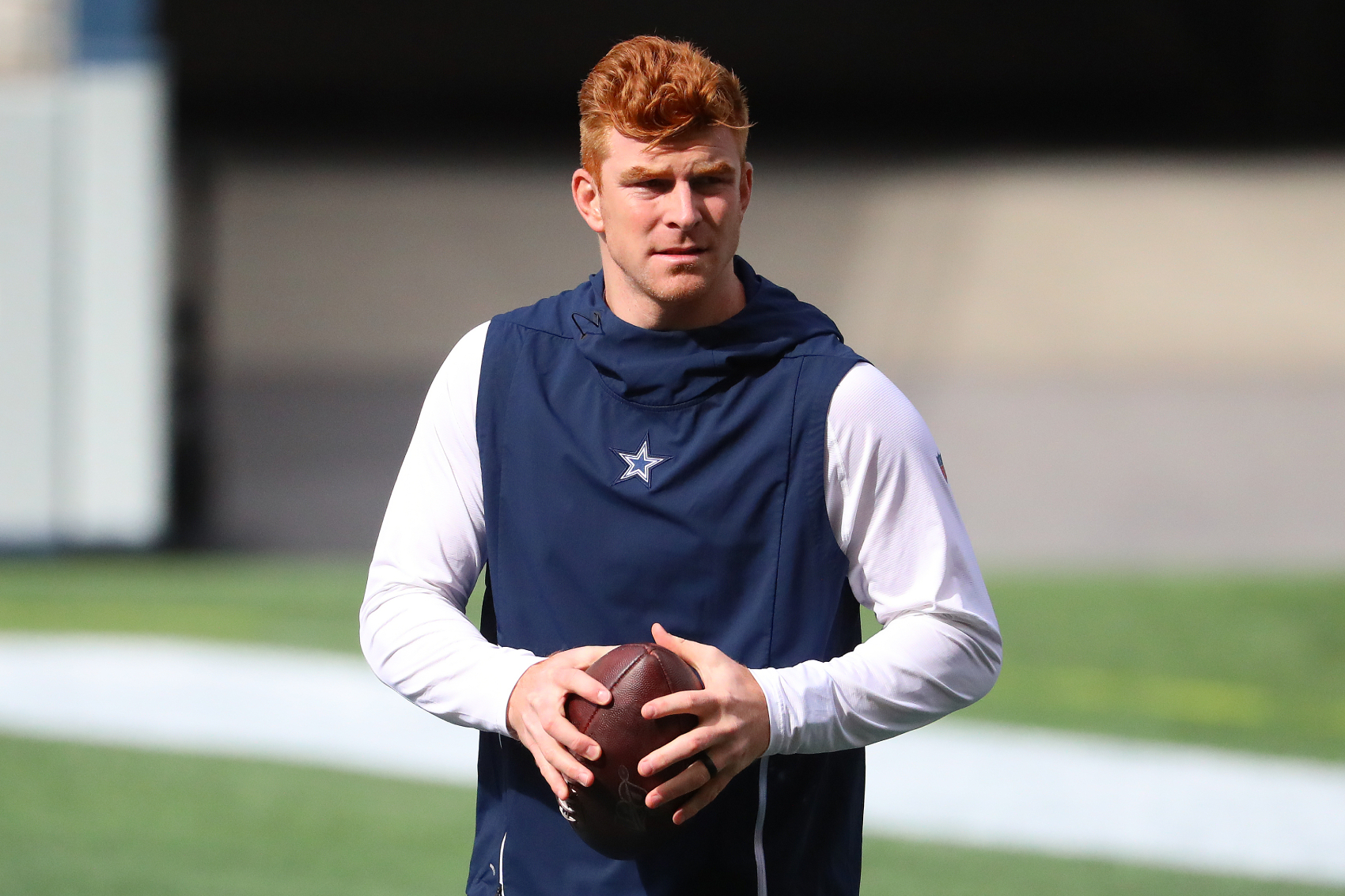 RELATED: Ezekiel Elliott Sends an Emotional Message To Dak Prescott Following the QB's Horrific Injury
After the Bengals went 2-14 in 2019, they selected Joe Burrow with the No. 1 overall pick in the 2020 NFL draft. This then led to Dalton getting released by Cincy and then signing with the Dallas Cowboys.
Coming into this season, the Cowboys had one of the most talented offenses in the NFL with Dak Prescott at quarterback, Ezekiel Elliott at running back, and then some very talented stars at wide receiver in Amari Cooper, Michael Gallup, and CeeDee Lamb. Now, with Prescott out for the season due to a compound fracture and dislocation of his right ankle, Dalton is the leader of this very talented offense.
He takes over a team that is in first place in the NFC East division too. So, if Dalton can play well, he has a chance to lead the Cowboys to the playoffs. Additionally, if Dalton can capitalize on this significant opportunity, he could even earn himself a starting spot in the NFL for another team. So, this could ultimately be huge for his NFL career. 
The Dallas Cowboys will sadly be without their star QB for the rest of the season. Dalton, however, is good enough to help lead them to a lot of success and potentially get them back to the playoffs.
Stats courtesy of Sports Reference and Pro Football Reference