How Good Was Odell Beckham Jr. at LSU?
Odell Beckham Jr. has become one of the top wide receivers in the NFL. He has created numerous highlight films with his one-handed catches and the moves he put on his defenders. Beckham has become a fan favorite as well.
His success started before he came into the league. The Louisiana native was one of the top players in college during his time at LSU. Playing at a powerhouse like LSU, the receiver gained a lot of hype for his performance.
Playing at his dream school
Before Beckham was making impressive catches in the NFL, he was showing off his talent and skills during his time in college. He decided to stay home and play for the hometown college, LSU.
The standout receiver began his career at LSU in 2011. As a true freshman, he started nine of 14 games and made his college debut on September 3, 2011, against the Oregon Ducks. He scored his first collegiate touchdown on September 24 against West Virginia. It was a 52-yard reception from Jarrett Lee. Beckham finished his freshman season with 41 receptions for 475 yards and two touchdowns. He was named a freshman All-SEC selection. He also played in the 2012 BCS National Championship game and started as a freshman.
Coming off an impressive freshman season, Beckham was back to have another successful season. Beckham had success as a receiver and as a punt returner for LSU. His receiving yards increased, and he finished his second year with 713 receiving yards. He also had 320 yards as a punt returner and two touchdowns.
A big junior year for Beckham
In his final season at LSU, Beckham and Jarvis Landry formed to be one of the best-receiving duos in all of college football. As a junior, Beckham finished with career highs in all receiving categories. He finished with 59 receptions, 1,152 yards, and eight touchdowns.
As a kickoff returner, Beckham led the SEC with 32 kickoff returns for 852 yards. He was a first and second-team All-SEC selection and was the winner of the 2013 Paul Hornung Award. That award is given to the most versatile player in college football.
A successful college career leads to NFL dream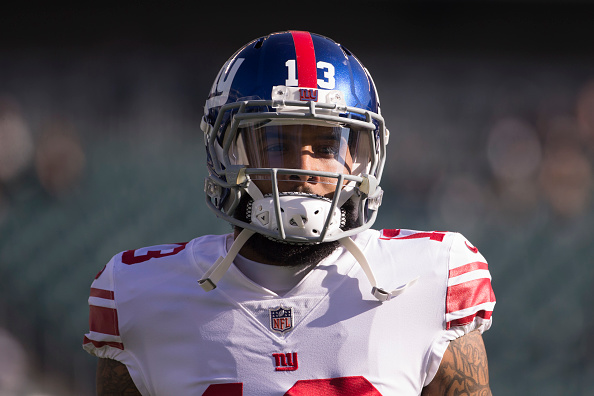 Beckham had one dream while playing football, and that was to play in the NFL. After his junior season at LSU, he decided to forego his senior year and enter the 2014 draft. At the NFL Combine, he ran a 4.43 in the 40-yard dash and had a 38 ½ inch vertical jump.
The New York Giants liked what they saw in Beckham and decided to take him at No. 12 in the first round. A kid from Baton Rouge dreams was coming true, and Beckham was finally going to get the chance to play in the NFL. Beckham quickly established himself in the league, and he was named the AP NFL Offensive Rookie of the Year in 2014. He also made the Pro Bowl in his first three seasons. From his touchdown celebrations to his exciting personality, when it's time to put the work in, Beckham is always prepared to perform at his best.