How Good Was Ravens Quarterback Tyler Huntley at Utah?
Tyler Huntley has been a saving grace for the Baltimore Ravens in 2021. The sample size is small, but the second-year quarterback is proving to be one of the more capable backups in the NFL right now. Huntley is a player that many people still don't know much about. How did he get here?
Here's a look back at Huntley's collegiate career at the University of Utah.
Tyler Huntley was a 3-year starter at Utah
Tyler Huntley played high school football at Hallandale High School in South Florida. Then, he decided to head out west to play his college ball at Utah.
Joining head coach Kyle Whittingham and the Utes turned out to be a wise decision for Huntley, as he enjoyed a productive career.
The Ravens quarterback was a three-year starter for Utah (2017-2019). He threw for 7,351 yards, 46 touchdowns, and 20 interceptions during that span. He also finished with a 67.2% career completion percentage.
Huntley made some big plays with his arm in college, but his running ability made him even more dangerous. He racked up 1,146 rushing yards and 16 scores during his time with the Utes.
Huntley completed 73.1% of his passes as a senior, which was second to only Joe Burrow in the FBS. He earned first-team All-Pac-12 honors in the 2019 season as well.
The man nicknamed "Snoop" was quietly one of the better quarterbacks in college football in his senior season at Utah.
Teams massively underrated the Ravens QB in the 2020 NFL Draft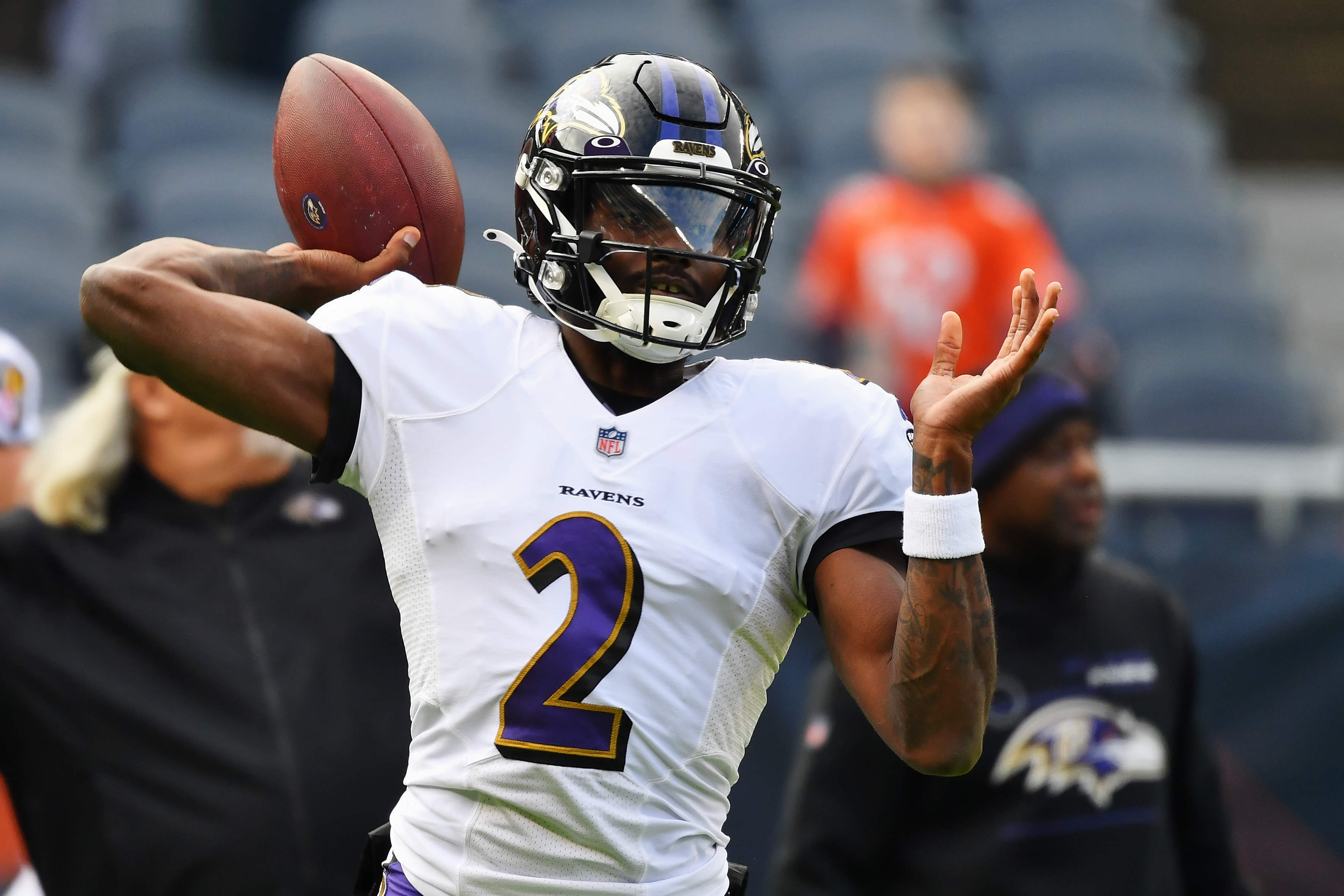 Considering how productive Tyler Huntley was at Utah, it was surprising that no team selected him in the 2020 NFL Draft. The Baltimore Ravens signed the former Utes standout as an undrafted free agent soon after the draft concluded.
So why were NFL scouts so low on the Ravens quarterback?
According to NFL.com, one offensive coach in the AFC had strong doubts about Huntley's ability to succeed at the next level.
"I can't see him making it as an NFL quarterback," said the coach. "Just doesn't have the size and tools for it. He might be a position switch player."
That mindset fuels a lazy narrative about mobile quarterbacks, one that Lamar Jackson debunked pretty quickly.
Huntley didn't possess the rare arm tools of other guys in his class like Joe Burrow, Tua Tagovailoa, and Justin Herbert. However, he showed leadership and an ability to create explosive plays with his arm and legs.
The 2020 NFL Draft saw 13 quarterbacks selected. Players like Jake Luton, Ben DiNucci, and Nate Stanley went ahead of Tyler Huntley. Yet, the former Utah standout has a chance to help lead a team to the NFL playoffs.
Huntley can help save Baltimore's dwindling playoff hopes
The insane amount of injuries finally caught up to the Baltimore Ravens. John Harbaugh's squad is down countless key contributors, from J.K. Dobbins to Marlon Humphrey to Ronnie Stanley. That's been the theme of Baltimore's 2021 season.
The Ravens have also been playing without star quarterback Lamar Jackson. The former MVP suffered an ankle injury in Week 14 against the Cleveland Browns, which has caused him to miss the last two games.
Somehow, the Ravens still have an 8-7 record and are in a position to compete for a spot in the AFC playoffs. Baltimore is currently the 8-seed and would be out of the playoffs if the season ended today. Fortunately, this team has two games left to play.
Tyler Huntley has been a pleasant surprise for Baltimore in Jackson's absence. His dual-threat ability works perfectly in the Ravens' offensive scheme. While not as dangerous as No. 8, Huntley is proving that he's also capable of making some electric plays when given the opportunity.
The Utah product enjoyed the best game of his young career in the Week 15 loss to the Green Bay Packers. He completed 28 of 40 pass attempts for 215 yards and two touchdowns. He added 73 yards and two scores on the ground.
With an all-important date with the Los Angeles Rams looming, the Ravens will need a similar performance from the young quarterback.
The playoff implications are massive, but this wouldn't be the first time Tyler Huntley has seen odds stacked against him.
All stats courtesy of Pro Football Reference