How the Green Bay Packers Can Steal the Soul of the Chicago Bears and Matt Nagy
If you asked Aaron Rodgers or anybody else associated with the Green Bay Packers, in a moment of honesty, they'd probably tell you that they hope Matt Nagy will coach the Chicago Bears forever. It would be nice to get him fired, and Green Bay will undoubtedly try to do that this weekend, but much like Jay Cutler before him, Nagy has been a gift to the Packers.
Chicago's head coach is 1-6 against the Packers since taking the gig in 2018. He's likely to be 1-7 after Sunday Night Football, and if the Packers play their cards right, they could find themselves being the straw that breaks the camel's back.
Matt Nagy is a lame-duck head coach for the Chicago Bears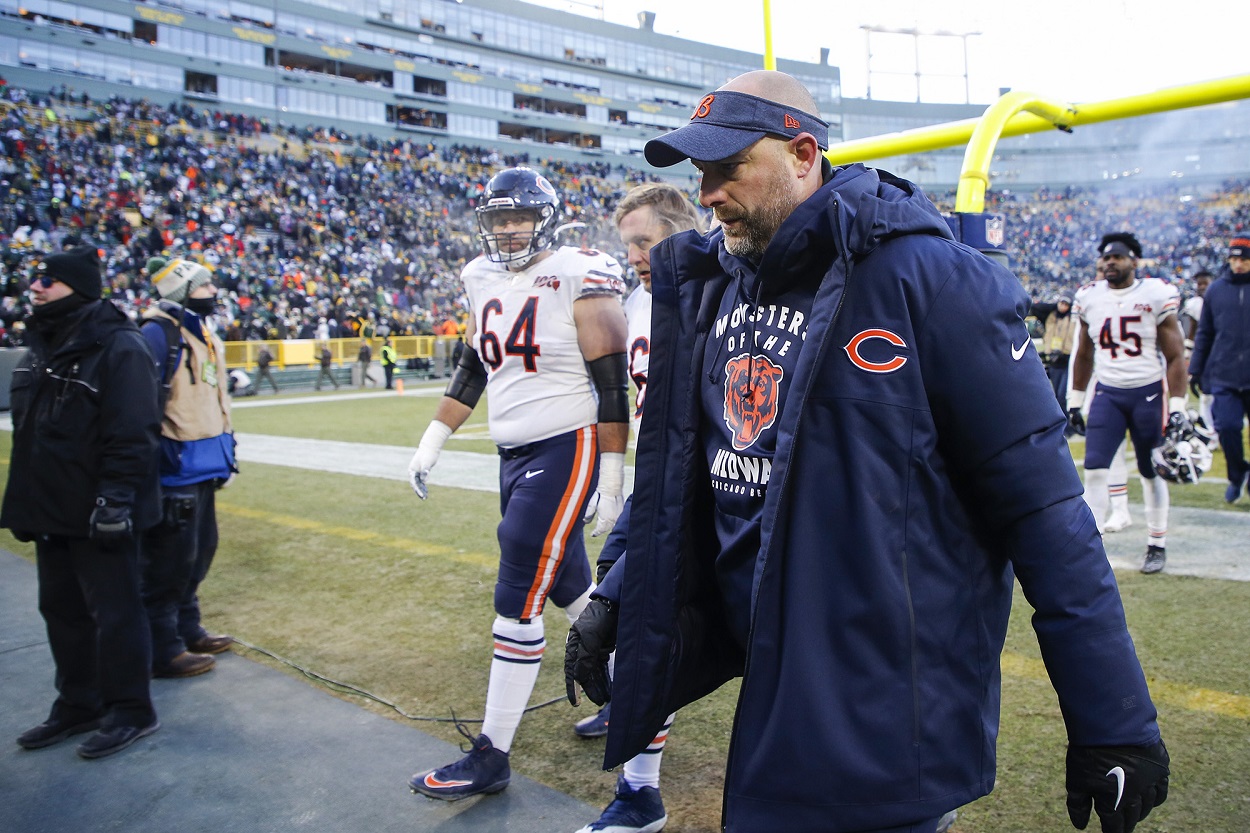 Nagy's 4-8 Bears take on a 9-3 Packers team looking to clinch a playoff spot and start tuning up for a Super Bowl run.
The Bears have lost six out of their last seven, with their only win in that stretch coming against the Lions before Detroit got in the win column. Things have gotten so bad in Chicago that there was a report before that Thanksgiving game in Detroit that Nagy would be fired, irrespective of the outcome. That didn't happen, but when there's smoke there's usually fire when it comes to coaching hot seat rumors.
It's like hearing that your significant other wants to see other people. Even if they deny it, it's already too late for the relationship if those types of rumors are getting out. Nagy is all but gone.
After an inaugural season that saw the Bears go 12-4, win the NFC North, and go to the playoffs, Nagy has had two straight 8-8 seasons. Those .500 records will look great compared to where the Bears end up this season.
The Green Bay Packers should demolish the Bears at Lambeau Field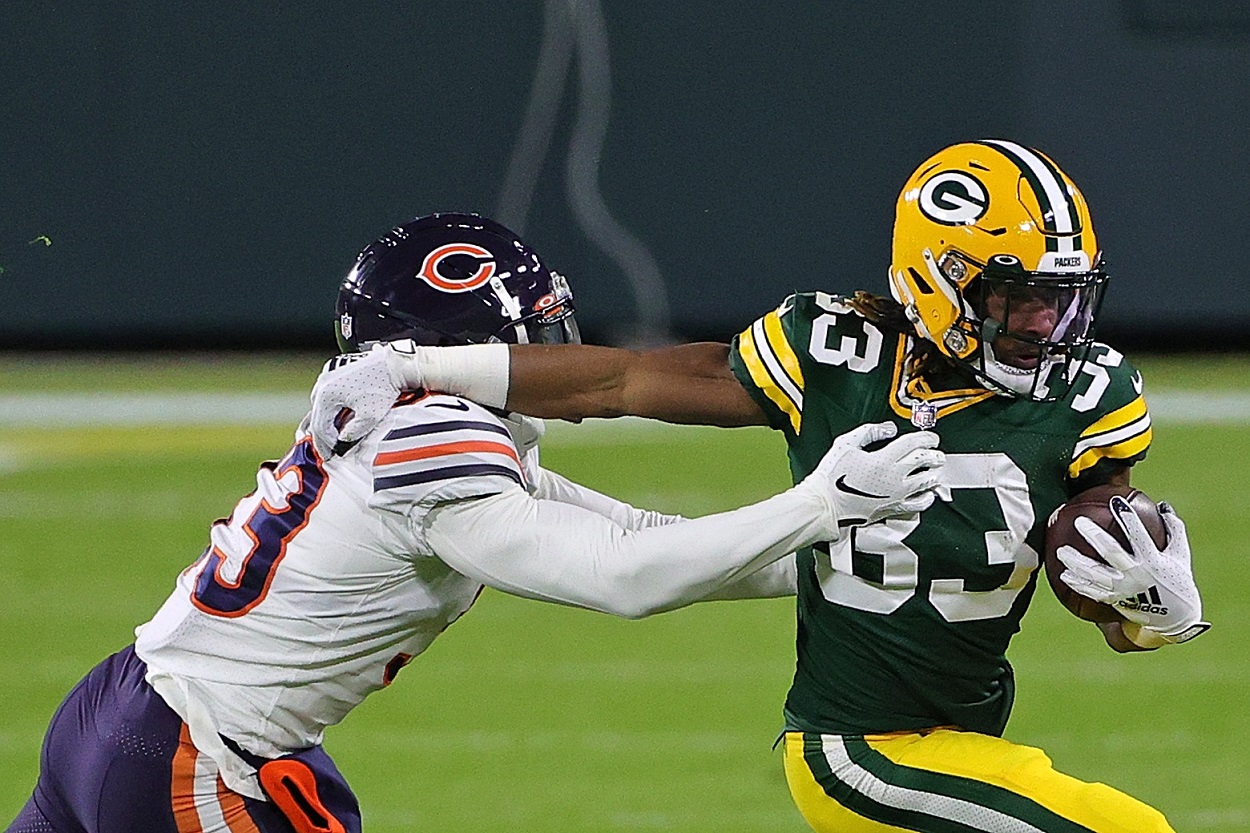 Though anything can and does happen in divisional rivalry games, and that goes doubly for this rivalry, this Sunday Night Football matchup shouldn't even be close.
These are two teams going in different directions.
The Packers have a top 15 offense, scoring 23.6 points per game. Rodgers is in the running for another MVP award, and he has a strong cast around him. Green Bay's offense includes star wide receiver Davante Adams (1,083 yards, five touchdowns), explosive running back Aaron Jones, and ground-and-pound machine A.J. Dillon, who has quickly become one of the keys to a long Green Bay Playoff run. Though any Rodgers-led offense is going to be scary, it's actually Green Bay's defense that has led the team this season. Despite missing star pass rusher Za'Darius Smith and cornerback Jaire Alexander for most of the season, the Packers have a top 5 defense and give up just 20.2 points per game.
Chicago quarterback Justin Fields will be back after missing two games with a rib injury, and he'll provide the Bears with a spark because of his ability to run. With that said, he's a rookie and has played like one so far this season. Though he's flashed immense potential, he has thrown double the amount of interceptions (eight) than he has touchdowns (four). Wideout Allen Robinson is expecting to be back after missing three games with a hamstring injury, but again, Green Bay's defense has been elite. A Chicago team scoring just 16.8 points per game should be easy pickings for what's turning out to be a very complete defensive unit for the Packers.
Speaking of defense, the once feared Chicago defense is ranked 19th in the league, giving up 23.9 points per game. Akiem Hicks has been ruled out, and Khalil Mack was lost for the season a few weeks ago due to foot surgery.
The Bears are toothless.
These are two teams going in very different directions, like ships in the night. One is heading for the cliffs while the other seeks the promised land.
How the Packers can break Nagy and the Bears
Green Bay was ironically in this scenario not that long ago. Though Mike McCarthy had won a Super Bowl with the Packers, 2018 saw him eight seasons away from that glory and the Packers, even with Rodgers in his prime, were stale. McCarthy had clearly lost his voice in the locker room, and he had lost his effectiveness as both a head coach and a play-caller.
Sound familiar?
Week 13 saw a bad Arizona squad roll into town and beat the Packers, 20-17, which ended up being Green Bay's third straight loss as well as their fifth out of six. McCarthy had clearly run his course in Green Bay, and the Packers fired him after the game.
It was a bold move for Green Bay but it turned out to be the right one. This Matt LaFleur guy has been pretty good.
The Packers have a chance to recapture the same essence that haunted Lambeau Field on that snowy day a few years ago, though this time, they'll plan to be on the winning side.
How can Green Bay get Nagy his pink slip before the bus even leaves for Chicago?
The Packers need to blow the doors off the Bears, and it's shaping up to be that kind of matchup.
If Nagy can't get his team to emotionally commit and hang close in a game against their biggest rival under the primetime lights of Sunday night, he's already a lost cause. If his team won't fight for him in this spot, they're not going to fight for him at all.
Chicago is playing for pride at this point, but if the Packers come out and put a hurtin' on them early and often, any semblance of heart and passion the Bears have to finish the rest of this season strong could be ripped out of them.
It's supposed to be near the freezing point on Sunday night at Lambeau. Green Bay needs to line up and get physical. Pound the rock on offense and make Fields earn every yard while on defense. Use the cold against them. The Packers are 5-0 at home this season. Now that winter is here; it's time for them to go old-school and use their home field advantage, well….to their advantage.
It's frankly a unique position for the Packers.
On the one hand, having Nagy around has helped Green Bay pick up six valuable in-division wins since he's taken over. It would be nice to allow him to stick around and snag a few more.
On the other hand, ripping the will out of your biggest rival on national television is an opportunity to make a statement that comes around only once in a great while.
The Packers have a chance to send Nagy packing (pun intended) a few weeks early.
Blow the doors off the Bears. Steal their will to win, and then do it again to the next team on the schedule, and again after that. Make a statement on Sunday night, and steal souls all the way to a Super Bowl win.
Now, that's a last dance.
Stats courtesy of ESPN and Pro Football Reference.