Here's how Gregg Popovich Really Feels About Team USA at the FIBA World Cup
Gregg Popovich is one of the best coaches in NBA history. Beginning on August 31, he'll undertake one of the greatest challenges of his career when he coaches Team USA in the FIBA World Cup. Why is it such a challenge, and what exactly does Gregg Popovich think about his team?

Who is playing for Team USA at the FIBA World Cup?
Thirty-two teams will play at this year's World Cup, which will take place in China. The tournament will crown its champion on September 15.
As is the usual custom for international tournaments, NBA players make up Team USA. Here's the current roster for this year's FIBA World Cup with Gregg Popovich as the head coach:
Guards De'Aaron Fox, Joe Harris, Donovan Mitchell, Marcus Smart, Kemba Walker, and Derrick White.
Forwards Harrison Barnes, Jaylen Brown, Kyle Kuzma, Khris Middleton, Jayson Tatum, and P.J. Tucker.
Centers Brook Lopez, Mason Plumlee, and Myles Turner.
While Team USA has a fine assembly of talent, this group is probably better known for who isn't in it than who is. Consider some of the high profile players who have declined to play, including:
Other stars opting not to play include Tobias Harris, Bradley Beal, and Eric Gordon. It leaves Gregg Popovich and Team USA without a lot of international experience.

How the team's best player feels about playing for Team USA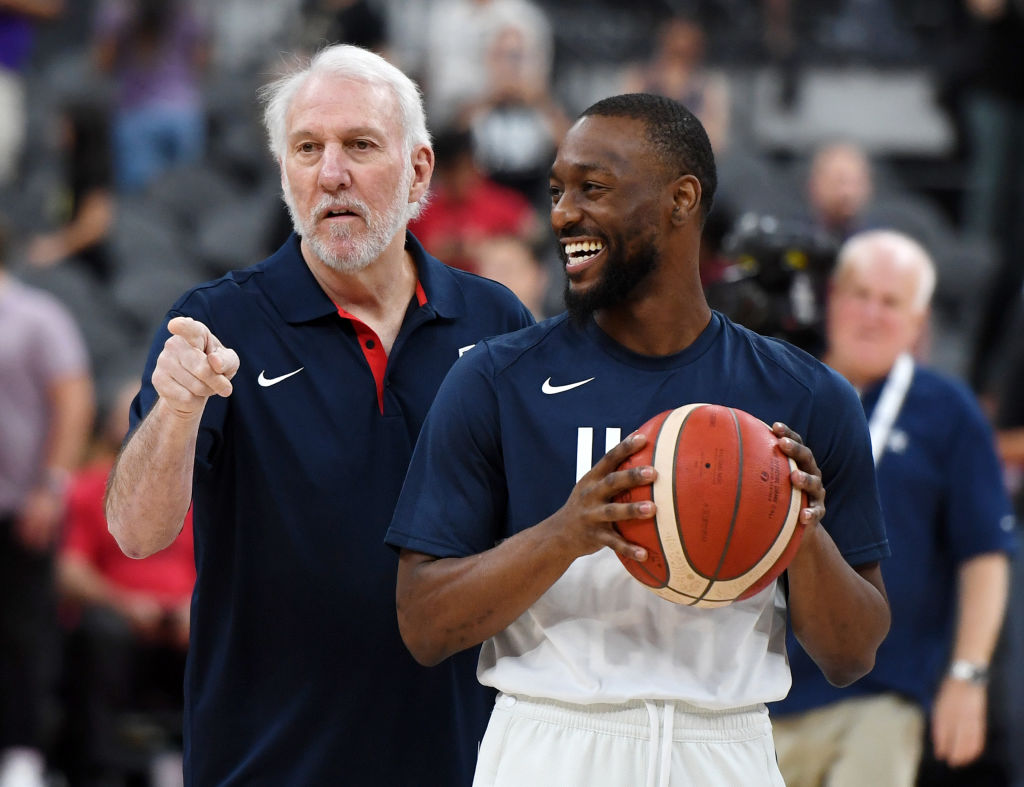 Team USA's best player is probably Kemba Walker, a three-time NBA All-Star selection. Walker just signed with the Boston Celtics this offseason and is one of the few big-name players to take part in the FIBA World Cup. As far as Walker is concerned, the lack of star power on Team USA is a blessing in disguise — at least for the players taking part. Here's Walker's quote about playing for Team USA from Reuters:

"This is like a once-in-a-lifetime opportunity for a lot of us…I think a lot of us are happy those guys pulled out because this is our chance. It's our chance to get on the big stage and showcase our talent. A chance for us to do something new. It'll be a new-look team. Everybody is kind of doubting us, but I think we're hungry."

While many fans are somewhat disappointed that their favorite players aren't participating, Walker is looking at it differently. That gives a team of young and eager players a chance to prove themselves.

But what does their coach think about the roster?

How Gregg Popovich feels about Team USA
It would make sense for a coach stepping into Popovich's shoes to feel frustration or aggravation at the lack of elite NBA superstars on his roster. But if that's how he's feeling, you'd never be able to tell. Popovich seems excited to coach the team he has, per Reuters:

"I've said that we're going to be fine, and by that what I really meant is that we're blessed with a lot of depth in USA Basketball … All of the players here want to be here, there's no question about it. And that's a big part of the battle itself. And so, when you look at the enthusiasm, the youth, the athleticism, and versatility, that'll really work well for us because our depth will be a factor."

Popovich's emphasis on "the players here want to be here" shows that he's excited to coach a team of players excited to represent their country.