How Jim Harbaugh Is Reinventing Recruiting at Michigan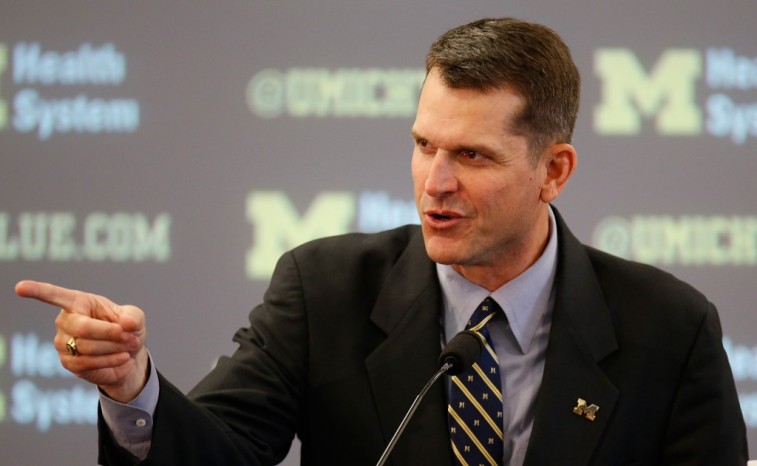 The Michigan Wolverines got their man when they hired Jim Harbaugh to be their next football coach. And since that day, the former star quarterback has done nothing but hit the ground running. His alma mater is no longer the powerhouse it used to be and Harbaugh intends to rectify that. The belief in Harbaugh's capability to turn the program around was so strong that Michigan gave the  former 49ers coach a seven-year deal, worth $5 million annually. And yet, despite all that he's done since the end of December, Harbaugh doesn't think he's worth it.
During a segment with Fox Detroit, the new coach was asked about his lucrative deal — specifically whether or not he believed he was worth the money. Harbaugh's reply was a straightforward, "No." But that didn't mean he was willing to give it back.
"Naw," the coach said. "I like making a buck just like the next guy. I'm not doing five times as much work as somebody else or doing more work than someone who's not the head football coach at the University of Michigan so to answer your question honestly I would have to say no."
The fact is we won't know if Harbaugh's worth the big bucks until we see how his team does on the field. It's true that he has a history of success. He has been able to turn every place he's coached, be it college or the pros, into a perennial winner. So you have to believe that Harbaugh knows what it will take to do the same at Michigan. As we've seen so far, it all starts with recruiting. Fortunately for the Wolverines fan base, their man in charge is pulling all the right strings.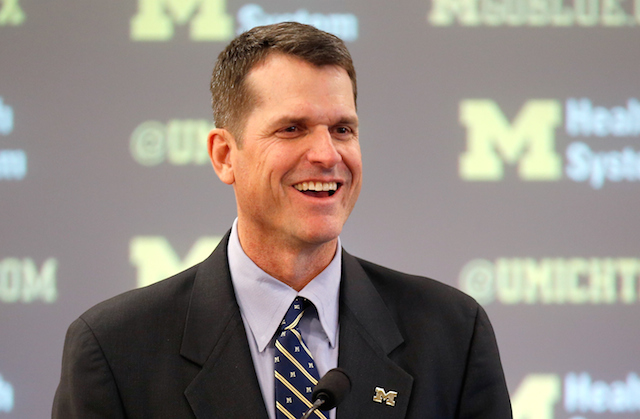 If you want to win in college football, then you better be prepared to "kiss some babies." This isn't like the pros where you're coaching professionals who make a living playing the sport. In this environment, young men are looking to their coach for more than just the X's and O's. They are seeking guidance. They are searching for a connection. And Harbaugh has shown that he knows how to relate to the younger generation.
He has taken to social media like a moth to a flame. And he's used this tool in extremely creative ways. Look no further than when he recreated a recruit's prom proposal as a way to entice him to join the Michigan program. Creepy? Perhaps. Inventive? Absolutely. Still, this photo blew up on Twitter and became an instant trending topic. Clearly some forethought went into this decision. This is a powerful model that shows the new coach is not afraid to blaze his own path. Harbaugh has also found a way to get even more personal in his attempts to bring the best to the University of Michigan.
If stalking a recruit's Twitter page appears a bit over the top, then you might not like how tight ends coach Jay Harbaugh sent a "recruiting letter" to a prospect's girlfriend. Everyone knows that if you're trying to get a star athlete to play at your school, it's important to make their people feel comfortable. Whether you approve or not, this is easily one of the most creative approaches that's been taken in quite some time. Michigan is personal. Michigan understands what's important. Come join us in Ann Arbor.
Like it or not, the new face of the Michigan Wolverines football program knows what he's doing. Harbaugh is promoting a tradition of excellence through a modern platform. This is not only smart business, it's a cool approach. It shows that he's hip, relatable, and the type of coach that everyone should want to play for. In the end, it all will come down to the results on the field. However, if the Wolverines perform as well as their new coach recruits, then it looks like excellence will soon be returning to Michigan.