How Johnny Manziel Can Save His NFL Career
It wasn't all that long ago that Johnny Manziel was on top of the football world. After two outstanding seasons at Texas A&M — including winning the Heisman Trophy in 2012 as a redshirt freshman — Manziel was selected in the first round (No. 22 overall) of the 2014 NFL Draft by the Cleveland Browns. At the time, the Browns were (and as it turns out, they still are) in desperate need of a playmaker at the quarterback position who could lift them out of what seems like a permanent reservation they own in the basement of the NFL standings.
Despite his brash personality and wild off-field behavior, they believed Manziel could be that player. And as evidenced by their decision to release the player who many viewed as their franchise savior after only two seasons, they couldn't have been more wrong. Not only was Manziel a below-average player during his stint with the Browns, but he was also a major distraction in the media and massive metaphorical headache for the team's coaching staff.
In reality, Manziel's failure to live up to expectations is one of the main factors that led to the firings of head coach Mike Pettine and General Manager Ray Farmer this offseason. So, to sum the situation up, Manziel not only partied himself out an opportunity that most football fans can only dream of, but he also cost a lot of people (scouts, coaches, and executives) within the Browns organization their jobs.
The fact of the matter is that we likely haven't seen the last of Manziel in the NFL. His skillset and playmaking ability will make him attractive to coaches around the league, but at the same time, the massive amounts of baggage he carries will make his agent's job of finding him a new team extremely difficult. Regardless, we still expect to see "Johnny Football" lace up his cleats in the NFL again. With that being said, we believe there are a few things that Manziel can do to get his career back on track.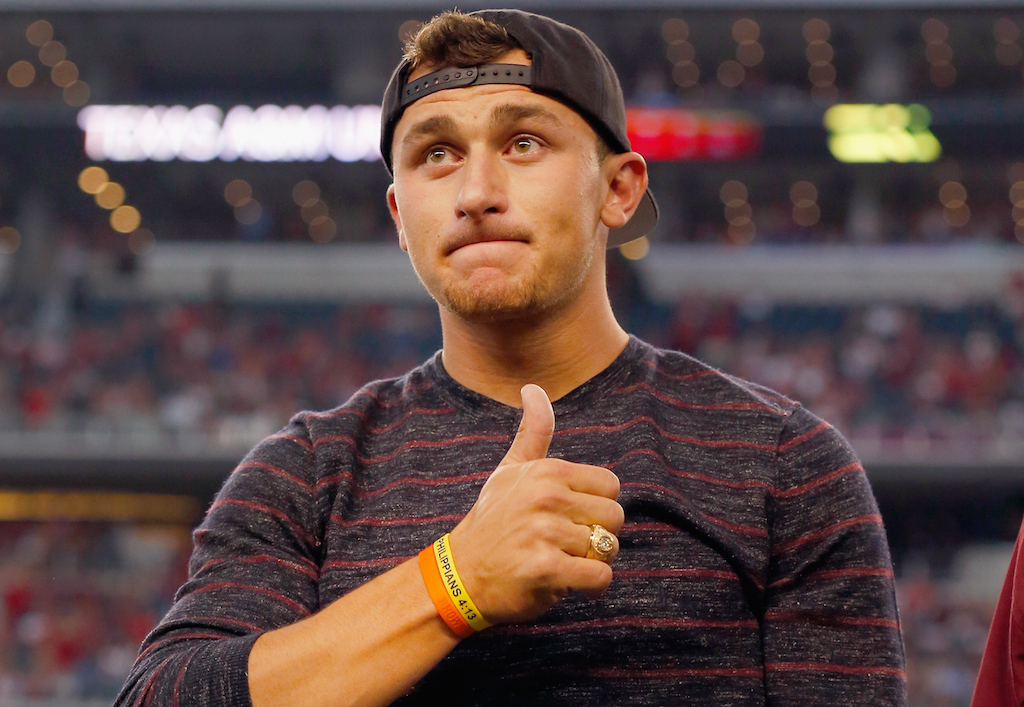 First and foremost, Manziel needs to grow up and decide if playing professional football is what he really wants to do. If partying and being seen in the nightclubs of Hollywood or Las Vegas is what he wants, that's perfectly fine. But if he ever wants to sign another NFL contract, he will need to save the nightlife scene for retirement.
The truth of the matter is that in all likelihood, his football career will be over by the time he reaches his mid-30s, and at that point he will have the freedom to party 24 hours a day, seven days a week if he so desires — without professional consequence. Furthermore, were it not for his party-boy behavior, Manziel would be prepping for his third season in Cleveland, and we likely wouldn't be discussing this issue.
Next up, Manziel needs to reconsider the company he keeps. While Denver Broncos superstar Von Miller knows a thing or two about overcoming immaturity issues — and it's good that Manziel is associating with him — Manziel running around with guys like reality TV star Scott Disick, suspended NFL wide receiver Josh Gordon, and pop star Justin Bieber is the exact opposite crowd he should be hanging around with if he is serious about resurrecting his football career.
That brings us to our next point. Manziel is in desperate need of the guidance of a reliable mentor. Guys like Tony Dungy, Cris Carter, Trent Dilfer, and Deion Sanders (among others), who all have a history of mentoring troubled young athletes, come to mind, but even somebody like Miller could have an extremely positive influence on Manziel. You can count us among those who would really like to see Manziel land on his feet in the NFL and tap into his immense potential.
Moreover, we truly hope that he can get his life in order so he doesn't end up being just another cautionary tale. For any of this to happen, though, the 23-year-old Tyler, Texas native will have to do a little soul-searching and take it upon himself to do what he needs to do to change his life. If not, we likely haven't seen the worst of this sad situation.