How Kawhi Leonard Became the Man in San Antonio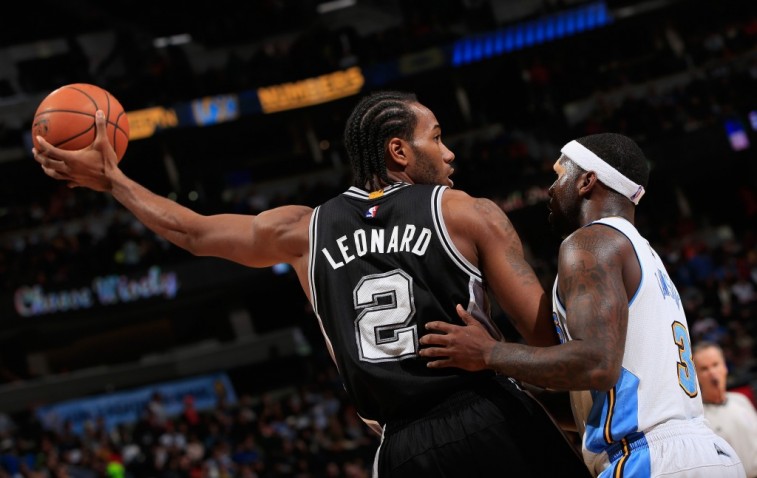 The San Antonio Spurs defeated the Houston Rockets on Wednesday by a score of 110-98. Behind Tony Parker and his game-high 27 points, the Spurs won their ninth consecutive game and are now within striking distance of Houston and the Memphis Grizzlies, who both sit a half-game up in the Southwest Division. While it was the 33-year-old point guard who fueled San Antonio's victory, even he acknowledged that he hasn't been the man driving the bus as of late. That role has slowly transitioned to fourth-year small forward Kawhi Leonard. And in typical Spurs fashion, no one on the team seems to mind. In fact, they have wholeheartedly embraced it.
Following Wednesday's home-win, Parker spoke with Dan McCarney of the San Antonio Express news about the man they call "The Claw."
"It's just like with me and Manu back in the day, [y]ou have to share and wait your turn. Sometimes I don't see the ball for a long time but Kawhi is playing unbelievable. And it's going to be Kawhi's team anyway. Like Timmy transitioned to Manu, Manu transitioned to me, now it's going to be transitioned to Kawhi. I'll try my best to be aggressive and stay involved, but Kawhi's going to be the man."
Arriving on the scene after being selected 15th overall in the 2011 draft, Leonard has always been recognized for his long arms, tenacious play, and smothering defense. That was what he was drafted to be: a solid wing player who can knock down the three and guard multiple positions on the defensive end — a regular Swiss army knife for Greg Popovich and company. Lately, he's become much more than that. He's become their go-to player on the offensive end as well. The Spurs are in sixth place out West at the moment, but given how they've slowly crept up on their division, San Antonio has the potential to finish as the second or third seed. That's only going to happen if Leonard continues to play at a high level.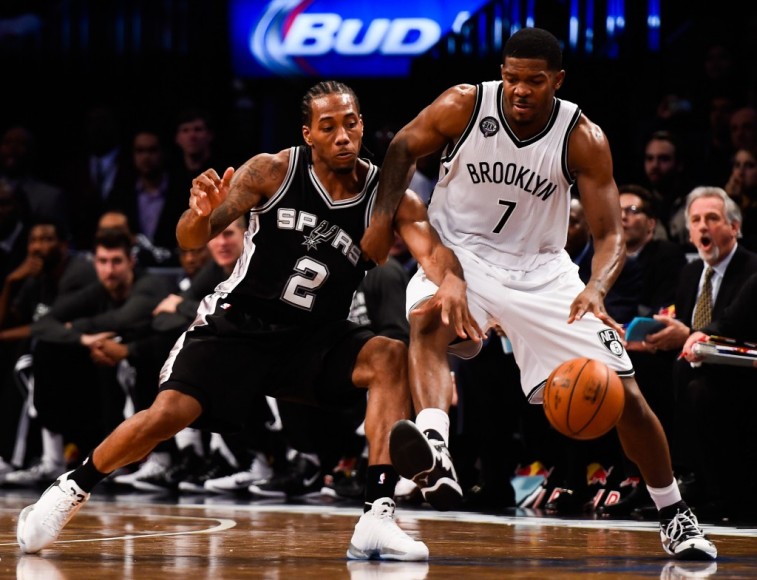 The Spurs are not surprised by Leonard's emergence. They've seen his number improve in each of his first four seasons. But he's taken his game to new heights in the past month. Starting at the beginning of March, Leonard has averaged 19.6 points (with a 55.5 shooting percentage), 6.5 rebounds, 2.9 steals and 2.7 assists a game. Those are big boy numbers. And they haven't been lost on the rest of the team. According to Tim Duncan: "He's playing great right now, and I think his confidence is building, he understands what his role is and we're riding him right now. He's been playing unbelievably, and he's been the driving force behind us these last 10 or 15 games. Hopefully, he can do what he does over these last few games, and we'll continue to support him."
Coach Popovich has even noted Leonard's increased self assurance. "He's just becoming more confident in what he does," said Pop. "It's just feeling a little bit more natural and not forced. He understands that I trust him. We go to him a little bit more." With the way Leonard has been playing lately, it should come as no surprise that he's starting to believe in himself as much as the rest of Spurs do. On a team with plenty of well-known talent, it's Leonard who's become the leading scorer, averaging 16.5 points per contest. It may have taken him most of the season to live up to the lofty expectations that were set after the former San Diego State standout won the 2014 Finals MVP, but slowly Leonard has stepped out of the shadows and into the spotlight.
This is a team that doesn't appear ready to relinquish its crown to the rest of the NBA. If another team wants to win the NBA championship, then it'll have to earn it.
All statistics are courtesy of Basketball-Reference.com and ESPN.go.com.