How Klay Thompson Became the 11th Pick of the 2011 NBA Draft Class
Klay Thompson is one of the best shooting guards in the NBA, though he's been sidelined this year for Golden State. Despite his untimely injury, the Warriors were smart to draft him back in 2011. Thompson was part of a star-studded class in the 2011 NBA Draft.
Although a few stars emerged who have outplayed Thompson, he has outperformed his draft position by a large margin. Here's how Thompson became the 11th pick of the 2011 NBA Draft class, who went before and after him, and how he's panned out. 
2011 NBA draft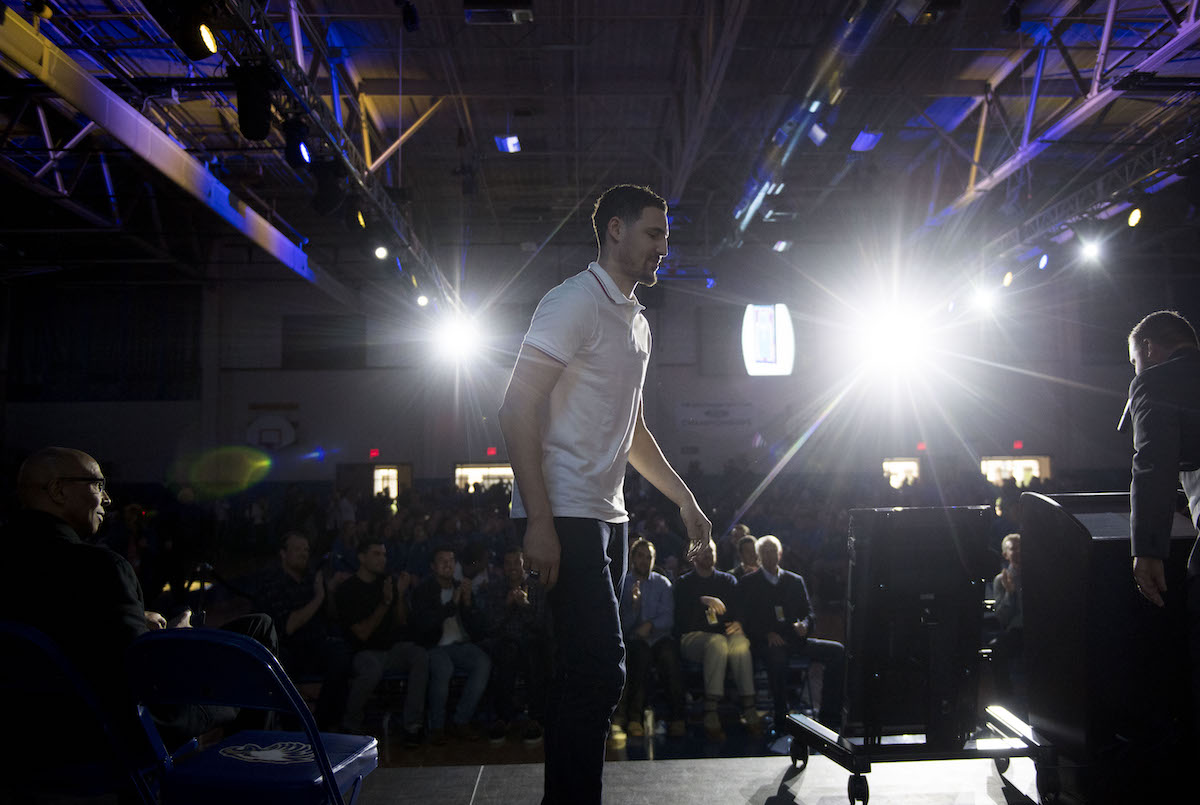 RELATED: The 1977 NBA Draft Will Go Down as One of the Weirdest Days in Sports
The 2011 NBA Draft yielded multiple stars, and as with some drafts, they weren't all taken at the top of the first round. According to Basketball-Reference, notable players from that year include: 
Kyrie Irving (first)
Kemba Walker (10th)
Kawhi Leonard (16th)
The Morris twins, Markieff and Marcus (13th and 14th)
Tobias Harris (19th)
Jimmy Butler (30th)
Isaiah Thomas (60th)
Thompson ended up outplaying several 2011 draft picks taken before him, including: 
Jan Vesely (sixth)
Tristan Thompson (fourth)
Derrick Williams (second)
Jimmer Fredette (10th)
If the teams involved got the opportunity to re-draft, Leonard and Irving would likely go No. 1 and No. 2, respectively. After that, it's a crapshoot for Thompson. He could go as high as third but could also fall below (or in between) Butler and Walker. Either way, he'd go a lot higher than where he was drafted at the time. 
Klay Thompson's 2011 scouting report 
RELATED: Why the Best NBA Draft Class of All Time Isn't Michael Jordan's
Scouting site NBADraft.net compiled a report for Thompson at the time, which later proved prescient. Here's what they said about the shooting guard before the 2011 draft:
"One of the top pure shooters on the college level … Prolific outside shooter with a defined role for the NBA level … Right hander who at 6'6 with long arms has good size for the NBA 2-guard position … Shows an excellent feel having been around the game his entire life.

Understands his limitations and plays within his game well … Plays well off the ball. Stays active. Works hard to create scoring opportunities. Understands how to create shots for himself off the ball coming off screens…"
That's a pretty dead-on assessment of Thompson's current skill set. The Warriors selected him with the 11th overall selection. 
Klay Thompson's NBA career since being drafted
Suffice to say the Warriors don't regret selecting Thompson. He's developed into one of the top offensive weapons in basketball. The shooting guard has never been the Warriors' best player. This honor falls to Steph Curry or Kevin Durant, depending on who you ask. But Thompson has been a major part of the team's success.
It's not unreasonable to think he would be a bigger star if he was the No. 1 scoring option on his own team. As it stands, Thompson is an excellent piece on a team that dominated the league prior to last year. They've rewarded him handsomely some major contracts.
The results speak for themselves. Since the team drafted Thompson, they've qualified for the NBA Finals five times and won three. The first, in 2015, featured Thompson and Curry, aka The Splash Brothers, as the team's best scorers. Adding Durant in 2016 only bolstered their roster. Thompson continued to flourish as Durant took attention away from him on the offensive side. 
Thompson missed the entire 2019 season due to an injury suffered in the 2019 NBA Finals loss to Toronto. After taking this year to heal, he's looking to be back at full strength in 2021.