How Kobe Bryant Inspired Iman Shumpert to Live Differently: 'He Left Us With a Lot'
Over four months have passed since the death of Kobe Bryant, his daughter Gianna, and seven others in a tragic helicopter accident. While a lot has happened in those four months, Bryant's death continues to resonate—particularly within the world of the NBA. A variety of players have spoken about the impact Bryant's death had on them.
One such player who spoke up recently is shooting guard Iman Shumpert, who last played with the Brooklyn Nets. While Shumpert didn't have as close a relationship with Bryant as many of his peers, he still took a lot away from his death. Let's look at Shumpert's time in the NBA and his recollections about Bryant.
Iman Shumpert's NBA career
RELATED: Kobe Bryant's Former Teammate Had an Unforgettable Conversation With Him Before His Death
The New York Knicks selected Shumpert with the 17th pick of the 2011 NBA Draft. The 6'5″ shooting guard spent four years in New York, establishing himself as decent 3-and-D guy who could reliably score eight or nine points per game. In January 2015, the Knicks traded Shumpert and J.R. Smith to the Cleveland Cavaliers as part of a multi-team deal.
Shumpert's three-point shooting and defensive skills made him a valuable role player for the Cavs. He averaged over 24 minutes per game in his first three seasons in Cleveland, and was a vital part of the LeBron James-led Cavs making it to the NBA Finals each of those years. Shumpert won a championship with the Cavs in the 2015-16, when they overcame a 3-1 deficit in the Finals against the Golden State Warriors.
After four years in Cleveland, the Sacramento Kings acquired Shumpert in a three-team trade. He spent half a year with the Kings, before being traded to the Houston Rockets. The Nets signed Shumpert at the start of the 2019-20 season, only to waive him after 13 games. At the moment, Shumpert is a free agent, whose future in the NBA remains very much up in the air.
Relationship with Kobe Bryant
RELATED: The Death of Stephen Jackson's Friend George Floyd Isn't the First Trauma in His Life
Back in March, Shumpert gave a candid interview with VladTV. The question of Bryant's death comes up at several points. Shumpert honestly answers that he didn't always appreciate how special Bryant was as a player. "I was a Michael Jordan guy," Shumpert admits. Getting caught up in the non-stop Jordan vs Bryant rhetoric made it hard for Shumpert to enjoy Bryant's game—at least up until his death.
At that point, everything changed for Shumpert. Only about a week after the news of Bryant's death, did the reality of his excellence dawn on Shumpert, who found himself thinking back to times he had gone up against Bryant on the court. Shumpert recalled one game in particular, when he had done an excellent job defending Bryant through three quarters, stealing the ball from him several times.
Just before the start of the fourth quarter, Bryant approached him, and said "You had a great game, young fella." Shumpert was feeling pretty good about himself as well, figuring that Bryant had never had to deal with a defender as tough as him. But as soon as the quarter started, Bryant went off, scoring a barrage of points and humbling the young Shumpert.
The impact of Bryant's death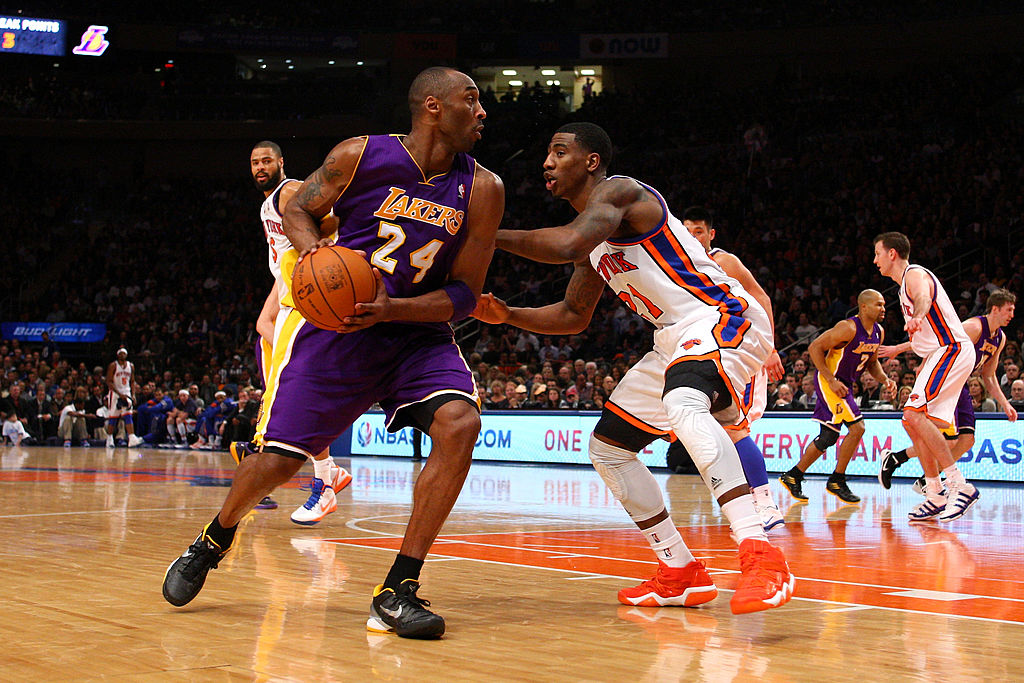 Shumpert also shared his personal response to the news of Bryant's death. In a nutshell, Shumpert realized how important it was to live life to the fullest. As he put it, "Get everything off your chest, get your books out, get your ideas out, get your dreams… You never know." Shumpert identified erasing fear and silencing other people's doubts as two of the most important ways to achieve his varied goals.
Shumpert also pointed out that, as tragic as it was, Bryant did die in the best possible way: as a father getting to be there for his own daughter. In that regard, Shumpert said that he felt happy for Bryant.