How Kyrie Irving Is Impacted By the Goran Dragić Signing
The Brooklyn Nets made it official on Feb. 22, signing free-agent guard Goran Dragić for the rest of the season. The Nets hope the 35-year-old combo guard can stabilize their backcourt, which recently lost James Harden and only has Kyrie Irving on a part-time basis.
Irving is the X-factor for Brooklyn. Based on current vaccine mandates affecting the NBA, he can play in just eight of the team's final 23 games. His vaccination status renders him ineligible for games in New York City and Toronto.
What does the addition of Dragić mean for Irving?
Kyrie Irving and Goran Dragić should complement each other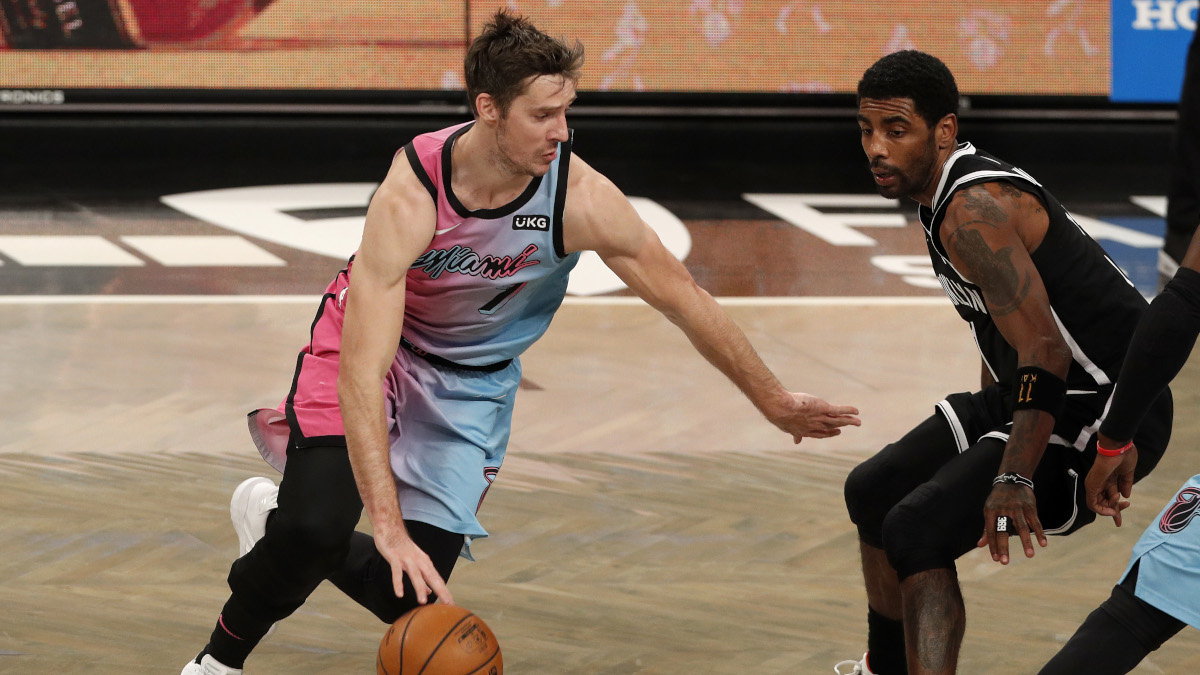 Kyrie Irving is the point guard for the Brooklyn Nets when he's available. Cut from the combo guard mold, Irving is much of a scorer as he is a playmaker with career averages of 22.9 points and 5.7 assists.
His sporadic playing status has affected his consistency as a shooter. He's making only 49.5% inside the arc and 36.8% from three-point range. That's down from 57.6% and 40.2%, respectively, last season. He's played only 14 of the Nets' 59 games.
Newly signed Goran Dragić is from a similar mold. While not as prolific a scorer, The Dragon put up 17.2 points and 5.7 assists a night in six seasons as a full-time starter from 2012–18.
Both players are comfortable on and off the ball, and their styles are complementary rather than redundant. They can play together while sharing the ballhandling and playmaking duties. It should function in much the same way the Harden-Irving tandem did.
It's likely Dragić has the ball more. Irving is a better spot-up shooter and is not attacking the rim nearly as much this season. He's taking 8.9% of his shots in the restricted area, less than half his previous career low.
How the Brooklyn backcourt rotation should function with Goran Dragić
When Kyrie Irving plays, he'll likely start with the Nets' other combo guard, Patty Mills. Irving is the primary ballhandler in that pairing, and Mills works off the ball. The Australian is in the top 10 in three-point shooting. Mills combines with another new acquisition, Seth Curry, to keep the offense spaced.
Dragić is likely the first guard off the bench in this scenario. He can either spell Irving as the primary handler or replace one of Mills or Curry.
There's not a scenario in which the Nets aren't painfully small on the perimeter. But that's been an issue since Joe Harris injured his ankle in mid-November.
Mills is 6-foot-1, while Irving and Curry are 6-foot-2. Dragić checks in at 6-foot-3, and rookie Cam Thomas stands 6-foot-4. The only length on the wing is rookie Kessler Edwards at 6-foot-8. Bruce Brown (6-foot-4) plays a bit bigger with his 6-foot-9 wingspan.
A wildcard is Ben Simmons, who dramatically upgrades the Brooklyn defense.
At least initially, Dragić backs up Mills and Curry when Irving's not in uniform. As he reacclimates to game conditions, the left-hander gives coach Steve Nash another option for the starting unit. Why not? Brooklyn's already used a league-high 33 lineups to open games.
The Nets and Kyrie Irving are looking for help from city hall
According to Marc Stein via Substack, the Nets hold out hope Kyrie Irving can play at Barclays Center this season.
Brian Lewis of the New York Post reported that Mayor Eric Adams thinks the city's vaccine mandate is unfair.
"First of all, I think the rule is unfair," Adams said on Feb. 16. "I believe we are saying to out-of-town athletes that they can come in and not be vaccinated, yet New York athletes do have to be vaccinated. And they also do this for entertainers. I want people to know that. Entertainers can come here without being vaccinated and perform.
"I think it's unfair, and I'm not sure if a Boston fan created this rule, I don't know. I'm really, really leery about sending the wrong message. Having this city closed down again keeps me up at night. The rule was put in place; to start changing it now would send mixed messages. So I'm struggling with this, just to be honest."
NBA Commissioner Adam Silver took up Irving's case while speaking with Mike Greenberg on ESPN's GetUp.
"This law in New York, the oddity of it to me is that it only applies to home players," Silver said. "I think if ultimately that rule is about protecting people who are in the arena. It just doesn't quite make sense to me than an away player who is unvaccinated can play in Barclays, but the home player can't. To me, that's a reason they should take a look at that ordinance."
Goran Dragić provides the Nets with an alternative to Kyrie Irving. That should prove helpful with continuity. Still, Brooklyn faces an uphill climb to escape the play-in tournament.
Statistics courtesy of Basketball Reference.
According to the Centers for Disease Control and Prevention (CDC), "More than 520 million doses of COVID-19 vaccine had been given in the United States from December 14, 2020, through January 10, 2022. … COVID-19 vaccines are safe and effective."
RELATED: A 3-Step Plan for the Brooklyn Nets to Live Up to Their Potential in the Second Half of the Season