How LeBron Could Win Finals MVP (even if the Cavs Lose)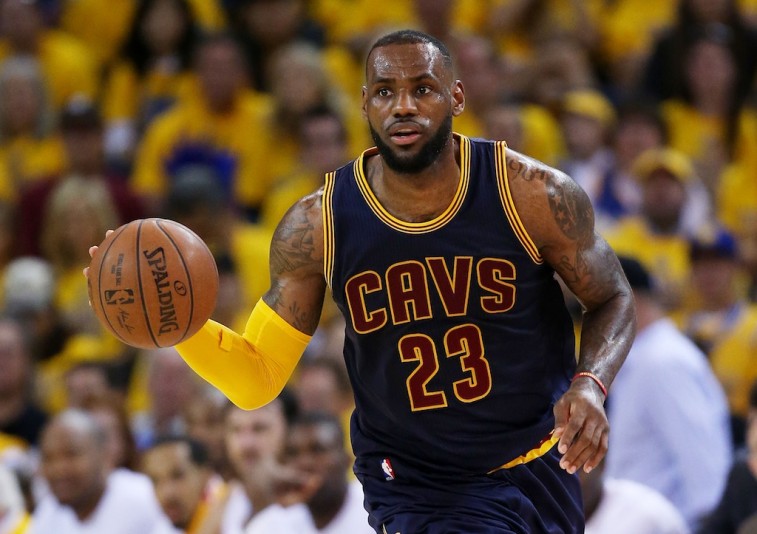 For those of you who were quick to write off the Cleveland Cavaliers in the 2015 NBA Finals, you might want to check the box score. It's not over yet.
Following Sunday night's 95-93 overtime victory in Game 2 at Oracle Arena, the long shot out of the Eastern Conference has managed to steal home-court advantage right out from under the Golden State Warriors. Now the series shifts to Cleveland, where the Cavs hope to use the energy of their home crowd to keep the momentum going. After working so hard to tie things up at one game apiece, the Cavaliers can ill-afford to give up any advantage they might have. This group has already give up enough.
This Cavs team is not the same one that came into the postseason firing on all cylinders. They are beat up and tired. They are down two stars and fully embracing the "next man up" mentality. This group may be young and inexperienced, but its certainly grown up in the past few weeks. When your team is outmatched in the talent department, you must willing to do the dirty work; that's what these Cavs have done. They've played suffocating defense (see Matthew Dellavedova), they've grabbed every miss that comes in their direction (see Tristan Thompson's 14.5 rebounds per game in the Finals), and they've played for each other.
Through it all, there has been one constant: LeBron James. He is the glue. He is the star. He is the leader. He is the one steering the ship. Where he goes, this team will follow. And in this matchup so far, as it's been in the past few series, the opposition has had no answer for the game's best player. Which is why, if players on both teams continue to play at their current level, and the Cavaliers end up losing this series, there should be no argument who is most deserving of the Finals Most Valuable Player. The King.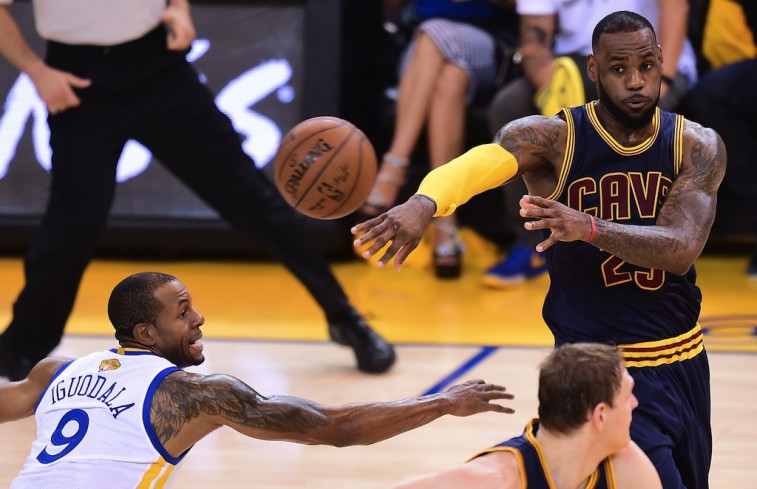 It's not common for a player on the losing end to win MVP in the Finals, but there is a precedent. In the 1969 NBA Finals, the Boston Celtics defeated the Los Angeles Lakers in a grueling seven-game series. The Celtics had a player in John Havlicek who was more than deserving of the honors. He averaged 28.3 points, 11 rebounds, and 4.4 assists per game. He played 336 total minutes and shot 45.7% from the field. Hondo was more than worthy of the individual award. But someone on the losing end shined brighter — Jerry West.
Even in defeat, The Logo was absolutely spectacular. He played 43.9 minutes per game and put up 37.9 points, 4.7 rebounds, and 7.4 assists a contest. The Celtics had six players who averaged double figures in scoring, while the Lakers only had four. Therefore, West was forced to carry more of the load. If he didn't play out of his mind, then Los Angeles would've been in big trouble. Does that sound familiar? We thought so.
In his second stint with the Cleveland Cavaliers, James understands the pressure on his shoulders. He is also more equipped to handle this situation. His belief and confidence has carried over to his teammates, and they are feeding off of him. You could argue that 'Bron is having a pretty inefficient postseason. And that, in itself, is reason enough to keep the award away from him should the Cavs come up short. But we'd argue that he's not getting enough love — or calls — from the officials, which is undoubtedly playing a part in his less-than-stellar shooting percentage. Plus, let's look at the big picture. So far, James' overall numbers in the 2015 NBA Finals have been mind-blowing. And no one — especially not current MVP Stephen Curry — is playing on his level. That means something.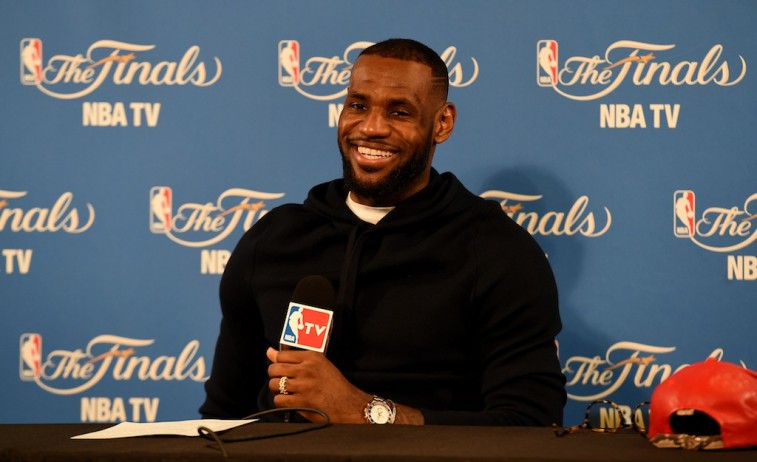 It's only been two games, but the King is averaging 41. 5 points, 12 rebounds, and 8.5 assists per contest. He's played an average of 48.1 minutes a night, and he's handling the ball the majority of the time. He is the ultimate Swiss army knife; capable of playing every position on the floor and knowing how to make the best play for himself and those around him. By trusting in his teammates, he's made it easy for them to trust himself. And that's why this series is tied at one game a piece.
It's safe to say that this series would have to go to seven games if James was to have any shot at being named Finals MVP in a losing effort. But if he maintains his current level of play and the Warriors' stars don't begin to shine, how could you not reward him? The Cavs are in this position because of James. The Cavs play at a higher level because of James. The Cavs believe in themselves because of James. This series is far from over; either team could still come away with the Larry O'Brien Trophy. Yet, so far, only one player has shown himself to be the most valuable player on the floor. Even in defeat, it may only be right to crown the King.
All statistics are courtesy of Basketball-Reference.com and ESPN.go.com.