How LeBron James Made NBA History With His Latest Triple-Double
LeBron James led the Los Angeles Lakers to their fifth straight win on Tuesday night with his fifth triple-double of the season, recording 25 points, 11 rebounds, and 10 assists in a 112-107 Laker win over the Oklahoma City Thunder. With the win, the Lakers improved to 12-1 over their last 13 games and to 12-2 on the season, the best record in the NBA.
But while getting the win was the top priority on Tuesday night, James was chasing history in his quest for a triple-double. By recording one against Oklahoma City, LeBron James now stands alone as the only player to ever accomplish this impressive feat.
LeBron James has a triple-double against every team in the NBA
With his triple-double on Tuesday night, LeBron James became the first player in NBA history to record a regular-season triple-double against all 30 teams in the NBA. Technically, he had already accomplished the feat if you count the postseason; but now he owns the distinction in the regular season, where most NBA records are recognized.
James entered the 2019-20 season with three teams left on his regular-season to-do list; the San Antonio Spurs, the Dallas Mavericks, and the Oklahoma City Thunder. He had recorded a triple-double against all three of these teams in the NBA Finals when playing in the Eastern Conference for the Miami Heat, but had never done so in the regular season.
It took LeBron James only one try against each of these three teams this season to knock them off of his list. The 34-year-old out-dueled Luka Doncic with a 39-point, 16-assist, 12-rebound performance earlier this season in Dallas, and in his very next game scored 21 points, 13 assists, and 11 rebounds on the road against San Antonio. Tonight marked the last hurdle to overcome, and he did it.
James leads the NBA in assists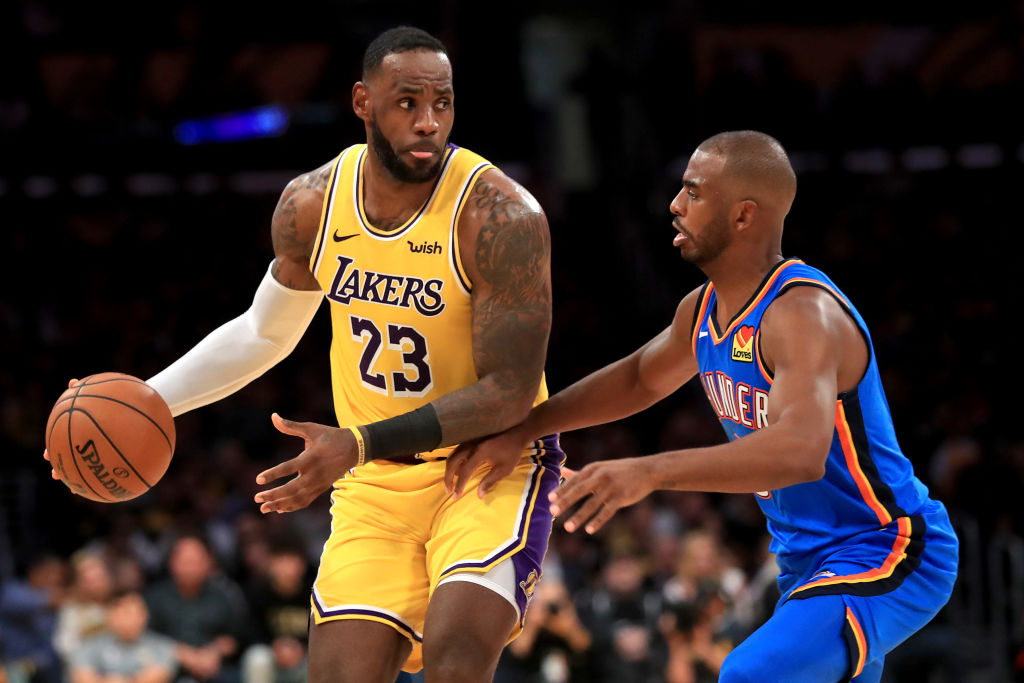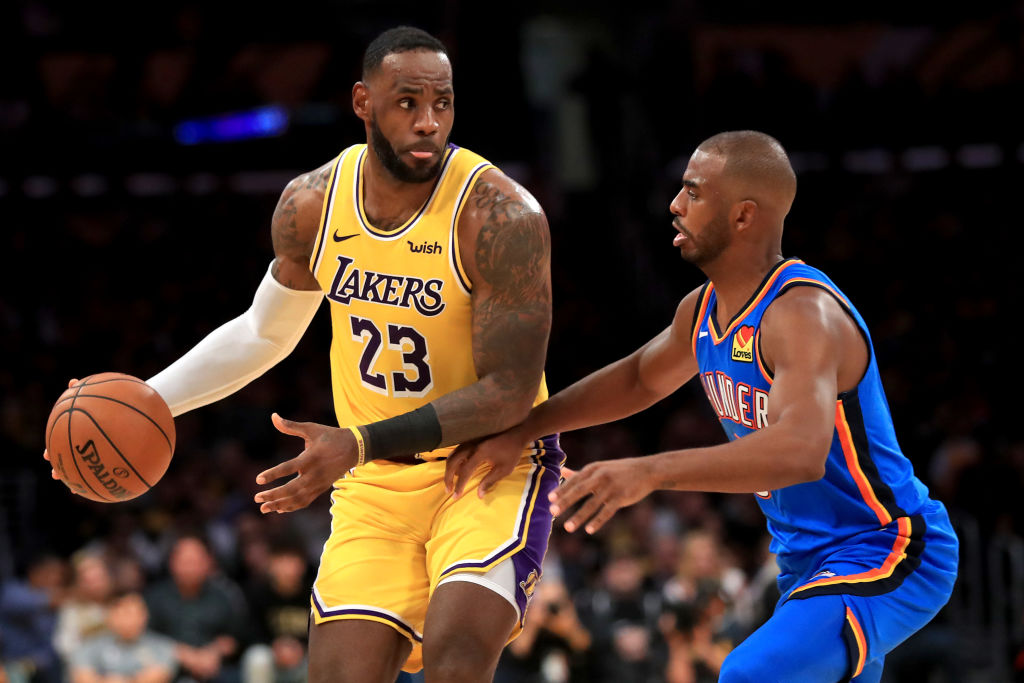 LeBron James has always put up respectable assist numbers, especially as the primary scoring threat on every team he's ever been on. But with Anthony Davis in the fold in Los Angeles, James is embracing the facilitator role more than ever this season.
Tuesday night's game marked the sixth straight game that LeBron James has recorded double-digit assists. He is averaging a career-high 11.1 assists per game, which is also currently leading the entire NBA.
Giannis Antetokounmpo and James Harden are doing some incredible things this season and are deserving of their MVP hype. But if the Lakers keep playing at this high of a level all season, and James keeps dominating so thoroughly on both sides of the court, it will be difficult to deny him the NBA MVP Award in 2019-20.
Russell Westbrook still needs one against his old team
Russell Westbrook is the triple-double king; he averaged a triple-double for three straight seasons in Oklahoma City. Westbrook became the first play ever to record a triple-double against 29 opposing teams back in 2017.
But since he spent his whole career with the Thunder up until joining the Houston Rockets this season, Westbrook never had a chance to record a triple-double against them. In a home game against Oklahoma City back in October, Russell Westbrook recorded 28 points, 12 rebounds, and nine assists against his old team; falling one assist shy of being the first player to join the 30-team triple-double club.
Westbrook will get another shot to join James in the history books on January 9 when the Rockets visit Oklahoma City.