How LeBron, Rose, and the NBA Broke Their Silence on Eric Garner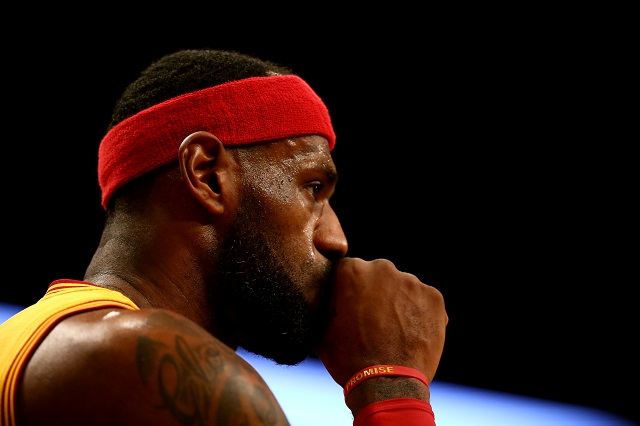 Never let it be said that NBA players aren't aware of what's going on in the world around them. Weeks after several St. Louis Rams players entered onto the field with the 'Hands Up, Don't Shoot' gesture in a show of solidarity with the protesters in Ferguson, Missouri, Derrick Rose showed up to the Chicago Bulls game against the Golden State Warriors wearing a shirt that read "I can't breathe," a reference to the last words of Eric Garner, who was killed by police officers earlier this year. While Rose did not comment on the shirt after the game, word traveled quickly enough around the league for several members of the Cleveland Cavaliers and the Brooklyn Nets, who were playing in Brooklyn on Monday Night, to get involved with their own version of the shirts, with the same slogan.
"Obviously, as a society we have to do better," James told reporters. "We have to be better for one another. It doesn't matter what race you are. It's more of a shout out to the family more than anything, because they're the ones that should be getting all the energy and effort." On the other side of the court, Brooklyn Net Kevin Garnett, who also wore an "I Can't Breathe" shirt during warmups referenced the NBA Cares slogan in his explanation of why he felt it was an important cause to get behind.
Two of the most telling answers came from a pair of point guards — Deron Williams, who plays for the nets, and Derrick Rose, who elucidated reporters eventually, just not after the game. For Williams, who admitted that he keeps a distance from most social issues, it was the visceral nature of the Garner video that drew him toward making a statement.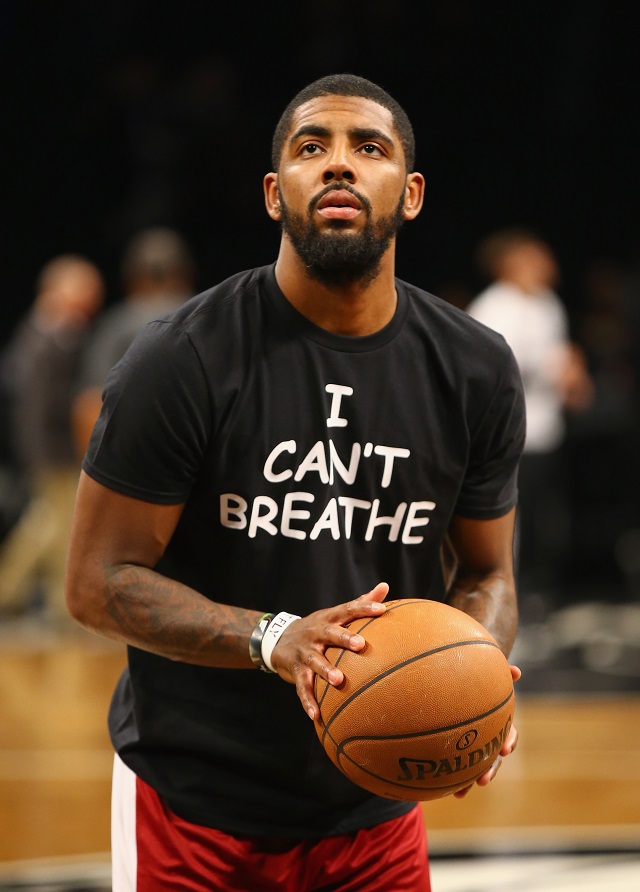 Rose talked to the Chicago Tribune about his shirt and the decisions behind it on Monday. At first, Rose claimed that he wanted to show support for Garner, as well as the recent situation in Ferguson, but the usually tight lipped point guard opened up in great detail about exactly why he felt so strongly about it. This is the part of the story when we remember that Rose grew up in Chicago's South Side.
"I saw the violence every day and just seeing what can happen. If anything, I'm just trying to change the thoughts of the kids' minds across the nation. I know what they're thinking right now. I was one of them kids. When you live in an area like that and you don't got any hope and police are treating you any way — I'm not saying all police are treating kids bad — but it gives you another reason to be bad. My biggest concern is the kids and making sure my son grows up in a safe environment." Like Williams, Rose typically avoids politics, but he felt moved to make a public statement on the Garner and Brown cases because he felt that "what happened them days (sic) was uncalled for and I think it hurt a lot of people. It hurt the nation."
The NBA will not be fining any players who wore shirts supporting the protestors and the victim's families, although players are typically bound by contract to wear Adidas warmups.