How Long Has James Harden Had His Beard?
James Harden's legendary beard may be just as much a part of his legacy as his stepback jumper and ability to get to the free-throw line. Like Samson with a basketball, Harden's beard has grown into the hoops lore with his every passing achievement. As such, it's hard to picture Harden without his facial hair, but there was a time before it adorned his face. 
James Harden's beard: An origin story
With such an iconic beard, somebody might expect Harden to have an epic story behind it. Did he make a deal to grow it to become a dominant player? Is there a symbolic meaning? Maybe he's paying homage to other bearded icons who came before him. It's fun to speculate, but none of these theories are correct.
Harden began to grow his beard in 2009, and it garnered attention even then. He played his college games at Arizona State clean-shaven, but by the time he suited up for the NBA, the beard began to appear. Harden is not the first NBA player to grow a beard, but he may be the first to embrace his facial hair so much.
It may come as a surprise to learn that Harden never grew his beard for any specific reason. He claimed the stubble began thanks to laziness. In an interview with The New York Times, the athlete's former assistant coach at Arizona stated that the beard simply became Harden's thing. 
"There's no crazy things about him, and that is the story," Pera said. "He doesn't have earrings or tattoos."
Harden hasn't counted out a shave in the future, but he told TMZ it would cost a lot of money (for charity) to make it happen in 2013. Now that he makes more money, his asking price has likely grown. Whether it began as a grand gesture or laziness, the legend of the beard has grown as Harden has taken over the NBA. 
James Harden's image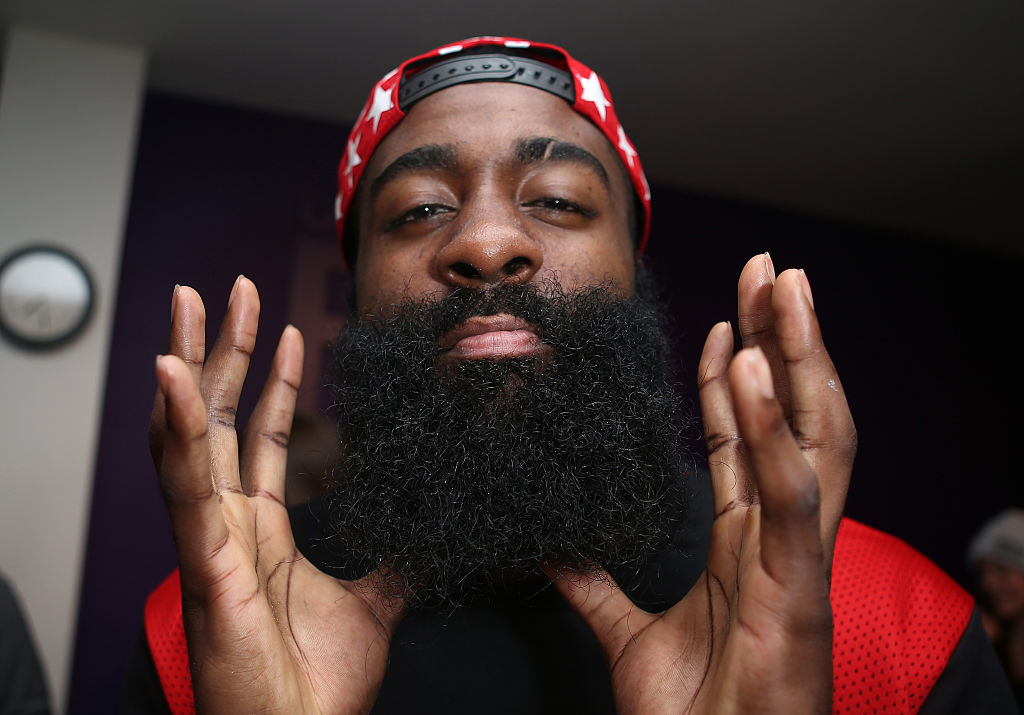 The beard did not start as an act of fashion. But those who follow Harden's off-court wardrobe choices know it's become part of his signature look. Although the beard doesn't take any crazy shapes or forms, it seems to fit around whatever outfit Harden decides to wear off the court. 
His colorful wardrobe has not gone unnoticed. The NBA star is consistently lauded by fans and fashionistas alike for his unique style that's hard to replicate. Every shirt and accessory he wears seems to compliment his facial hair and vice-versa. Whether this was always the plan, Harden has grown to embrace the beard.
Growing "The Beard"
Harden's growth as a player can be traced back to his beard. This could be why he's never opted to shave it. It's become synonymous with his game, even a nickname to some, and the results speak for themselves.
"The Beard" was good enough to make it into the NBA from Arizona State University without it, and as the beard grew, he became the Sixth Man of the Year with the Oklahoma City Thunder. 
Harden packed up his beard and headed out to Houston, where the beard grew more. Now, it's grown to the point where he's putting up scoring numbers that haven't been seen in many years. At 38 points, eight assists, and six rebounds this year, Harden's opponents can only cower to think about what will happen if this trend continues.
Follow more updates from Sportscasting on our Facebook page.