How Many Brothers Does Rob Gronkowski Have?
Former New England Patriots tight end Rob Gronkowski didn't reach his heights alone. No, we don't mean his former Patriots teammates — although that's true, too. "Gronk" isn't the only Gronkowski making sports his life. Rob's has four brothers, led by father Gordy Sr., who realized their dreams of playing sports for a paycheck.
Leaving the NFL in his prime, Gronkowski gave up the game at just 30 years old. Now, the former tight end has the support network of family to help him transition to life off the gridiron. Let's meet the Gronkowskis!
How Gordy Gronkowski Sr. helped his sons achieve their goals
Gordy Gronkowski had a vision for his sons; he wanted each boy to go to college with an athletic scholarship. Although he resolved never to push them into a specific sport, or even playing sports at all, he saw that his fatherly duty was to hold his children to finishing anything they chose to start.
Gordy personally trained his boys in baseball and hockey. But none of the Gronk sons became NHL players. One of them did share his father's passion for baseball, however.
Gordie Gronkowski Jr., the lone son who didn't play in the NFL
Gordie Jr., the oldest Gronk brother, set the tone for his brothers. Sort of. At first, he wasn't interested in taking sports beyond a casual level. Then, he noticed his brother Dan training hard for football. As Dan got better and bigger than Gordie, the older brother couldn't let that stand.
He took on a serious training regimen and became a All-American baseball player in his freshman year with Jacksonville University. Gordie Jr. parlayed this success into playing baseball with the Los Angeles Angels' Minor League Baseball affiliate from 2006 to 2008.
He later joined the Frontier League's Southern Illinois squad. Today, Gordie Jr. runs the Gronk Fitness gym equipment company.
Brother Dan Gronkowski's trip to the NFL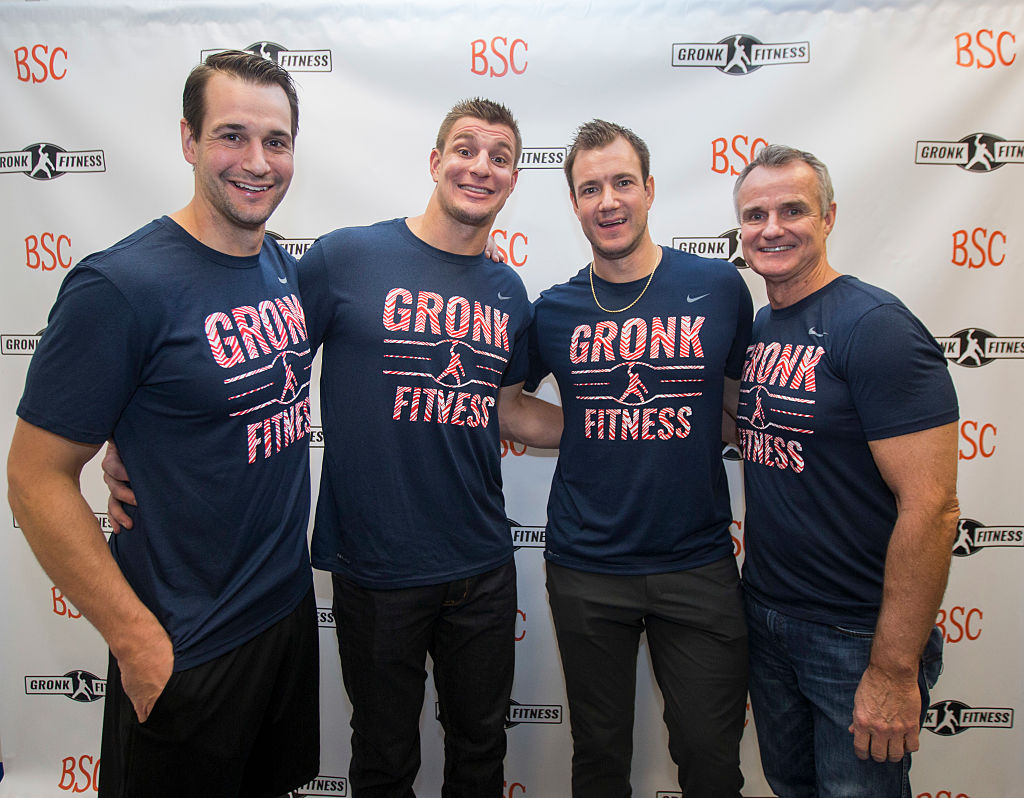 Dan Gronkowski is best known today as Gordie Jr.'s partner in Gronk Fitness. Before this, he earned a marketing degree and was nominated to be a Rhodes Scholar. As Dan worked on getting his MBA, however, the NFL came calling.
The tight end played with the Lions, Broncos, Patriots and Browns before wrapping up his NFL career in 2013.
Brother Chris Gronkowski's four NFL teams
Chris Gronkowski started as a fullback with the University of Michigan, before transferring to the school most associated with the name "Gronk," the University of Arizona.
The fullback rose to NFL ranks and most famously played for the Cowboys, where he helped Tony Romo start his career strong. Subsequently, Chris played with the Colts, Broncos, and Chargers before an injury sidelined him and led to the end of his pro football career.
Today, he runs several businesses, including the Gronkowski family's Ice Shaker protein shaker company. He also runs an engraving business with his wife Brittany.
How Glenn Gronkowski got his hands on a Super Bowl ring
It's a miracle that Gordy Sr. has five boys who played sports for a living at some point. It's absolutely wild that four of them played in the NFL, a fiercely competitive league. Having two sons with Super Bowl rings? Somehow, the Gronkowski family pulled it off.
Glenn Gronkowski brought both academic and football prowess to Kansas State. Then, he transitioned to professional ball with the Buffalo Bills, who started him right away. Glenn didn't make it past Week 2 in that role. But the Patriots took a chance on him, putting him on a roster that won the 51st Super Bowl.
Under the fair, stern, and caring leadership of father Gordy, the five Gronks were all pro athletes, and now they're all successful businessmen. Now, we await what the next generation of Gronkowskis with bated breath.