How Many Colquitt Brothers Are There in the NFL?
The Colquitts may not be a big-name football family like the Mannings or Watts, but with two brothers, Dustin and Britton, currently competing in the NFL, we cannot underestimate their impact on the game.
As punters, neither brother gets the attention of even a field goal kicker, but a good punter can be the difference between a win and loss. Some NFL fans don't know the Colquitt brothers by name, but they've likely seen their contributions without knowing it.
The kicking Colquitt brothers
Sports legacies are part of the fabric of football. In 2017, Fox Sports highlighted the Colquitt family's legacy. Their football history goes back several generations, making them a quiet powerhouse in the world of NFL families.
Dustin and Britton's father, Craig Colquitt, punted for the Pittsburgh Steelers from 1978 to 1984. Football historians know this means he was a part of not one, but two Super Bowl teams. Craig instilled a love of football, specifically punting, in his sons from an early age. But he wasn't the first punter in the family. 
Craig's father, Lester, was a punter in high school. The University of Alabama offered him a scholarship, but a military obligation kept him from being able to accept it. Although Lester never played competitive football again, the family says he used to come home from his job as a police officer and punt the ball to let out steam. 
In addition to their father and grandfather, the duo's cousin Jimmy was also a punter, albeit his career only lasted for two games with the Seattle Seahawks in 1985. Britton and Dustin, however, both maintain long careers as NFL punters.
Dustin Colquitt
Dustin didn't pursue punting in football until his senior of high school. Before that, his sport of choice was soccer. The young athlete had some inhibitions about playing football, but it took one sentence and a few schoolboy hormones to get him into the game for good. 
"Our kicker got hurt and Dustin filled in," Britton said of his brother. "The story there is Dustin didn't like the tight pants. It was like, 'I don't think I can do this in front of all these people.' But in the first real game, he had a girl come up to him behind the fence before the first game who screamed at him, 'Hey Colquitt — nice butt!'"
After a successful career at Tennessee, Dustin was taken in the third round of the 2005 NFL Draft by the Kansas City Chiefs. The two-time Pro Bowler has played in Kansas City for 14 years now, only missing two games in the process. With Patrick Mahomes running his team's offense, Dustin could join his father with a Super Bowl ring.
Britton Colquitt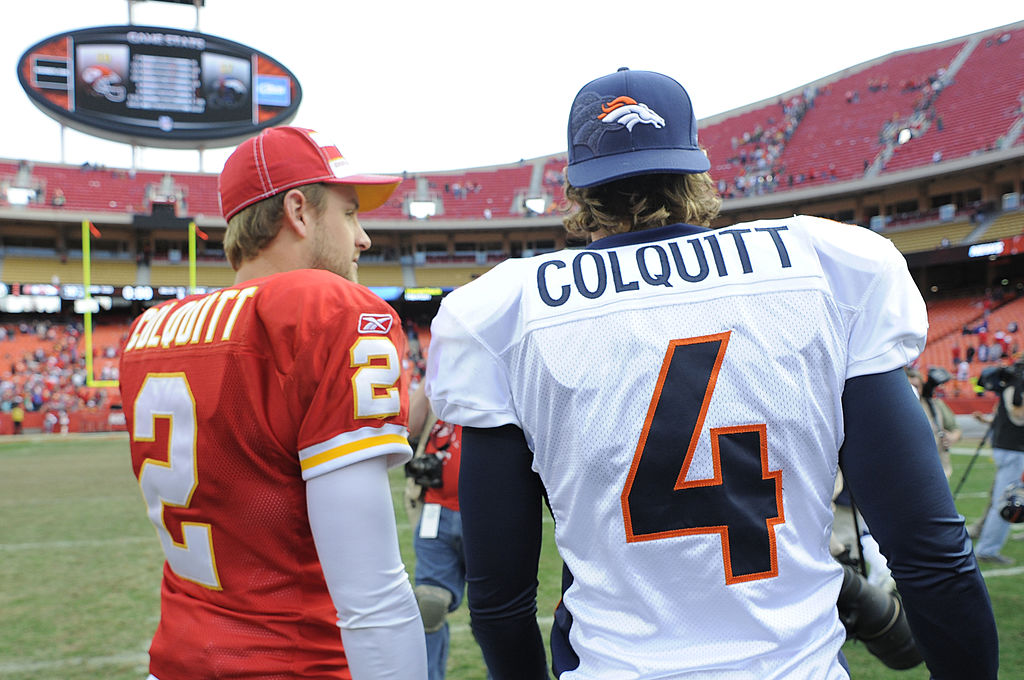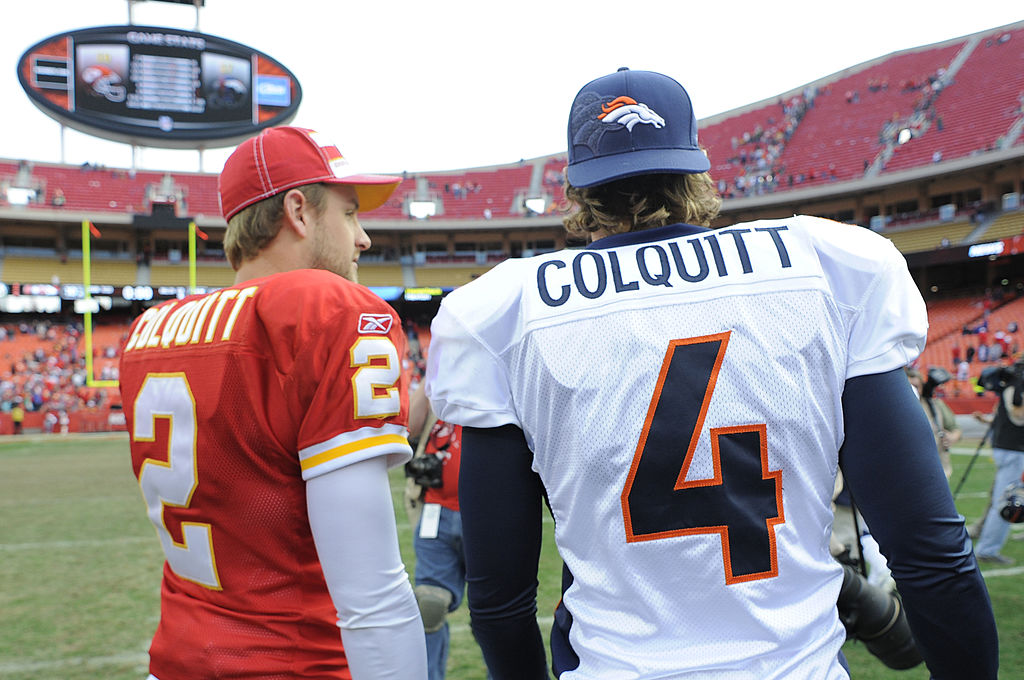 Britton caught the kicking bug earlier than his older brother, but he had some demons to work through before he garnered attention in the NFL. Like his brother, Britton went to college in Tennessee, but he had four alcohol-related arrests there. This raised red flags for NFL teams hoping to draft a punter, and he remained undrafted.
In 2009, Britton signed with the Miami Dolphins' practice squad but managed to gain the attention of the Denver Broncos. With his demons behind him, Britton became the highest-paid punter in 2013, beating out his brother with a $13 million contract.
Britton, unlike his brother, earned a Super Bowl ring as a Denver Bronco. Now with the Minnesota Vikings, he hopes to add another sometime soon.