How Many Languages Can Luka Doncic Speak?
Luka Doncic has already established himself as a force to be reckoned with on the court. The star forward for the Mavericks almost ended up in Atlanta, but Dallas quickly traded for him to benefit from his expert plays.
Doncic is only 20 years old, but he has already had a long career, first in Spain and then in the U.S. As with the other international players who join the NBA, Doncic speaks several languages. One of these has made him a fan favorite in both the United States and Mexico.
Luka Doncic's first language: Slovenian
Doncic was born and raised in Slovenia, a country on the northeast Adriatic coast, so he speaks Slovenian. It's located in east-central Europe, surrounded by Croatia, Italy, Austria, and Hungary. It had been a part of the former Yugoslavia until 1991 when it seceded in a battle known as the Ten-Day War.
Slovenian is the main language in the country, although Hungarian and Italian are co-official languages. German, Serbian, and Croatian are also spoken in the country. Doncic is from Ljubljana, the capital and largest city.
Spanish
Doncic's basketball career began very early. Not only was his father a pro basketball player for Slovenia (his mother competed in hurdling), but his parents recall him asking for a basketball as a young kid. Starting at eight years old, Doncic played on the Union Olimpija's youth teams.
He began playing with the Real Madrid youth team in 2012, staying for three years. He spent the three years after that playing for Real Madrid itself, reports NBA.com. During this time, he learned to speak Spanish fluently.
This skill has made him a favorite in both Texas and Mexico. During a December 2019 game against Detroit, taking place in Mexico City, fans cheered loudly for the Mavericks and its Spanish-speaking players. Sports Illustrated noted that, after Doncic introduced himself in Spanish, fans started cheering, "MVP!"
Knowing Spanish has also helped Doncic communicate with other international players, especially Kristaps Porzingas, who also played in Spain. The two sometimes discuss strategy on the court in Spanish, although they do use English, too.
Spanish is, no doubt, Doncic's best second language; six years of use as a teen would have easily given him fluency. As you can see, he shows no signs of forgetting the language.
English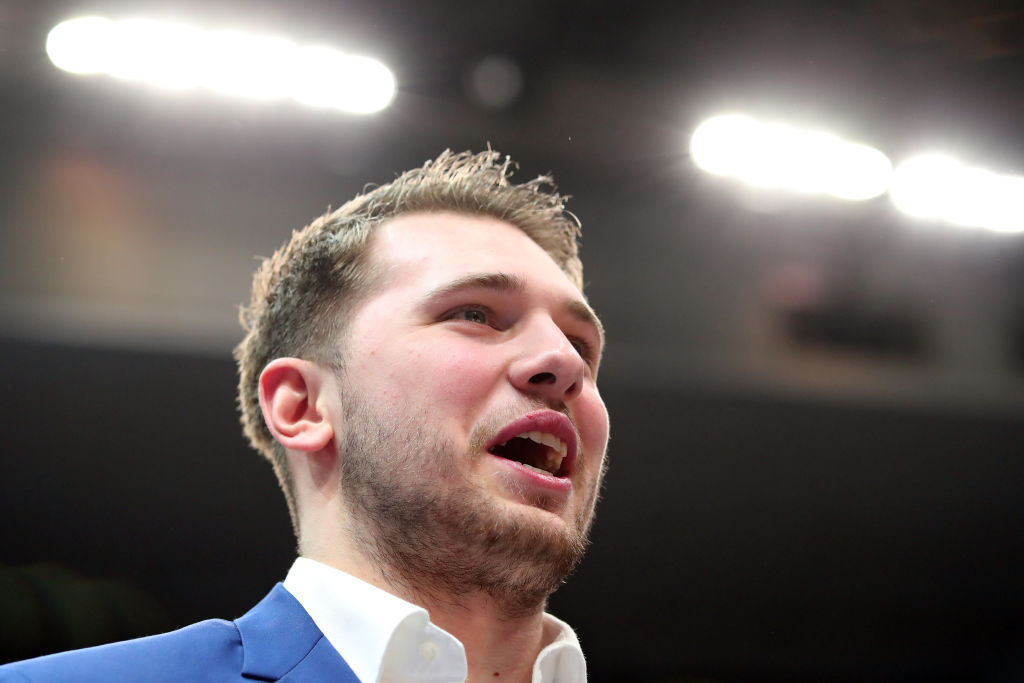 Doncic's third language is English, which he has a good command of, but is still learning. For example, in a 2018 interview with SB Nation, he didn't know the English word for "shower." But he has no doubt become much more fluent in the year and a half since that interview.
Slovenia promotes second-language learning early on in its schools. English and German are top choices, so Doncic may have had additional study opportunities before moving to Spain at age 13.
Serbian
Doncic is often described as speaking three languages: Slovenian, Spanish, and English. Some sources include Serbian as a fourth language. Doncic's family has Serbian heritage from the Kosovo region.
The athlete's current contract with the Mavericks runs for four years, which means fans will be able to see him play in Dallas for a while. Doncic has already set records, and it'll be exciting to see what else he'll achieve as he continues his basketball career.