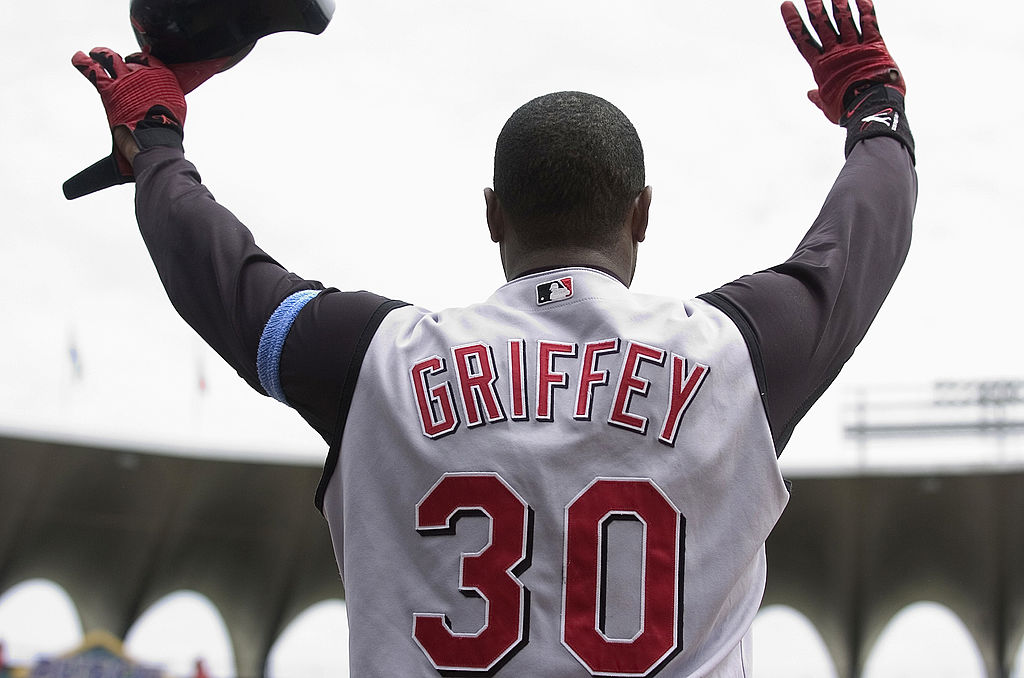 How Many More Home Runs Would Ken Griffey Jr. Have Hit If He Had Stayed Healthy?
Ken Griffey Jr. was one of the best home run hitters in history. He could have hit a lot more, though, had he stayed healthy.
Ken Griffey Jr. was one of the most exciting baseball players to ever play the game. From his home runs to his backwards hats, fans could not look away whenever Griffey was on TV. While he did hit more career home runs than a lot of other MLB players, Griffey could have hit even more had he stayed healthy.
Ken Griffey Jr. became a star for the Seattle Mariners
Coming into the league at 19 years old – and as the son of a great baseball player – Griffey could have understandably struggled to start his career. He did not let that happen, though. During his rookie season with the Seattle Mariners in 1989, Griffey hit 16 home runs and 61 RBIs.
However, in his second season, he became a star as he hit 22 home runs, had 80 RBIs, and had a .300 batting average. Griffey still just seemed to get better and better after that. He then hit 27 home runs in 1992 and then became a monster in 1993 with 45 home runs to go with 109 RBIs. He also had a .309 batting average in 1993.
During his 11 seasons with the Mariners, Griffey ended up having a fantastic career. He hit 398 total home runs to go with 1,752 hits and 1,152 RBIs. He also won the American League MVP award in 1997 and was the AL's home run leader in four different seasons. Griffey was easily one of the best players in the MLB and was on his way to becoming one of the league's all-time home run leaders.
Going back home to Cincinnati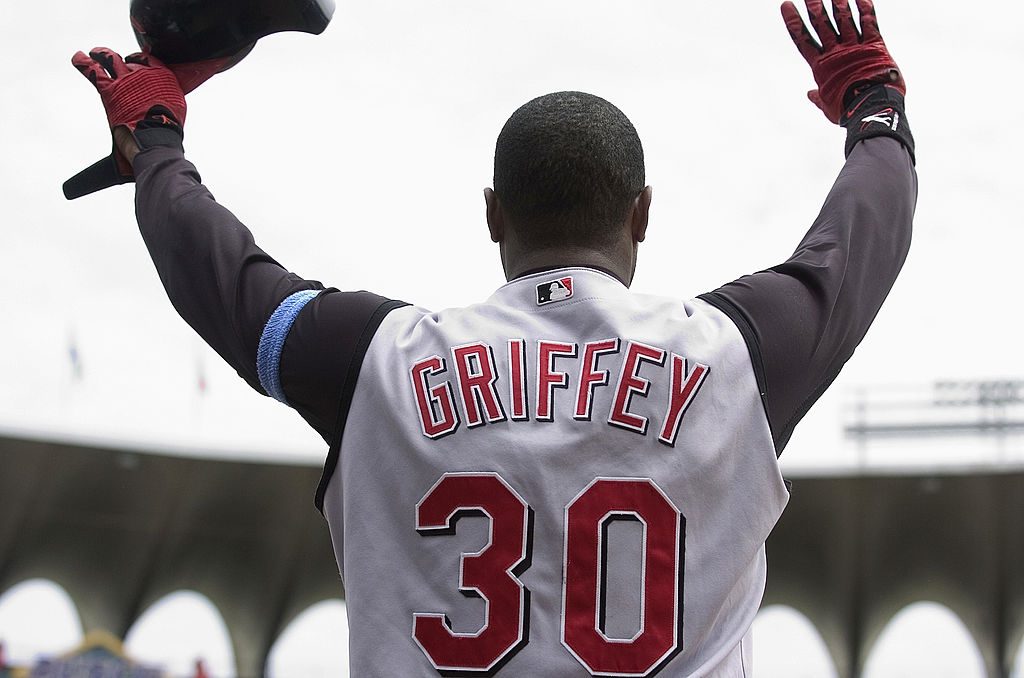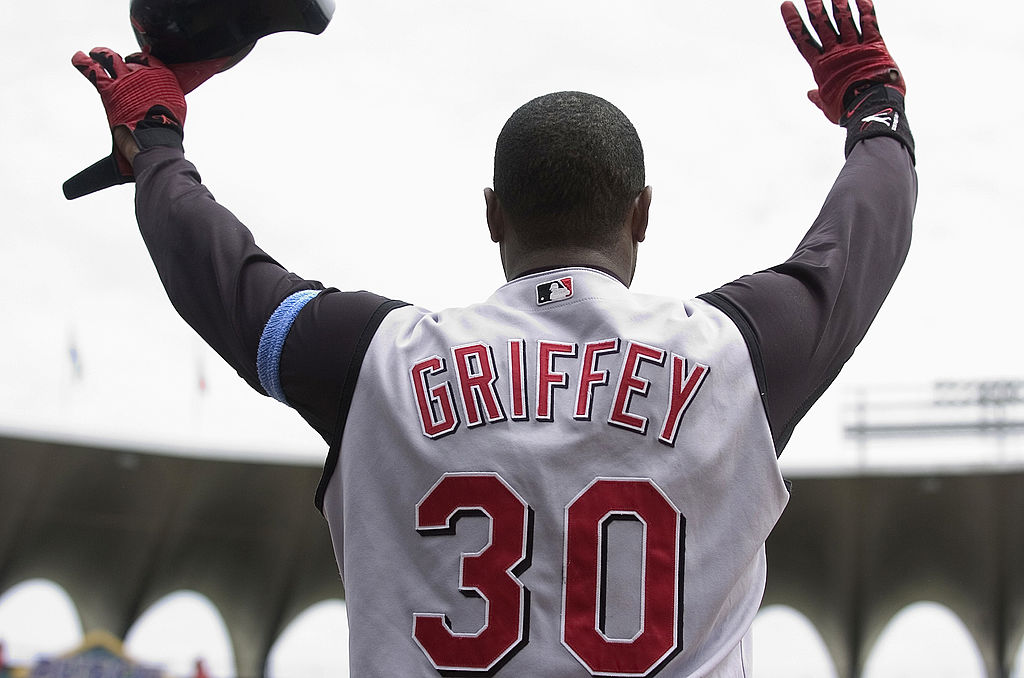 Griffey went to high school in Cincinnati. Additionally, his dad, Ken Griffey Sr., won back-to-back World Series with the Cincinnati Reds in 1975 and 1976. The Mariners ultimately traded Griffey to the Reds in February 2000.
He certainly had some good years for the Reds, especially in 2000 as he hit 40 home runs and had 118 RBIs that season, but it was hard for Griffey to stay healthy after that. The slugger only played 70 games in 2002, 53 in 2003, and 83 in 2004. Overall, Griffey only played in 206 of 483 total games during those seasons. With that, of course, his numbers were down as he only hit eight home runs in 2002, 13 in 2003, and 20 in 2004.
Griffey, while still having some success with the Reds, ultimately went to the Chicago White Sox in 2008 as they acquired him via trade. He then finished his career back with the Mariners in 2009 and 2010. 
Ken Griffey Jr. could have hit close to 700 home runs in his career
Griffey hit 40 home runs in 145 games during the 2000 season. He also hit 35 in 128 games during the 2005 season. So, if he had stayed healthy in those other seasons in between, in addition to the 2006 season, he could have finished with around 700 career home runs.
With 630 career home runs, Griffey ranks seventh on the MLB's all-time list. That number could have even been a lot higher had he been healthy in 2002 when he only hit eight homers.
Throughout his career, Griffey's 162-game home run average was 38 home runs. In 2006, he hit 27 homers in only 109 games. If he had been healthy and at least been able to hit an average of 35 home runs from his rookie season in 1989 through the 2006 season, he would have been at 630 career home runs after 2006. That would have been with at least three more, somewhat, productive years left too.
If Griffey would have had 630 home runs after the 2006 season, and then still finished with the same number of home runs he had during the last four seasons of his career, he would have finished with 697 homers in his career. That would have put him fourth on the all-time list behind only Barry Bonds, Hank Aaron, and Babe Ruth. Who knows, maybe he could have picked up three more somewhere in there to get to 700.
Ken Griffey Jr. had one of the greatest careers in MLB history. Had he been healthy, though, he could have been even more dominant and possibly reached 700 career home runs.