How Many More Ugly Losses Can the Panthers Stomach Before They Consider Firing Matt Rhule?
Former offensive coordinator Joe Brady is well out of town, yet the Carolina Panthers keep going backward as a team. Whether it's Cam Newton, P.J. Walker, or Sam Darnold under center, the Panthers struggle to look competitive on Sundays, and that falls on head coach Matt Rhule.
The question is, how much longer are the Panthers willing to deal with these constant, ugly losses before considering a change at the position?
The Buccaneers destroyed the Panthers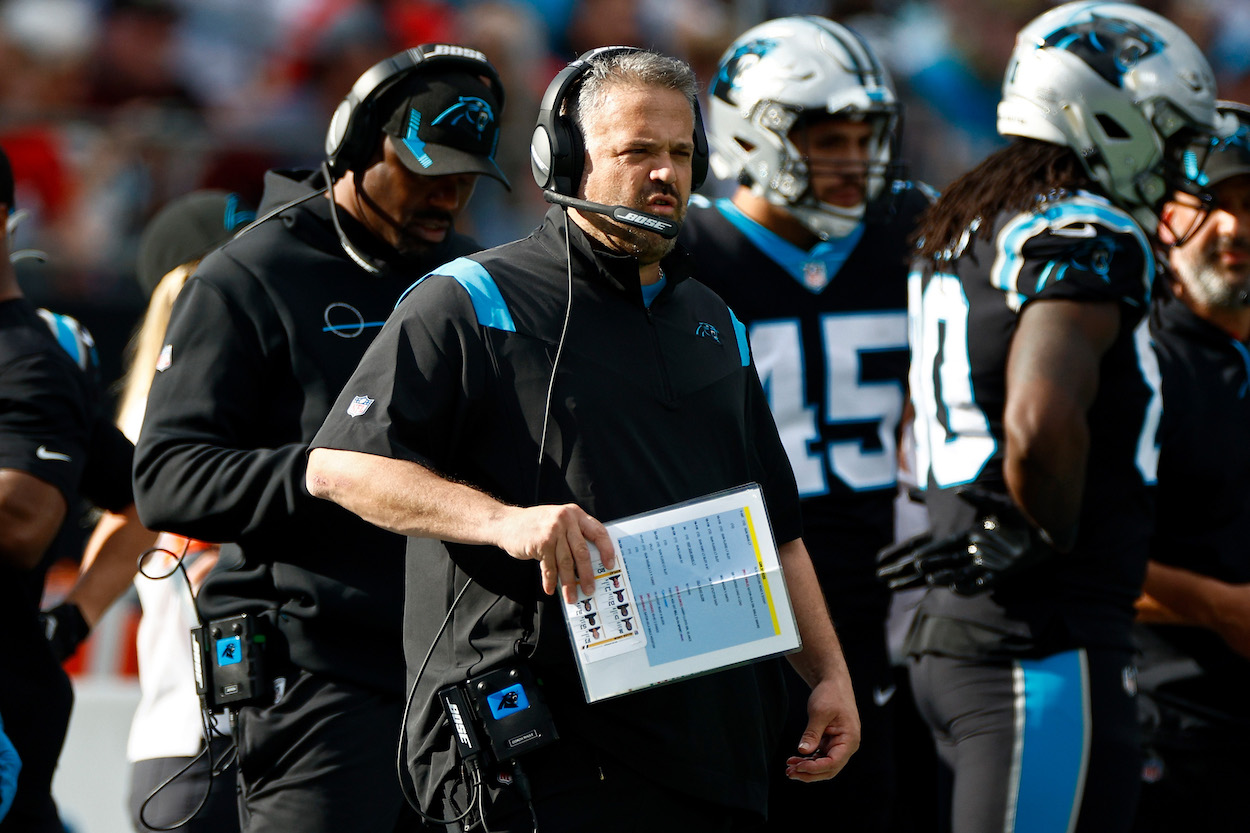 Heading into Week 16, there was little optimism the Panthers would find a way to upset the Tampa Bay Buccaneers. Even with Tampa Bay being seriously depleted to injuries, the Panthers have been an absolute mess the past few weeks. Matt Rhule's ongoing experiment of using multiple quarterbacks on game day looks more foolish with every passing day.
However, there was still hope that Carolina would at least look competitive against the Buccaneers. As previously stated, the Bucs were dealing with several key injuries to their starting 22. If there was ever a time for Carolina to steal a win against a division rival, it was Week 16.
Alas, such a reality didn't even come close to materializing. Tampa Bay destroyed Carolina 32-6, and Matt Rhule again leaned into this bizarre two-QB system. He benched Cam Newton in favor of Sam Darnold after 13 pass attempts.
The Panthers are now 5-10 on the season and 2-10 in their last 12. Calling this year a failure for Rhule and Co. is an understatement.
When will Matt Rhule be blamed?
Thus far, the Panthers have blamed everyone except their head coach. They prematurely fired offensive coordinator Joe Brady despite his status as a rising young play-caller, and they've churned through more quarterbacks than any other team in the NFL.
Not only has Rhule benched three different QBs at different times this season, but he's repeatedly gone back to previously benched QBs just to bench them again. It's been a constant game of musical chairs at the position for Rhule. If it weren't for Darnold returning from injury this past week, the Panthers likely would've signed a random free agent to throw into the mix just for fun.
The Panthers don't have a franchise QB on the roster. That much is obvious. However, at some point, Rhule needs to shoulder the blame for his team's struggles. He was a big reason the team traded for Darnold in the first place this past offseason, instead of drafting a promising rookie like Mac Jones or Justin Fields.
How much more losing can the Panthers take?
It's doubtful the Panthers part ways with Rhule this offseason. This is only his second year coaching. However, if Carolina is serious about becoming a sustained winner, his seat needs to start heating up. He's been disastrous in 2021, and his constant shuffling of the QB position is creating boatloads of unnecessary drama.
Even allowing Rhule to pursue a new quarterback this upcoming spring could be a mistake. He's already proven incompetent at developing a young player (Darnold).
Regardless, the Panthers need to take a long and honest look at their head coach. He's been awful this year. He deserves just as much blame as Joe Brady, Cam Newton, and Sam Darnold have been handed.
All stats courtesy of Pro Football Reference.