How Many NBA Players Are Playing in the Tokyo Olympics?
If the current rosters for the 2020 Tokyo Olympics hold, it marks the fifth consecutive Olympic Games during which a record number of NBA players participate. Tokyo is the eighth Games overall in which NBA players are eligible. Team USA comes in as the three-time defending gold-medalists and has won six of the seven golds awarded since NBA players first entered the Olympics in 1992. Argentina broke up the string of USA Basketball golds in 2004.
Eleven of the 12 nations sending teams to Tokyo have at least one NBA player on their rosters. Team USA (-550) is the overwhelming favorite to take the gold medal at the Tokyo Olympics, with Spain (+1100), Australia (+1200), and France (+1600) having the next best odds, per Draft Kings. How many NBA players are on the Olympic rosters? First, let's cover how the tournament is structured.
A new format for Tokyo Olympics
The 12 teams are in three groups for the preliminary rounds. The teams will play each other in a round-robin competition (three games). Each group's top two finishers, along with the two third-place teams with the best records, advance to the quarterfinals.
That is a departure from the last nine Olympics. In the 1984 LA Games, the format changed to two groups of six teams that played five games in the preliminary round. The three-group structure last appeared in 1980 in Moscow. In that tournament, however, another round-robin determined the participants for the gold-medal and bronze-medal games.
The number of teams stabilized at 12, beginning with the Montreal Olympics in 1976. Sixteen teams played from 1960 in Rome through 1972 in Munich. Before that, the number of participating nations varied. Men's basketball was a medal sport for the first time at the 1936 Berlin Olympics, with 21 countries entered. There were 23 each in London (1948) and Helsinki (1952), and 15 nations went to Melbourne in 1956.
A record number of NBA players again expected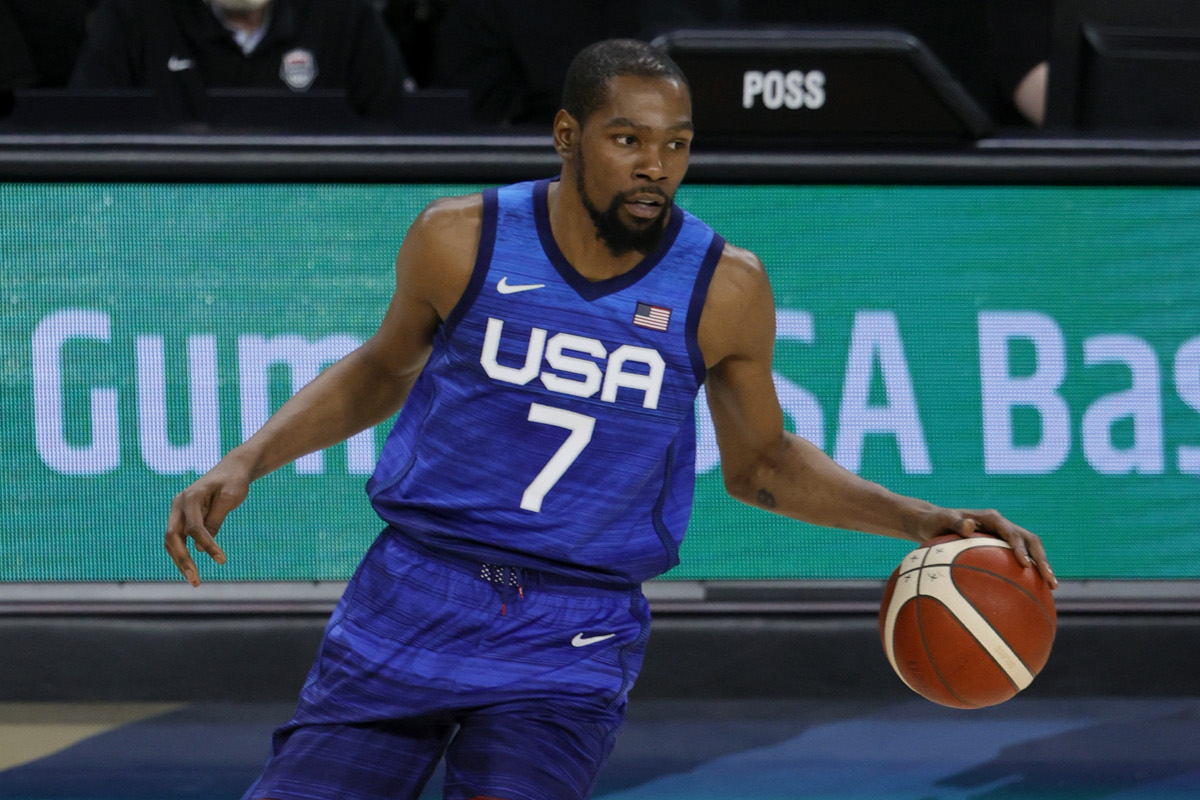 The previous record of 41 NBA players in a single Olympics was in 2016 at the Rio de Janeiro Games. That was up from 38 in London in 2012, 29 in Beijing in 2008, and the 22 that went to Athens in 2004. Seventeen NBA players participated at the Barcelona Olympics, with 21 in Atlanta for the 1996 Games and 19 at Sydney in 2000.
There are currently 50 NBA players on rosters for the Tokyo Olympics. Broken down by group, they are:
Group A
Czech Republic (1): Tomas Satoransky
France (5): Nicolas Batum, Evan Fournier, Rudy Gobert, Frank Ntilikina, Timothé Luwawu-Cabarrot.
Iran (0).
Team USA (12): Bam Adebayo, Devin Booker, Kevin Durant, Jerami Grant, Draymond Green, Jrue Holiday, Keldon Johnson, Zach LaVine, Damian Lillard, JaVale McGee, Khris Middleton, Jayson Tatum.
Group B
Australia (7): Aron Baynes, Matthew Dellavedova, Dante Exum, Josh Green, Joe Ingles, Patty Mills, Matisse Thybulle.
Germany (2): Isaac Bonga, Moritz Wagner.
Italy (3): Danilo Gallinari, Nicolo Mannion, Nicolo Melli.
Nigeria (8): Precious Achiuwa, Chimezie Metu, Jordan Nwora, Jahlil Okafor, Josh Okogie, KZ Okpala, Miye Oni, Gabe Vincent.
Group C
Argentina (4): Leandro Bolmaro, Facundo Campazzo, Gabriel Deck, Lucas Vildoza.
Japan (2): Rui Hachimura, Yuta Watanabe.
Slovenia (2): Vlatko Cancar, Luka Dončić.
Spain (4): Marc Gasol, Juancho Hernangomez, Willy Hernangomez, Ricky Rubio.
Former NBA players dot the rosters for the Olympics as well
There are also seven former NBA players on rosters, most notably former All-Star Pau Gasol of Spain. The Spaniards also have Alex Abrines and Rudy Fernandez. France boasts three former NBA players in Nando de Colo, Vincent Poirier, and Guerschon Yabusele.
The grandfather of the Tokyo Olympics, though, is 41-year-old Luis Scola of Argentina. Though he last played in the NBA in 2017, Scola averaged almost 18 points per game for the Argentines at the 2019 FIBA World Cup, where they were silver medalists. Last season for OpenJobMetis Varese in Italy's Lega Basket Serie A, Scola played nearly 30 minutes a night, averaging 17.8 points and 6.7 rebounds.
The men's tournament tips off July 24 (in the U.S.) with Iran and the Czech Republic starting at 9 p.m. Eastern. Team USA plays France at 8 a.m. Eastern on July 25, Iran at 12:40 a.m. on July 28, and the Czech Republic at 8 a.m. on July 31.
The quarterfinals will be Aug. 3, with the semifinals set for Aug. 5, and the medal games on Aug. 7.
Information courtesy of FIBA, Real GM, and Basketball-Reference.