How Many NCAA Tournament Wins Does Mike Krzyzewski Have?
For hardcore basketball fans, college hoops can be every bit as exciting as the NBA. And the most exciting time in college basketball undoubtedly happens in March, when teams square off in the NCAA tournament. This high profile tournament allows even casual fans to get a glimpse of rising stars, while following the fates of beloved schools from around the country.
The NCAA tournament is also where college basketball coaches get to prove their strategic mettle. One of the most successful of all college basketball coaches is Duke Blue Devils head coach Mike Krzyzewski — affectionately known as Coach K. Here we take a closer look at Krzyzewski's unparalleled career, Duke's history of consistency, and the impressive numbers behind Coach K's NCAA tournament record.
Mike Krzyzewski's career as Duke head coach
Krzyzewski played basketball while attending military school at West Point. He captained the team during his senior year, leading them to a fourth place finish in the 1969 National Invitation Tournament. Following his stint in the military, Krzyzewski spent a year as an assistant coach with the Indiana Hoosiers, then five years as head coach of the Army Cadets at West Point.
In 1980, Krzyzewski took over as Duke's head coach — a position he has held continuously since then. At the time, many analysts saw Krzyzewski as a surprising choice, given his relatively limited coaching resume. The team struggled during his first few seasons. Yet under his leadership, the team entered a prolonged period of excellence starting in Krzyzewski's fourth season.
That 1983-1984 team amassed an impressive 24-10 record, kicking off a streak of 11 straight seasons in which they would win at least 20 games. During that stretch, Duke also made to the Final Four five consecutive times. They also won back to back titles in 1991 and 1992. Duke struggled in a couple of its next seasons, only to bounce back with a vengeance.
Mike Krzyzewski's NCAA win total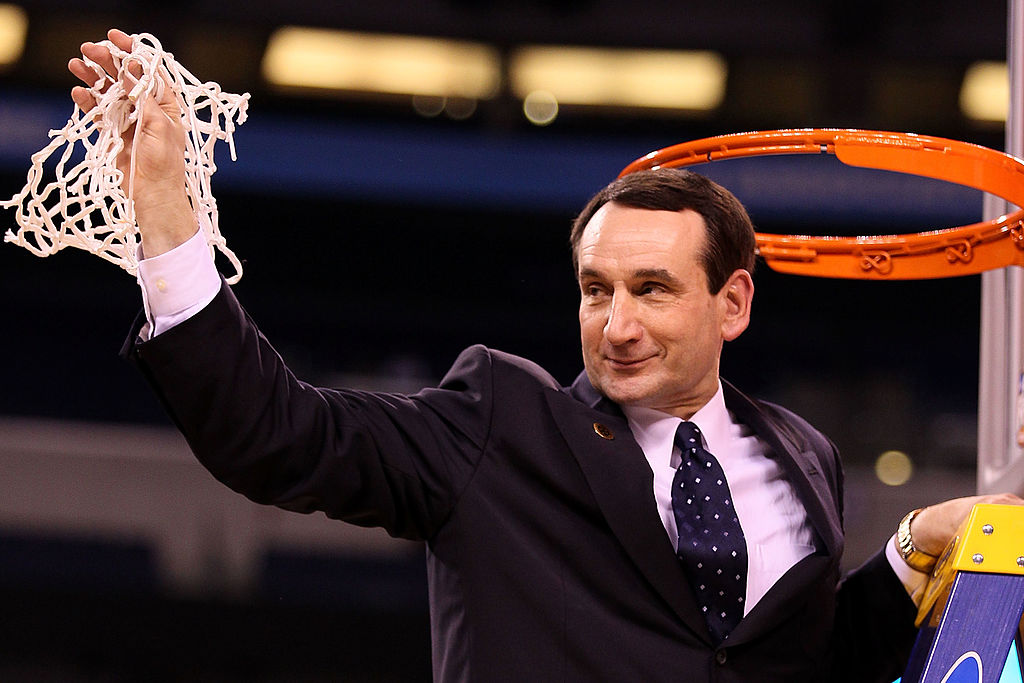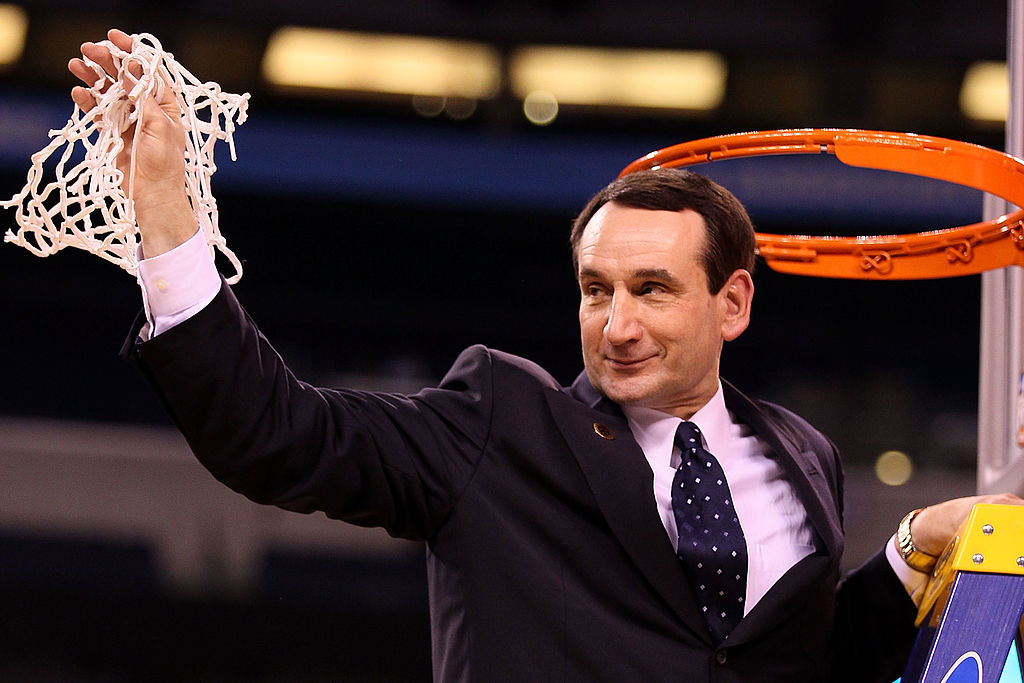 While Duke's streak of consecutive March Madness appearances ended in 2021, the program still has an impeccable history when it comes to the NCAA Tournament. Unsurprisingly, Krzyzewski accounts for a great deal of that success.
In total, Coach K's Blue Devils have appeared in 36 total NCAA tournaments. By advancing to the 2022 Final Four, the living legend broke the 100-win mark in March Madness. His all-time record currently sits at 101-30, giving him a .771 winning percentage in the Big Dance.
As if that raw number isn't impressive enough, you can contextualize it this way. Coach K, by himself, has won more games in the NCAA Tournament than most other programs have in their entire history.
Those 101 wins are good for most all-time by an NCAA coach. In Krzyzewski's 36 tournament appearances, Duke has made it to the Final Four 13 times, breaking John Wooden's record in 2022.
Duke's history of consistency
The world of college basketball is an admittedly volatile one, since the most talented players seldom stick around for more than a year — sometimes two. Yet under Krzyzewski's leadership, Duke has become arguably the single most dominant force in NCAA basketball, year after year. So how have they managed to build such consistency?
Coach Mike Krzyzewski deserves a huge amount of credit for Duke's ability to attract and develop talented young prospects, year after year. Krzyzewski has built a reputation not just for improving his players' on-court abilities, but also for guiding and mentoring them as young men. He takes a genuine interest in his players and does everything he can to support them throughout their transformative years.
At this point, Duke's basketball success has also taken on a self-sustaining nature. The success and reputation of the program naturally attract top-level talent. As a result, it should come as no surprise that a large number of Duke players go on to careers in the NBA.
The list of NBA players who have gone through the basketball program at Duke includes Brandon Ingram, Rodney Hood, Shane Battier, J.J. Redick, and Zion Williamson. Paolo Banchero and several of his teammates now look poised to be the next group carrying the Krzyzewski's legacy into the progessional ranks.
Once the final whistle blows on the 2021-22 campaign, though, Coach K will finally ride off into the sunset. While it can seem impossible to imagine him doing anything other than leading the Blue Devils, his records will ensure that he's never forgotten.
Stats accurate as of March 28, 2022