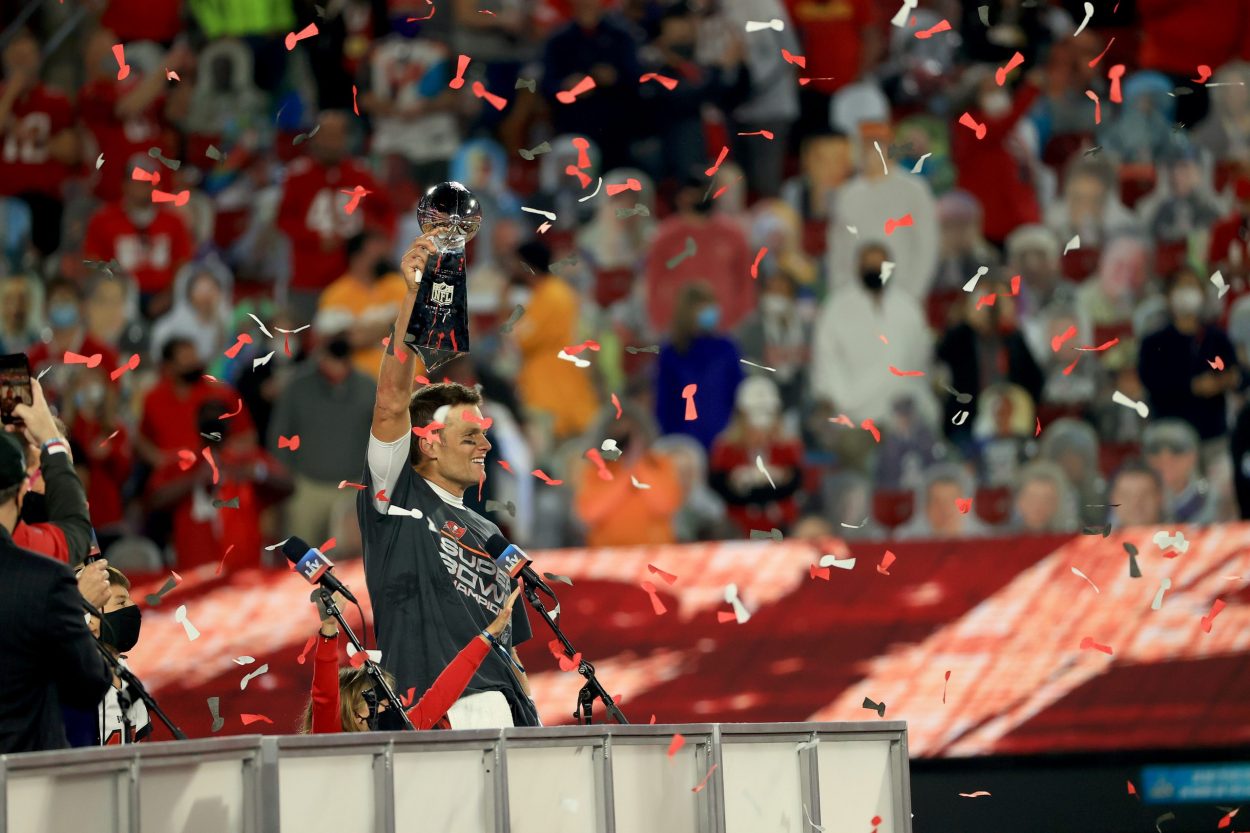 How Many NFL Records Does Tom Brady Hold?
In early 2023, Tom Brady retired from the NFL after 22 seasons. Here is a long list of NFL records he holds.
On February 1, 2023, Tom Brady retired from the NFL after 22 unbelievable seasons. Just days after a report surfaced about Brady hanging up his cleats, the former New England Patriots quarterback made the announcement.
But, the Tampa Bay Buccaneers signal-caller wanted to make the announcement himself, or so it seems, and he did just that. There is no question that the California native is a first-ballot Hall of Famer. And there is almost no argument against Brady being the best quarterback in NFL history.
The QB's accomplishments, accolades, and NFL records are a lengthy list — unlikely to be broken for a long, long time, if at all.
Tom Brady retired from the NFL on February 1, 2023
After Adam Schefter and Jeff Darlington reported Brady's retirement the day before the 2023 conference title games, the legend insisted that wasn't the case. Head coach Bruce Arians also confirmed that he and the Tampa Bay Buccaneers weren't aware.
Then, it came from Brady himself.
His career has spanned 22 years, with seven Super Bowl victories, 15 Pro Bowls, five Super Bowl MVP awards, and three NFL MVP awards (and maybe another coming).
Brady held off Father Time repeatedly. Even in his final year at age 44, he led the NFL in passing yards and was just one of two QBs to cross the 5,000-yard threshold — with Justin Herbert being the other.
An all-time great has hung up his cleats for good, and he holds an unreal amount of NFL records.
How many NFL records does Tom Brady hold?
Playing 22 years in the NFL is one thing. Playing at such a high level, even into his forties, is another thing — and we might never see this again. So, how many NFL records does Brady hold? Here's a list compiled by USA Today:
Games started: 316
Wins: 243
Playoff games: 47
Playoff wins: 35
Playoff touchdowns: 86
Playoff passing yards: 13,049
Pass completions in a season: 485
Career pass attempts: 11,317
Career passing yards: 84, 520
Career pass completions: 7,263
Career Passing touchdowns: 624
If that weren't enough, Brady also holds a fair share of Super Bowl records, which should almost certainly stand the test of time, according to ESPN:
Super Bowl passing touchdowns: 21
Super Bowl passing yards: 3,039
Super Bowl MVPs: five
The only player to win SB in 3 different decades
The only starting QB to win a Super Bowl in the AFC and NFC
The oldest player to ever appear in a Super Bowl (age 43)
So many of those records — perhaps all — look to be challenging to break. Nonetheless, Brady's accolades are out of this world. Not bad for a sixth-round pick out of Michigan.
The GOAT continued to set records even in his 40s
During the last offseason, Brady mentioned wanting to play until he was 50. Well, it sure looked like he could have played a few more years.
He led the NFL in passing yards and touchdowns and should be one of the finalists for another NFL MVP award. Even more surprising is this statistic.
Sure, the game has changed in recent years. Nonetheless, that is a remarkable feat. However, one man might be a bit relieved that Brady retired before the age of 45: George Blanda.
It looked like Brady would return for at least one more season. After the Buccaneers saw their season end against the Los Angeles Rams, rumors started to swirl, although it was hard to envision Brady leaving on that sour note.
However, here we are. Brady has retired from the NFL, and Aaron Rodgers just might join him and Ben Roethlisberger — meaning all three would be eligible for the 2027 Hall of Fame class.
These records by Brady — for the most part — should stand the test of time and are a testament to how special he was as a player. Hats off to a sensational career for Tom Brady.
Stats courtesy of Pro Football Reference