How Many Quarterbacks Have Screwed Up as Badly as Peyton Manning?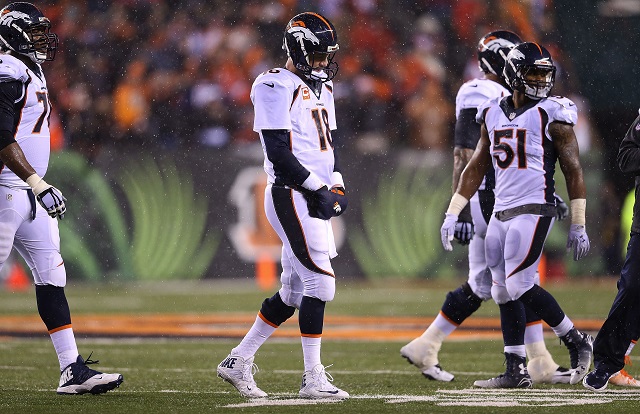 Peyton Manning has thrown many interceptions over the course of his NFL career: 230, to be exact. This is perhaps not the most surprising thing you've ever read, considering that Manning has been a professional quarterback for almost 20 years now, and as one of the most prolific passers the league has ever seen, it's not unexpected that he's thrown a few interceptions (although, to be fair, he's much better at throwing touchdowns).
During the Monday night matchup between the Bengals and the Broncos, though, Peyton did something decidedly rare when he threw his latest interception. To get agonizingly specific (at least, for Broncos fans), Manning threw a pick six in the last three minutes of the fourth quarter of an excruciatingly close game — within three points. This is a set of circumstances that comes about fairly rarely on any given Sunday (or Monday, or Thursday, for that matter). It's happened just 22 times in the last 16 regular seasons, using the data from Pro Football Reference, or roughly once each season, in one game out of the 256 contests that define an NFL year. If you're looking for a percentage, that's about three-tenths of 1%. In other words, not very likely.
What's interesting about this, though, is not really the relative scarcity, but the fact that there are some players who have had this happen to them more than once. Peyton is not one of them, so anyone who tuned in to that game — which saw the Bengals clinch a playoff spot, we should mention — also saw Peyton Manning do something on a football field he'd never done before, which is another sort of rarity in and of itself. There are four NFL quarterbacks that have watched their hopes of winning a game crumble more than once since play-by-play data was made available to everyone in 1998. Can  you guess who they are?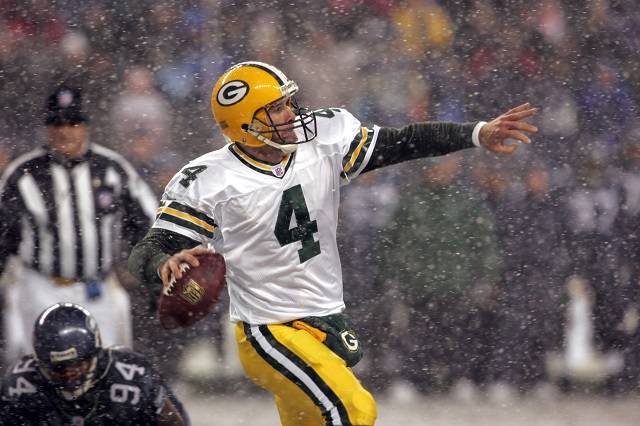 Of the four players who have thrown two pick sixes in the Manning fashion, the easiest (correct) guess would probably have to be Brett Favre. After all, the NFL's all-time leading passer has an edge on the competition by sheer virtue of his volume, and indeed, Favre is on the list, having thrown one in 2009 and again in 2010.
The other three? That'd be Carson Palmer (once with the Bengals and once with the Raiders), A.J. Feeley — both with the Dolphins and, actually, just weeks apart — and Joey Harrington, who managed to do it twice in one game. Yeah, that's the first time we'd thought of Joey Harrington in at least 10 years, too. You're not alone. For the full list, click here.