How Many Quarterbacks Have the Patriots Selected in the NFL Draft Since Picking Tom Brady?
The biggest steal in NFL draft history was when the New England Patriots selected quarterback Tom Brady in the sixth round of 2000 NFL draft. The move not only set them up at QB for the next two decades, but it also helped the franchise win championship after championship after championship.
The 2020 NFL season, though, was the first year since Brady became the starter in 2001 that the Patriots didn't actually have a great option at quarterback heading into the season. So, this means they could potentially try to find their next franchise QB in the 2021 NFL draft. However, since the Patriots had Brady at quarterback for so long, how many QBs have they drafted since selecting TB12 in 2000?
Tom Brady and the Patriots dominated for two decades
RELATED: Tom Brady Once Yelled 'Obscenities' and Threw 'Footballs' at a Patriots Teammate — for Doing Their Job
After the Patriots selected him in the sixth round of the 2000 NFL draft, quarterback Tom Brady only threw three passes in his rookie season. However, once he became the starter in 2001, the Pats were set at QB for the next two decades.
In his first season as the starter, Brady earned Pro Bowl honors and led the Patriots to a Super Bowl title. He and New England then won three Super Bowls in four seasons from 2001 through 2004. Those were just the early years of Brady and head coach Bill Belichick's dominance with the Patriots, though.
From 2001 through 2019, Brady helped take New England to 13 AFC Championship Games, nine Super Bowls, and they won six Super Bowl titles. Brady has also become widely recognized as the GOAT, and he even won his seventh Super Bowl title during his first season with the Tampa Bay Buccaneers in 2020.
Here is a look at some of his other accomplishments:
14 Pro Bowl selections
Three MVP awards
79,204 passing yards (second all-time)
581 passing touchdowns (No. 1 all-time)
So, it's pretty clear that selecting Brady was the Patriots' best decision in franchise history.
However, how many QBs have the Patriots selected since then?
How many quarterbacks have the Patriots selected in the NFL draft since Tom Brady?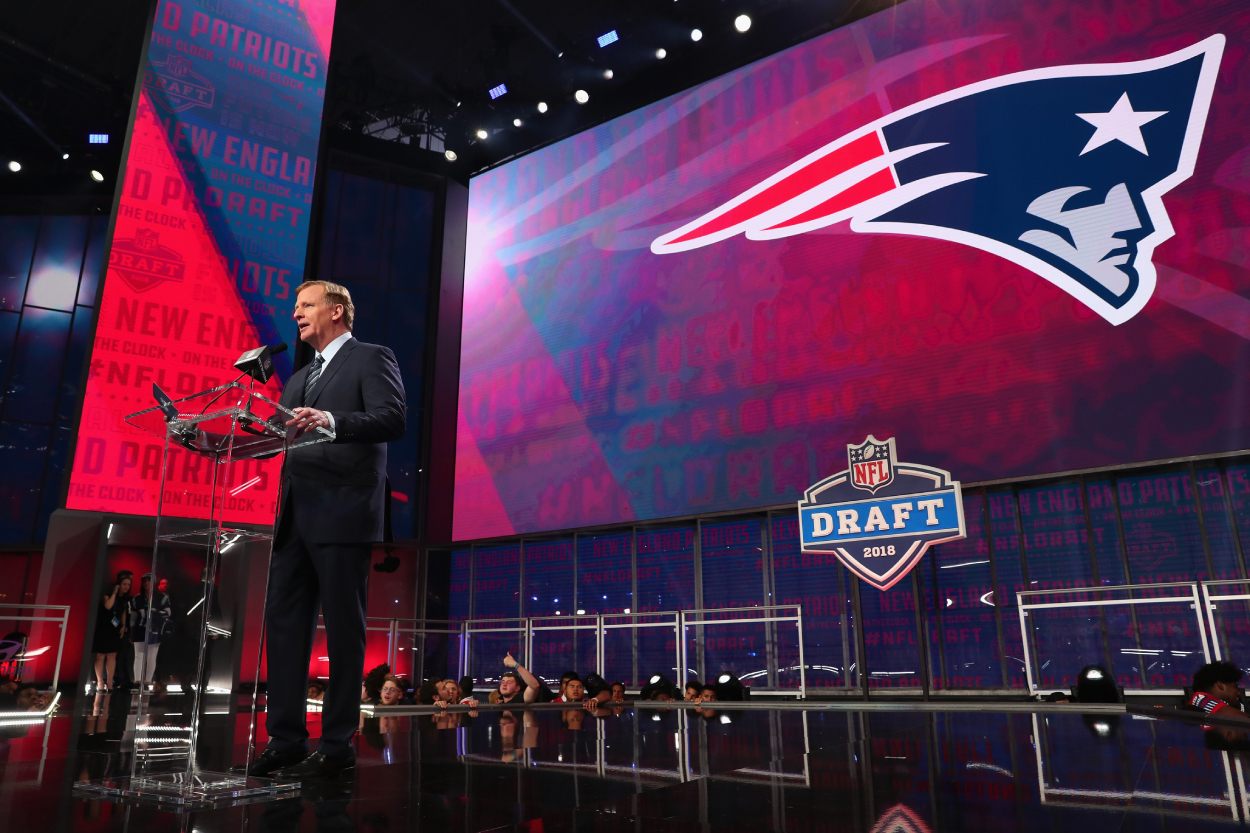 RELATED: Bill Belichick's Unique Talent-Assessing Strategy Was Recently Revealed by a Famous College Football Coach
The answer to the question regarding how many quarterbacks the Pats have selected since picking Tom Brady is this: 10.
Despite Brady's success in 2001, New England actually selected a QB in the fourth round of the 2002 draft in Rohan Davey out of LSU. They then selected nine more in the years that followed.
Here is a look at all the quarterbacks the Patriots have selected in the draft since picking Brady:
2002, fourth round: Rohan Davey (LSU)
2003, sixth round: Kliff Kingsbury (Texas Tech)
2005, seventh round: Matt Cassel (USC)
2008, third round: Kevin O'Connell (San Diego State)
2010, seventh round: Zac Robinson (Oklahoma State)
2011, third round: Ryan Mallett (Arkansas)
2014, second round: Jimmy Garoppolo (Eastern Illinois)
2016, third round: Jacoby Brissett (North Carolina State)
2018, seventh round: Danny Etling (LSU)
2019, fourth round: Jarrett Stidham (Auburn)
So, how have these guys fared in the league?
How have the Patriots' drafted quarterbacks fared in the NFL?
RELATED: Erin Andrews Says Tom Brady Wants to 'Kick' Everyone's 'Ass' — Even Her Husband's
Unless you're a Patriots fan, you probably only recognize some of the names above.
Rohan Davey only threw 19 total career passes, while Kliff Kingsbury, who is now the head coach of the Arizona Cardinals, only threw two. Matt Cassel, however, played for seven different teams and earned one Pro Bowl selection in his career. He finished with 17,508 passing yards, 104 touchdowns, and 82 interceptions.
Kevin O'Connell, though, then only threw six total passes while Zac Robinson didn't throw any. Ryan Mallett, on the other hand, threw for 1,835 yards, nine touchdowns, and 10 interceptions on three different teams.
Some of those guys above may not jump out to you, but three of these next four QBs probably sound familiar.
Jimmy Garoppolo has thrown for 8,042 yards, 51 touchdowns, and 26 interceptions in his career and led the 49ers to the Super Bowl during the 2019 season. Jacoby Brissett then started in two seasons with the Colts and has thrown for 6,459 yards, 31 touchdowns, and 13 interceptions. Additionally, Danny Etling has not thrown a pass in the NFL, but Jarrett Stidham has thrown for 270 yards in two seasons with the Patriots so far.
So, of all the guys the Patriots have drafted since Brady, probably either Garoppolo, or Cassell have had the most success.
None of them, though, have had or will have close to the same amount of success Brady has had. The Patriots will probably never get that lucky ever again.
Stats and draft selections courtesy of Pro Football Reference