How Many Quarterbacks Has the Seahawks' Geno Smith Backed Up in His 8-Year NFL Career?
Quarterback Geno Smith has experienced many noteworthy incidents since entering the NFL. The West Virginia University alum entered the league with a decent amount of expectations despite not being a first-round pick. But Smith didn't live up to the hype for reasons in and beyond his control.
The quarterback spent several years as a backup. Each passing season decreased his chances of becoming a full-time starter again. But the Seattle Seahawks gave Smith another opportunity to prove himself at the highest level. The 31-year-old's great performance in Week 1 showed he's still capable as QB1 in the NFL. 
Before his delayed rise to success, Smith backed up many quarterbacks who will likely be first-ballot Hall of Famers.
Geno Smith rose to the occasion in an opening week win against the Broncos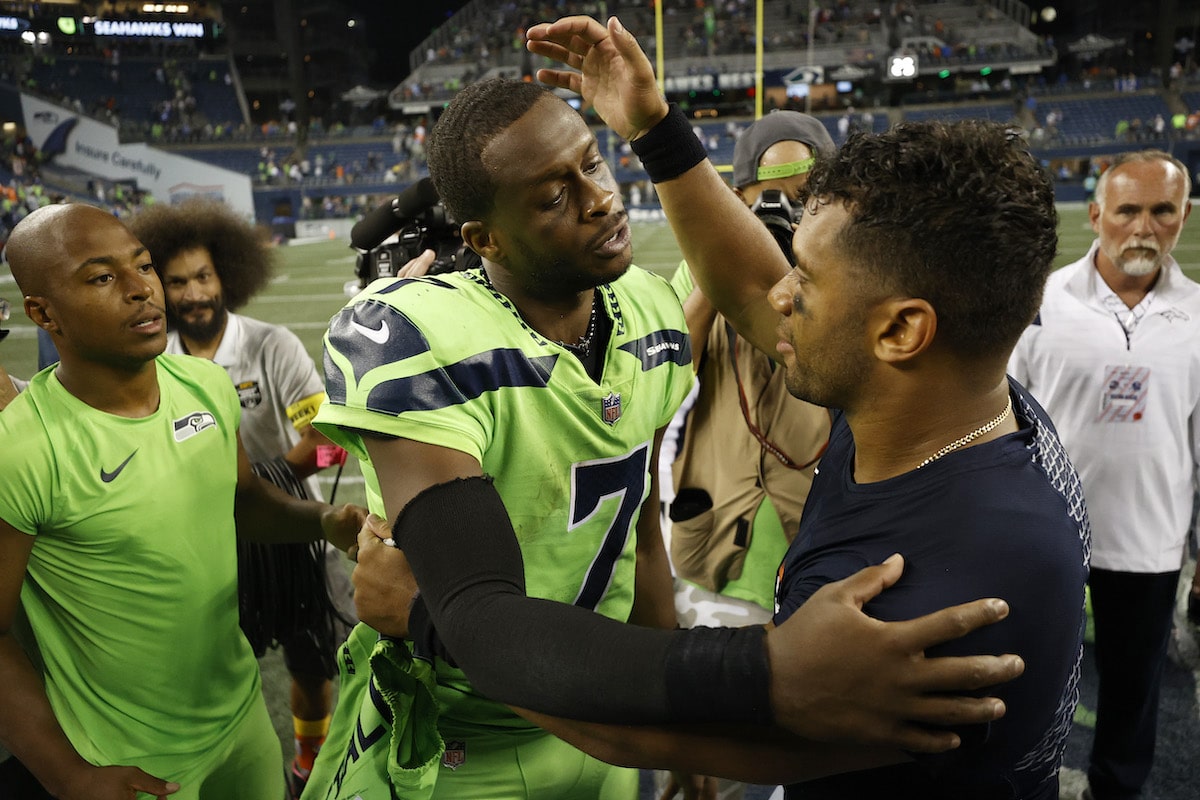 A major storyline entering the opening weekend of the NFL season: Russell Wilson's return to Seattle. With the star quarterback, the Denver Broncos entered the season with the expectation that this would be an exciting year. Meanwhile, Seattle looked set to be one of the worst teams in the league, in part because of the man replacing Wilson under center. 
Smith's presence on the roster did little to provide the fan base with confidence. His track record told an unimpressive story, and his arrest on suspicion of a DUI in January, as ESPN reports, gave people another reason to be pessimistic about the Seahawks' prospects. However, aside from a few pleas from people who want to see Colin Kaepernick back in the league, Seattle didn't have a path to upgrading the position this past offseason. 
Against all odds, the Seahawks beat the Broncos on opening night. Smith outplaying Wilson to the delight of Seattle's home crowd. He was nearly perfect in the first half, completing 17 of his 18 passes and throwing for two touchdowns.
Seattle's offense slowed to a crawl in the second half. But they still did enough to help the team secure the win. Smith capped off a great night with a definitive quote: "They wrote me off, I ain't write back though."
Smith's NFL career was on shaky ground before it even started
Before even entering the NFL, Smith dealt with questions about his suitability for the league. He surprisingly dropped from the first round of the 2013 NFL Draft amid allegations he did not professionally handle the draft process.
The New York Jets chose him with the 39th pick, giving Smith the starting QB position as a rookie. The Miami native was the latest Jets quarterback to be sucked into the franchise's vortex of disappointment. Smith threw more interceptions (34) than touchdowns (25) in his first two years and missed a team meeting because he didn't understand how time zones worked. 
He lost the starting job to Ryan Fitzpatrick the following year. (His case wasn't helped by having his jaw broken in a fight with defensive end IK Enemkpali.) The NFL collectively decided that a backup job was all he was worth.
In the next seven seasons, Smith suited up for the Jets, Giants, Chargers, and Seahawks. He started started two games total. Aside from Fitzpatrick, all of the QBs Smith sat behind — Eli Manning, Philip Rivers, and Russell Wilson — will be first-ballot Hall of Famers one day. But you could understand if Smith was frustrated by how quickly his window was shut. 
Geno Smith is mostly viewed as a career backup. Could he change that perception in Seattle?
After Wilson got injured last year, Smith returned to the starting lineup for three games. It's a small sample size. But he played well, throwing touchdowns and only one interception. At one point, Pro Football Focus went as far as saying he outplayed Patrick Mahomes for a stretch.
That take was absurd, but Smith did enough to convince Pete Carroll he deserved to be Wilson's short-term successor. Smith has existed in the awkward space between being a good backup and a lower-tier starter for the past few years.
Given his age, this year might be the last chance to convince organizations that he's more than a second-stringer. His conservative style won't lead to a high-flying offense. But there will always be coaches who appreciate a QB who doesn't turn the ball over often. 
Smith played poorly in the second game against the 49ers, and the Seahawks lost to the Falcons in Week 3. But if he can put together a decent season, he can set himself up to be a bridge quarterback for Seattle or another team still searching for an elite passer.
RELATED: Pete Carroll Drops Major Hint That Ex-Seahawks Don't Like Russell Wilson: 'You Figure That Out'