How Many Times Did Tom Brady Earn a 99 Overall in Madden?
Few will argue that Tom Brady is one of the best, if not the sole greatest, quarterbacks in football history. Football fans and historians know that, but does the popular Madden series truly appreciate him? Brady has been a Madden mainstay since Madden 2003 — he was only in some versions of Madden 2001 and 2002 — and has held the vaunted 99 overall rating several times.
How many times has Tom Brady been a 99 overall when Madden launched its yearly release, and did the Madden Curse ever affect the Tampa Bay Buccaneers' new quarterback? Let's take a look.
Tom Brady first obtained 99 overall status in Madden NFL 09
Although Brady was already arguably the sport's best quarterback and a three-time Super Bowl champion when the 2008 season arrived, EA Sports had never shown him the respect he deserved. Brady comfortably sat in the high 90's most years but never attained a 99 overall. It wasn't until Brady threw for a record 50 touchdowns and nearly led New England to a perfect 19-0 season that Madden rewarded him with that elusive 99 overall.
However, Brady never got the chance to truly celebrate such an honor. Brady famously tore his ACL in the Patriots' Week 1 victory over the Kansas City Chiefs and missed the rest of the season. It may have been Brett Favre on Madden 09's cover, but Brady may have been the real recipient of the Madden Curse.
Tom Brady was again a 99 overall in Madden NFL 12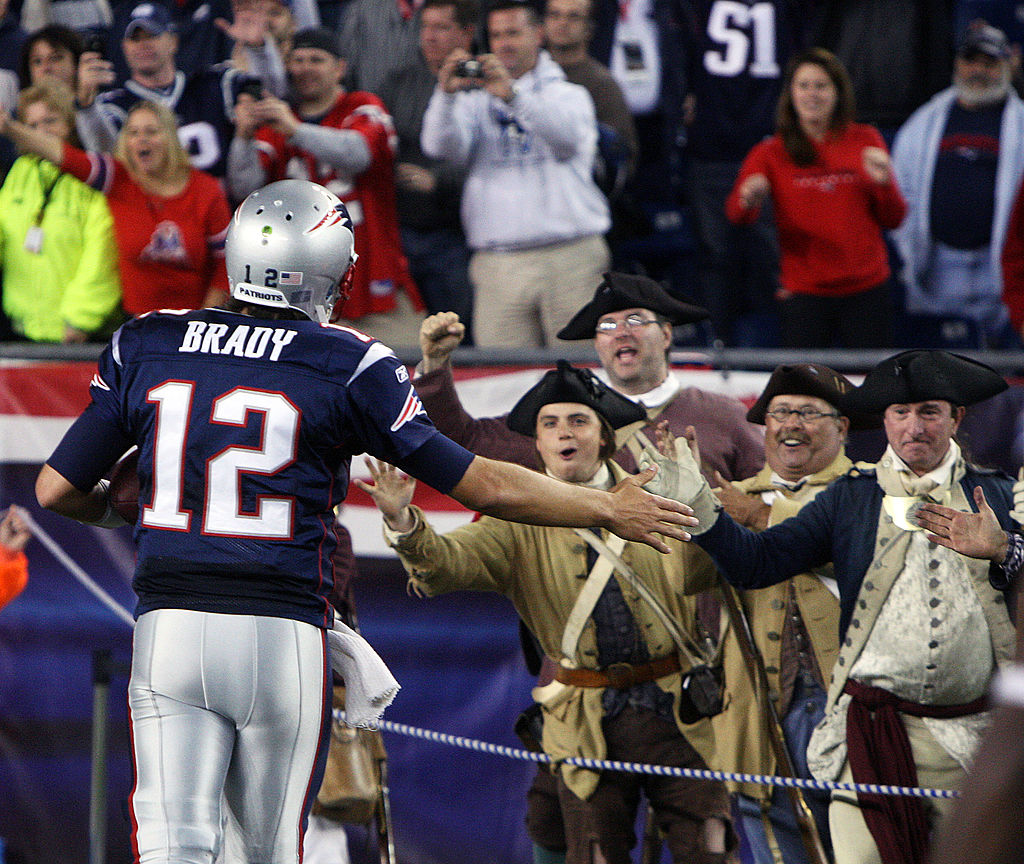 Because Tom Brady won his second career MVP award in 2010, that made his rating in Madden NFL 12 fairly simple. Brady played like a 99 overall in his age-33 season, throwing for a career-high 5,235 yards and a solid 39 touchdowns. New England returned to the Super Bowl that season but, as they did in February 2008, fell to Eli Manning and the New York Giants. This was Brady's last time as a 99 overall until he was nearing 40.
Brady held the top spot in Madden 18 and 19
That Tom Brady was only a 99 overall twice in his first 17 seasons is almost as hard to believe he was Madden's best quarterback, from a ratings point of view, in his 18th and 19th seasons. Brady was coming off a Super Bowl victory against Atlanta when he held the cover spot and a 99 overall in Madden NFL 18. The future Hall of Famer earned All-Pro and MVP honors after throwing for 4,577 yards, 32 touchdowns and eight interceptions for the 13-3 Patriots. New England lost to Philadelphia in the Super Bowl.
Brady returned for another season in New England and earned his fourth career 99 overall rating in Madden 19. The 41-year-old Brady threw 29 touchdowns to 11 interceptions, his most picks since 2013, and won his sixth career Super Bowl. Fittingly, what may have been Brady's last Super Bowl victory came against the Los Angeles Rams, the same franchise he defeated in February 2002 for his first Super Bowl title.
What will Tom Brady's rating in Madden 21 be?
Although Tom Brady held as high as a 98 overall at one point in Madden 20, he ended the year at a 91 overall. Although the Buccaneers' newest quarterback may be in line for a legacy boost when Madden 21 releases later this year (barring any delays related to the coronavirus pandemic), it is hard to see Brady topping a 92 overall at launch. Brady struggled down the stretch and showed major signs of regression, albeit in an offense lacking the weapons he had in years past.
Realistically, Brady should open between an 87 and 90 overall in Madden 21. Brady's resume and the thought of him working with Pro Bowl receivers Chris Godwin and Mike Evans might be enough to push Brady to a 91 or 92. But Brady's days as a 99 overall, and likely in the high 90's, are well behind him.